PCSB First Year Requirements
Welcome to the Providence College School of Business! While starting your academic career at a new college is exciting, it can also be a little overwhelming. Our goal is to make your transition successful.
PCSB First Year Experience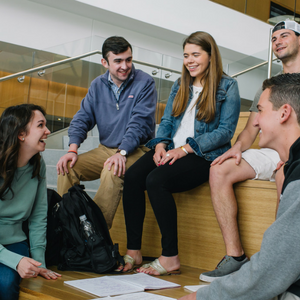 To help guide students, the PCSB created a First Year Experience program designed to foster student learning and build upon business and liberal arts coursework. Additionally, the program provides students with opportunities to develop a meaningful college experience that supports life after graduation. The first year experience complements classroom engagement by providing students with opportunities to learn about careers, network with alumni and industry leaders, acquire essential business skills needed to be successful.
The PCSB has developed four requirements and experiences, outlined below, that all business majors must complete during their first year to continue into their second year as a business major: 1) minimum math proficiency, 2) Working Together Across Differences workshop, 3) participation in the Friar Leadership & Immersion Program (FLIP), and 4) PCSB admission requirements. These experiences are designed to set the foundation for students' professional growth and development while enhancing their classroom experience.
MINIMUM MATH PROFICIENCY
All PCSB students are required to demonstrate proficiency in finite mathematics through successful completion of MTH 108 Mathematics for Business Analysis II (minimum requirement for business majors); or, MTH 109, MTH 131, or MTH 132. These math requirements are to be used as a guide for students and advisors to determine, with math placement scores, the appropriate math course.
WORKING TOGETHER ACROSS DIFFERENCES WORKSHOPS

Working Together Across Differences Workshops information coming soon.
FRIAR LEADERSHIP & IMMERSION PROGRAM – FIRST YEAR EXPERIENCE (FLIP-FYE)
FLIP-First Year Experience is designed to expose first year business students to campus activities, networking events, guest speakers, and more. Through these events and experiences, students learn about campus resources, are exposed to careers and industries, and develop business skills. The PCSB, in collaboration with the Center for Career Education and Professional Development, will offer opportunities, through events and activities, for students to accumulate FLIP points and career competencies and levels by attending campus events.

PCSB majors are required to accumulate 250 FLIP points by the end of their first year, and are encouraged to achieve the FLIP-FYE badge.
Additional information on FLIP will be shared at fall orientation and through the first year advising workshops or courses.
PCSB ADMISSION REQUIREMENTS
All new PCSB majors (accountancy, finance, management, or marketing) will be required to have at least a 2.5 cumulative overall GPA at the completion of two semesters of academic work at PC to continue as a business major. GPA reviews will take place at the end of each semester during the first two semesters of coursework only. Additional admissions information can be found here.
REMINDER: Students are required to complete the first year experiences to continue as a business major for their second year. If students are not making adequate progress toward completing these requirements, a warning letter/email will be sent. In the summer following the first year, students will be changed to undeclared status and removed from PCSB majors if the four requirements are not met by the end of the first year.