About
---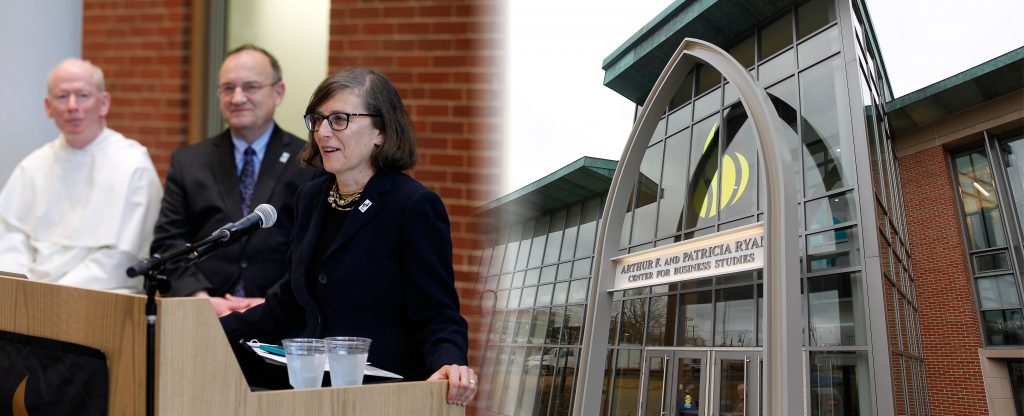 The future of business requires people with the skills to find common ground, thoughtfully analyze options and contribute ethically to solutions together. At Providence College, we're educating for a future based on we.
As the only U.S. college founded and administered by Dominican Friars, we're attuned to the need for meaning, connection, and purpose in business and life. Students don't just learn the foundations of business — they learn how to collaborate, how to discern what matters, how to define success on their own terms. This unique education — based on the power of "we" rather than the power of "me" — makes our graduates indispensable to employers and personally fulfilled.
Undergraduate Programs
Graduate Programs
---
AACSB Accreditation
AACSB International, the Association to Advance Collegiate Schools of Business, affirmed the PCSB's rising level of distinction and quality when it awarded accreditation in 2012. Only 30 percent of U.S. business schools, and 5 percent worldwide, achieve this prestigious designation. It places the PC undergraduate and graduate programs among the best, and helps position students and graduates for even greater success in the future.
Poets & Quants Ranking
Just recently, the PCSB was named as one of the best undergraduate business programs in the country by a ranking published by Poets & Quants for Undergrads. The PCSB was ranked #40 in the most recent rankings.
Bloomberg Businessweek Rankings
The PCSB shot up 14 spots to No. 61 on Bloomberg Businessweek's 2016 list of the top undergraduate business programs. The PCSB had the sharpest rise of any school on the ranking that year, thanks to an improved employer survey score, according to the magazine.
New Building
A $5 million gift from prominent alumnus Arthur F. Ryan and his wife, Patricia, supported our state-of-the-art home for the PCSB. With their gift, Dore Hall, a former residence hall, was renovated as the center of the new structure, named the Arthur and Patricia Ryan Center for Business Studies. After a groundbreaking in October 2015, the building first opened for classes in spring 2017. Many current and future students will have the opportunity to learn and grow in a facility where every square foot is designed intentionally to foster engaged, values-based learning that will lead students to a lifetime of success in business and in life.
---