Site Home
>
PCSB Diversity, Equity, and Inclusion Initiatives
PCSB Diversity, Equity, and Inclusion Initiatives
"Goal 2: Develop ethical, inclusive, and responsible student leaders, faculty, and staff who welcome diversity of thought and experience."



– PCBiz 2025 Strategic Plan
Structural Diversity, Access, and Equity
Number of students of color in business majors grew 8% and number of business degree completers who are students of color grew 4% over the past five years, based on fall enrollment from 2016 to 2020.
Number of first generation students in business majors declined 8%, and the number of first generation degree completers also declined over the past five years, based on fall enrollment from 2016 to 2020.
Number of School of Business faculty of color increased 22% over the past five years (2016-2020).
Management Department appointed in August 2020 a tenure-track faculty member whose research focus is diversity, equity, and inclusion and who offers upper level elective(s). In addition, the PCSB is seeking approval for another faculty member with this expertise.
Worked with The Ph.D. Project across all four departments for past 5 years to mentor doctoral candidates.
Search committees follow culturally-sensitive hiring training and protocols (IDEI).
All faculty and staff interviewees visiting campus are offered open time to reach out confidentially to anyone on campus with whom they would like to meet to discuss culture issues.
In an effort to educate about bias in student course evaluations, PCSB leadership collaborated with campus partners to create a "bias-busting" video that PCSB students view prior to filling out faculty teaching evaluation forms.
Success Fund, which supports books, extra school fees, and academic advancing costs for PCSB students.
PCSB Intern Fellowship Program, which supports business majors with U.S.-based internships that would not be feasible without financial support.
Installation of lockers in the Ryan Center for students who need storage.
Assistance for undergraduate students who would like to pursue short-term study abroad experiences.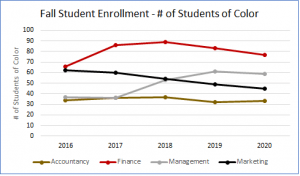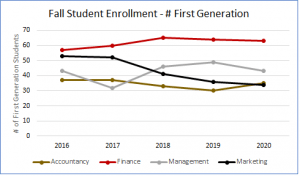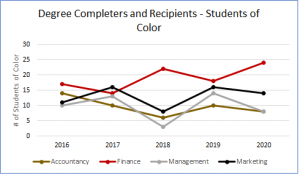 Institutional Infrastructure

PCBiz2025, the PCSB's strategic plan, includes, as one of three overarching goals, a goal dedicated to diversity, equity, and inclusion. A dashboard records progress toward the five objectives under that goal using specific metrics. Progress is reported to faculty, staff, and the PCSB Business Advisory Council annually.
Since 2017, the PCSB has had a multi-stakeholder diversity, equity, and inclusion taskforce. In 2021-22, it became a faculty-led, standing committee, The DEI Committee. It meets monthly and works annually to achieve tactical goals for the year and to further multi-year strategic goals.
Department-level diversity, equity, and inclusion goals were established and reported in summer 2018. In spring 2020, these department-level goals were reviewed, and gaps were identified.
The annual review self-evaluation form for all full-time faculty includes a question about inclusive pedagogy which forms basis for conversation with the dean in her annual performance reviews with faculty.
During the fall 2021 semester, instituted the Dean's Diversity Council. Students on this advisory council meet with the School of Business dean multiple times each semester to discuss issues and provide input related to PCSB policies, resources, services, and initiatives, especially as they relate to the BIPOC student experiences at the PCSB.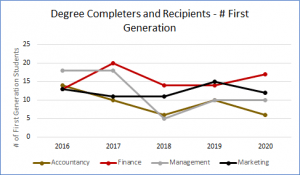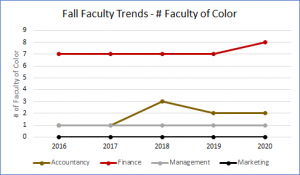 Climate and Intergroup Relations
Beginning fall 2019, all incoming PCSB undergraduate students will receive implicit bias training focusing on managing diversity within teams. In 2020 and 2021 this training, which is a requirement for first-year students, was called Working Across Differences. In this workshop students learn about the importance of diversity in the classroom and the workplace, as well as work on developing a skillset to be an asset to diverse teams.
Incoming PC MBA and M.S. in Business Analytics students are offered training on implicit bias and on developing and working within diverse teams.
In fall 2019, all staff participated in  an implicit bias  training. In 2020, select staff were trained to facilitate DEI workshops for PCSB first-year students. In addition, all staff participated in the College's "Diversity Inclusion in the Modern Workplace" and "Managing Bias" training sessions in spring 2021.
Throughout summer 2020, an opt-in reading group that focused on systemic racism was held. Faculty from all four PCSB departments participated.
Dean Sylvia Maxfield, Professor Theresa Moore, and other staff regularly attend the annual AACSB-sponsored Diversity and Inclusion Summits.
In November 2021, Community Dialogue, Inclusion, and Democracy (D.I.D.) wall was installed in the Ryan Center atrium. The mission of the wall is to create a safe space that supports the development of well-informed and engaged students through civil discourse. Twelve student D.I.D Fellows, with the help of PCSB administrative advisors, produce prompts, collect information from the board, and discuss how to use the information. The D.I.D. Fellows also report to the PCSB D.E.I Committee and receive support from the committee as needed. Introduced with a temporary wall, an electronic interactive D.I.D. Wall will be installed in spring 2022.
In spring 2022 the PCSB will administer a survey to graduating PCSB students assessing their experience and the PCSB's alignment with PC200's aspiration for a community in which all feel included and have a strong sense of belonging.
Formal and Informal Curricula
A comprehensive curriculum assessment was conducted in spring 2020. As a result, the PCSB commissioned two graduate students to find updated business school teaching materials that include broader identity representation.
Researched, developed, and made available to the PCSB faculty a case repository containing over 90 business cases and other business school teaching materials that include individuals with a variety of different ethnic, racial, and other identifying markers.
Collaborated with The Ph.D. Project on a two-day, international, virtual workshop designed to encourage the writing and publishing of more diverse case materials. An in-person workshop is planned for June 2022.
PCSB Assurance of Learning program goals for undergraduate and MBA were revised in spring 2020 to specify "ability for cultural agility in the workplace" as a curriculum learning goal.
The diversity module in a PCSB core course required of all business majors was shifted from a focus on global cultural competency to a focus on race and ethnicity in 2020.
Student Learning and Development
The Berkeley Business Excellence Program was initiated during the fall 2021 semester, with the inaugural class of Berkeley Scholars selected and programming offered.
National Association of Black Accountants (NABA) student club chapter founded Spring 2020. 
Association of Latino Professional for America (ALPHA) student club chapter founded Fall 2016. 
Creation of an PCSB Alumni of Color Network to support students and to engage with campus. (February 2020)
Summer essay challenge sponsored in 2020 for all PC students on why and how racial justice matters for business. Winners had dinner with Rev. Kenneth R. Sicard, O.P. '78 & '82G, president of Providence College, and have a donation made to a non-profit of their choice in their name. 
More Information about Access Assistance for PCSB Students