Transfer Credit Policy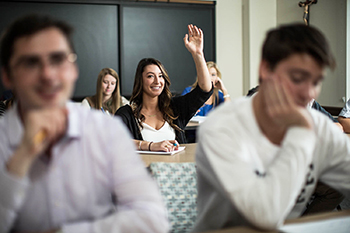 The Providence College School of Business has established the following transfer credit evaluation policies for PCSB students interested in transferring business coursework from another institution. PCSB students interested in transferring coursework must also meet the minimum criteria for transfer equivalency outlined in the PC Undergraduate Catalog.
Business Course Evaluation Policies
The PCSB curriculum consists of business core courses and major business coursework courses.  The restrictions outlined below limit how much credit can be applied to both the business core and major coursework requirements.
Students are able to take lower-level core business classes at any institution of higher learning.
On-line course transfers for lower-level courses need to be from an AACSB-accredited institution.
Students cannot transfer in upper-level business core or major coursework (exceptions are made on a case-by-case basis by department chairs).
Students cannot transfer their major capstone course (no exceptions).
PCSB will only review international coursework from either an AACSB-accredited international business program or from a PC international partner institution approved by the PC Center for International Studies.
A maximum of 60 semester credit hours of transfer credit may be accepted.
Students must complete their two final years in full-time residence at PC and earn at least 50% of their major coursework credits with PC courses.
A grade of C or better must be earned in the individual course to receive academic credit. Please note that C- grades are not approved for transfer credit.
Lower-level business core courses are the following: ACC 110, 111, 203, and 204; FIN 207 and 217; and MKT 205.
Upper-level business core courses are the following: FIN 310, MGT 301, and MGT 330.
Current PCSB Students:
PCSB students who have completed business courses at another institution and would like to have these courses evaluated for equivalency should review the following guidelines:
Future PCSB Students:
Undergraduate students currently enrolled at other institutions who are considering transferring to the PCSB are encouraged to review the following guidelines:
Study Abroad
Providence College students receive PC academic credits — not transfer credits — for their semester or academic year study abroad coursework. PCSB students attending an approved business study abroad program, sponsored by the Center for International Studies, should follow the CIS and PCSB Policy on Study Abroad Courses and the CIS course articulation process.