Study Abroad
Study abroad at Providence College is an academic experience that enhances student learning beyond the home campus through academic, professional, cultural, and personal development. The PC Center for Global Education maintains four pedagogical goals for study abroad in order to support these areas of development: curricular integration, geographic diversity of program locations, program diversity, and career integration and development.
Academically, study abroad is integrated into the PC curriculum. As a result, students receive PC academic credits for their study abroad courses, and they may take a combination of major courses, PC core courses, and electives while abroad in order to remain on track for graduation.
Professionally, study abroad provides the environment for students to gain a competitive edge with their careers and other post-graduation plans.
Culturally, study abroad offers the opportunity for immersive experiences in which students augment their understanding of cultural differences and similarities.
Personally, study abroad is a time for students to grow as individuals and increase their level of independence. Through this self-reliance, students often discover their personal strengths and future goals.
Students from all majors in the School of Business are eligible to study abroad. In fact, business majors comprise about one-third of all PC study abroad students.
Students may study abroad for a semester, a full academic year, or a summer. Please visit the Center for Global Education website for more information on eligibility requirements and getting started.
When you are ready to select a study abroad program, the Center for Global Education and the School of Business have approved a list of programs for business majors with more than 40 program options in more than 20 different countries.
Students should start planning at least one year in advance by working with their academic advisors. Students are also encouraged to meet with a study abroad advisor to select their program and discuss their plans. The Center for International Studies offers an annual study abroad fair, information sessions, walk-in advising hours, and advising appointments.
In addition to semester-long study abroad offerings, PC and the PCSB also sometimes offers short-term study abroad opportunities.
Please contact the Center for International Studies for more campus-wide information, and see below for future and past offerings from the PCSB:
Harkins Hall 215
Phone: 401-865-2114
Fax: 401-865-2455
Website: global-education.providence.edu
---
Upcoming Offerings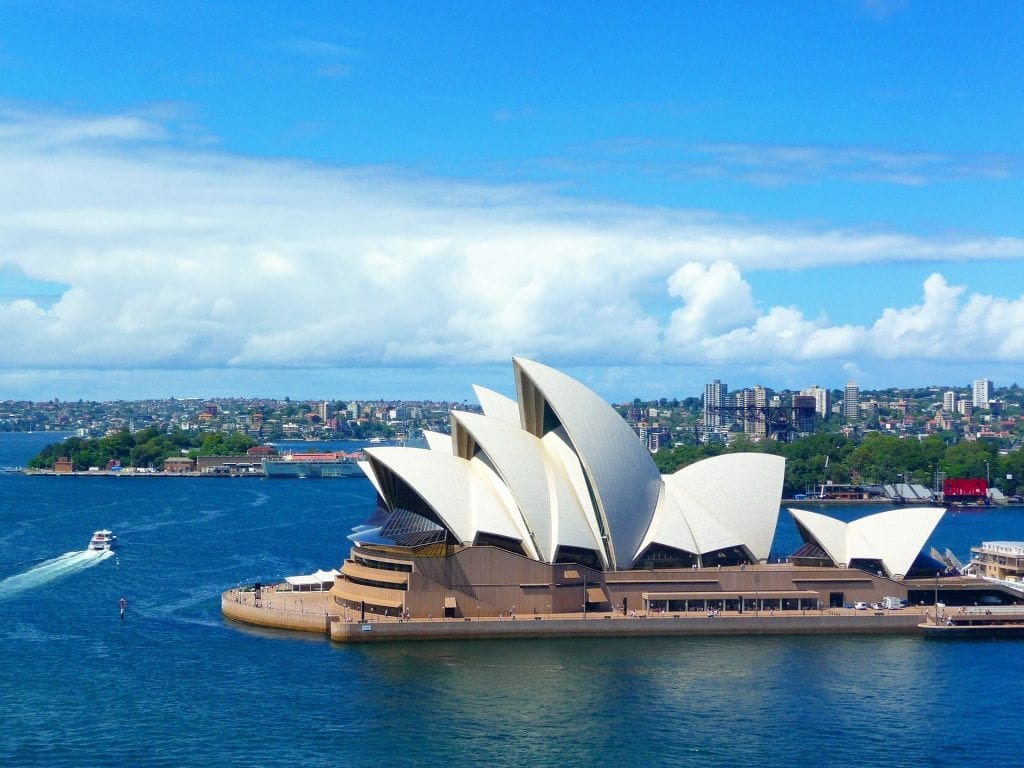 SYDNEY, AUSTRALIA: January 2-11, 2019
The Providence College School of Business (PCSB) is offering the opportunity for PC students to study in Sydney, Australia.  Students will participate in an international business course taught by Global Academic Adventures (GAV) faculty while in Sydney.  Students will then complete specific coursework in either finance, management, or marketing, in an accelerated format, the first few weeks of Spring 2019, taught by PCSB faculty.
Requirements of the Program
Prerequisites
The GAV program expects some minimal background in business as part of the GAV course, taught in-country.  For example, exposure to courses such as marketing, economics, accounting, etc.  However, the courses below do have prerequisites, which are required:
FIN 419: International Finance (required finance major course) – prerequisites: ECN 101 and 102
MGT 479: Special Topics in Comparative Studies in International Business (required management elective course) – prerequisite: MGT 301
MKT 426: International Marketing (required marketing major course) – prerequisite: MKT 335
As a reminder, each course above needs at least a minimum number of enrolled students in order to run in Spring 2019.
Academic and Disciplinary Standing
Students may not participate in this study abroad program if a student's college record reflects any serious disciplinary action or probationary period up to the time of departure. Students also represent Providence College (PC) and PC School of Business and are expected to behave professionally and adhere to all college policies. By not following policies or acting in accordance to these policies and professional behavior, this may lead to your removal from the course and trip experience, forfeiting all financial investments.
In addition, the Center for International Studies requires a minimum cumulative GPA of 2.5 for faculty-short-term programs. However, due to the nature of the academic course material, the PCSB requires a 3.0 cumulative GPA. Students may petition the 3.0 cumulative GPA requirement demonstrating extenuating academic circumstances, but students must meet the minimum 2.5 cumulative GPA.
Required Course Meetings
Students must attend all required course meetings to pass their PCSB course.
Students will attend course meetings while in-country from January 2-11, taught by GAV Australian faculty
Students will attend 1-2 pre-departure preparation meetings in December, which will be determined in early November
Student must attend class meetings in Spring 2019 focused on major-specific course content. These meetings are tentatively scheduled for the following dates:

January 26, 10:00-6:00 p.m.
February 2, 10:00-6:00 p.m.
February 9, 10:00-6:00 p.m.
Students apply for this program by October 1, 2018. At the time of the application, students must indicate which PCSB course they are planning to register for in Spring 2019. Students may indicate a first and second choice.
Application Process & Deadlines
Students apply for this program by October 1, 2018.  At the time of the application, students must indicate which PCSB course they are planning to register for in Spring 2019.  Students may indicate a first and second choice.
The application materials can be obtained in the PCSB Undergraduate Program office or on the PCSB website.  Students must submit the first deposit of $2,425 at time of the application (10/1/2018).  The UG Program will "cash" checks once the minimum number of students is determined to offer the course(s) for Spring 2019.  At that time, the second payment of $2,425 will be due November 1, 2018.
Total Costs
The program cost is approximately $4,850.  This cost includes airfare, housing while the program is in session, ground transportation in Sydney, travel insurance, visa, and most meals.  This cost does not include Spring 2018 tuition, and personal expenses.
The first deposit of $2,425 is due on October 1, 2018 as part of the required application.  If a student is accepted into the program, and PC meets the minimum number of students needed to run the program, the second deposit of $2,425 is due November 1, 2018.
Travel Details
The program is designed for all students to travel together from PC.  The program runs from January 2 to January 11, 2019.  Students should plan on leaving PC on December 31 and arriving back on January 12.  Exact dates and times will be finalized in November 2018.
Scholarship Opportunity
Students may apply for up to $1500 in PCSB scholarship monies.  The process and details regarding the scholarship can be found on the study abroad application form.  Please note, that to be eligible for this scholarship you must 1) apply for both the scholarship and program by September 15, and 2) you must demonstrate both financial need and academic merit.   Please note, the PCSB will try to make decision prior to the October 1 deadline, when the first deposit is due for the program.
---
Previous Offerings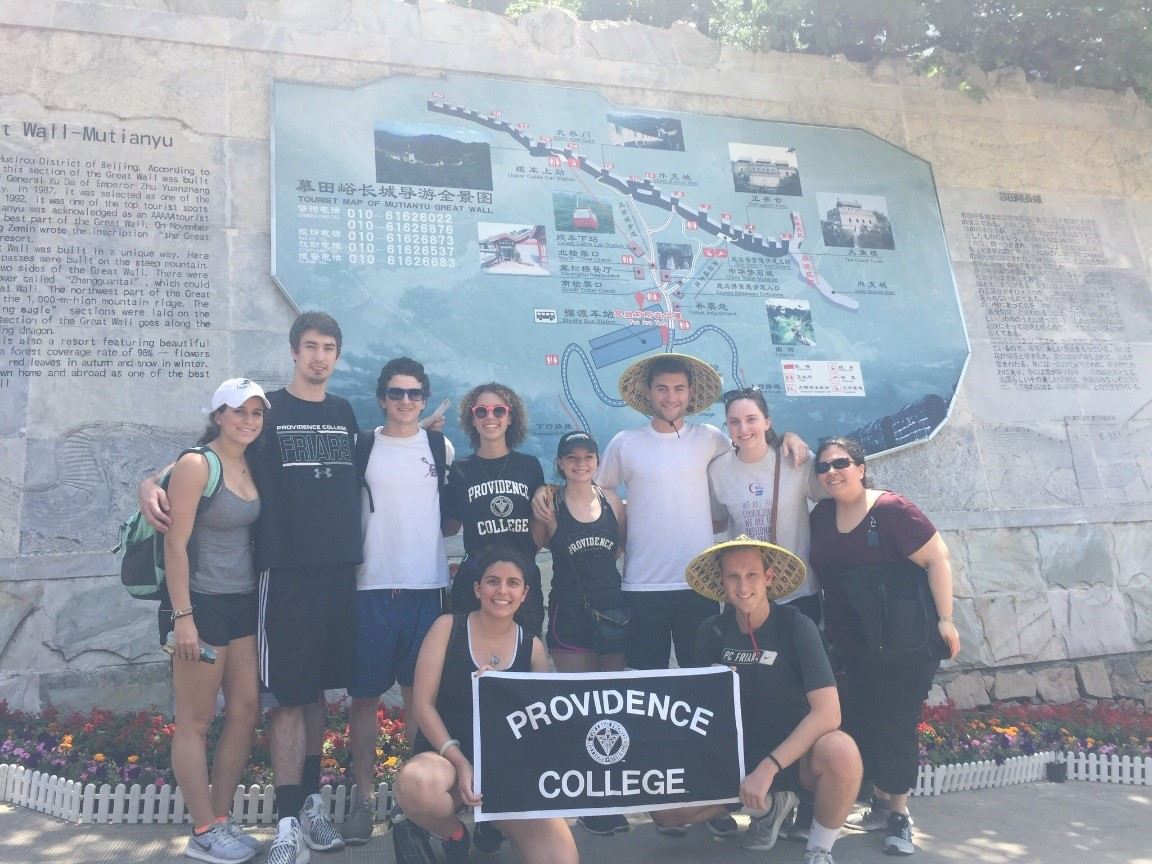 CHINA: Spring 2017
At the end of May 2017, Assistant Dean Dr. Jacqueline Elcik and nine PCSB students journeyed to Shanghai and Beijing as part of a 16 day-long Maymester course. After students completed a week in the United States, the group boarded a flight to Shanghai to experience Chinese culture firsthand. While in Shanghai, students had the opportunity to interact with other Chinese students during a mixer, toured the Nanjing River, visited Coca-Cola, saw the World Financial Center, and much more. Each day included lectures, tours and site visits, all geared toward helping students experience a different culture and see how business norms differ from country to country. In addition to structured daily activities, students were allotted free time to truly immerse themselves in the Chinese culture.
 

"The Maymester trip to China was an incredible experience! We had the opportunity to visit with several companies while in China to learn about their structure and leadership styles. Traveling abroad also provided the chance to experience a new culture and understand organizations behavior from a global perspective."

Abigail Cook '18