First-Year Advising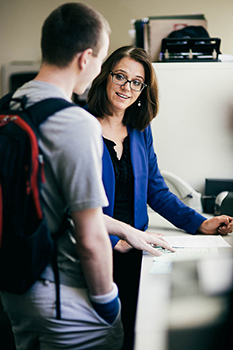 The Providence College School of Business first-year advising model is designed to enhance the first-year experience for PCSB students by helping to provide a smooth transition to college. First-year business students are assigned a professional first-year academic advisor who will be their academic advisor during their first year. These advisors are experienced in working with new students.
Students will attend first-year advising workshops facilitated by their first year advisor during their first semester. The First-Year Advising Program will provide first-year students with an understanding of the PCSB curriculum and help them develop the skills needed to make important academic and co-curricular decisions. They will provide students with face-to-face check-ins with their first year academic advisor. Topics covered include business curriculum, course registration, career opportunities, alumni speakers and campus resources.
Please note: Any first year business major who wants to change his/her major within the School of Business may submit his/her request to the PCSB Undergraduate Office by the end of the first week of classes each semester. After the first week of classes, the School of Business will not process any requests to change majors within the School of Business (e.g. ACC, FIN, MGT, MKT) until the next semester. Requests to change to a non-business major will be processed on an ongoing basis within PC guidelines.
Book an Advising Appointment