Benjamin Family Social Media Fellowship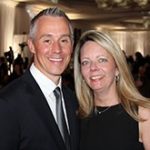 A generous endowment gift from Class of 1991 alumni Meg and Adam Benjamin has made possible our launch in August 2016 of the annual Benjamin Family Social Media Fellowship. The Benjamin Family Social Media Fellowship is awarded to excellent students who are actively pursuing careers in digital marketing, and open to all Providence College students (though most applicable majors would include marketing, management, math, finance, accounting, English, and art). Those selected for this honor will receive extensive training and opportunities to plan and implement actual social media campaigns through the Providence College School of Business (PCSB) social media accounts. Extensive networking, culminating in a trip to visit leading social media companies and organizations, will be an essential and valuable component of the program. Those who successfully complete the program will be honored by the PCSB and receive a stipend.
---
Join us on Social Media!
---