MBA Curriculum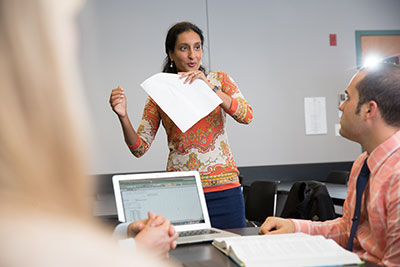 Providence College MBA Program is a high-quality, management-focused program designed to create a comprehensive understanding of business organizations with an emphasis on critical thinking, problem-solving skills, data analysis, and knowledge across a breadth of business disciplines. The curriculum was recently restructured to incorporate a deeper quantitative focus and an emphasis on data-driven, strategic decision-making.
The MBA Program offers four options: Part-Time MBA, Full-Time MBA, 4 + 1 MBA Program, and the Accounting Cohort. Each MBA Program requires 12 to 21 courses: eight prerequisite courses, nine MBA core courses, and three to four electives. For more details, see the MBA Program of Study worksheet relevant to your program
MBA Course Schedule & Academic Calendar
The PC MBA Program is dedicated to providing students with maximum flexibility by offering MBA courses throughout the year — fall, winter, spring, and summer semesters, as well as accelerated courses taught in weekend and week-long programs. Information regarding the MBA schedule can be found on CyberFriar.
Both MBA core and elective courses are offered fall, spring, and summer sessions. In addition, electives are also offered during winter session. The MBA Program offers week and weekend-long accelerated courses throughout the year and always during winter intersession.
For more details regarding academic dates, please see the Graduate Academic Calendar.
Prerequisites & Foundational Requirements
MBA Prerequisite Courses
The MBA Program requires each student to complete nine prerequisite courses. These courses provide a basic foundation for the MBA Program and are prerequisites for MBA core courses:
Financial Accounting
Managerial Accounting
Managerial Finance I
Principles of Marketing
Microeconomics
Macroeconomics
Mathematics for Business Analytics/Business Calculus
Statistical Analysis
A complete list of core and prerequisite courses can be found in the 4 + 1 Plan of Study, the Full-Time/Part-Time Plan of Study, and the Accounting Cohort Plan of Study.
These courses are not required to begin the MBA Program. However, students may complete all, some, or none of these courses before applying and beginning the program. It is recommended students apply to the MBA Program prior to taking prerequisite classes. Students who need to fulfill any of the prerequisite/foundation courses can take these courses at any accredited institution or through the PC School of Continuing Education (SCE). Students interested in taking a course with SCE as a prerequisite should contact the SCE Office at 401-865-2487 or sce@providence.edu.
MBA Foundational Requirements
In addition to all undergraduate prerequisites for the MBA Program, and to ensure students succeed in the new MBA curriculum, all students must complete MBA 502: Foundations of Business, a zero-credit-hour, pass/fail course. This course should be completed by the dates noted below and is required for graduation. Delays in completion of MBA 502 may result in course withdrawal, which could postpone sequencing of courses and graduation.
MBA 502 has three requirements designed to prepare students for quantitative MBA coursework:
All sections of MBA Math, which consists of: Spreadsheets, Accounting, Economics, Finance, and Statistics, must be completed with at least an 85% to satisfy MBA 502 and to graduate from the MBA Program. MBA Math is paid for via your enrollment deposit. Access to MBA Math will be provided to students shortly after the reply to offer of admission and enrollment deposit are received.

Undergraduate business majors should have most, if not all, prerequisites coming into the program and should complete MBA Math prior to attending the New Student Orientation (orientation dates can be viewed on our New Student Orientation Workshops page).

Students who do not have all prerequisites will complete the Spreadsheets section of MBA Math prior to attending the New Student Orientation. These students will then have one year from the start of the program to complete the foundational prerequisites and remaining MBA Math sections. NOTE: The MTH/FIN 217 pre-requisite must be satisfied prior to the Statistics section of MBA Math and the Statistics section must be completed prior to registering for MBA 687.

Students who do not complete MBA Math sections by specified deadlines will be withdrawn from section-aligned courses the week before classes begin, which may delay graduation.

Students will upload a copy of their MBA Math transcript, MS Excel Certificate and Orientation Attendance Form, when completed with each.
Students must demonstrate Microsoft Excel proficiency in preparation for MBA 687 and MBA 690. Additional details on Microsoft Excel proficiency options will be available in the weeks after a reply to offer of admission and enrollment deposit are received. Coupled with the MBA Math Spreadsheets section, additional preparation may include an exam or a Microsoft Excel Certification, which can be completed online or in-person with a program of the student's choice. Students who do not demonstrate Microsoft Excel proficiency prior to beginning MBA 687 will be withdrawn from the course, which may delay completion of the MBA Program.
All new students must attend the mandatory New Student Orientation Workshop(s). Orientation is designed to prepare students for the MBA Program on topics such as: skills and professional development, business communications, and leadership. Students will also network with peers, professors, and MBA staff. Orientation dates are listed on acceptance letters.
Core Courses
The MBA Core consists of 12 courses – providing students with exposure to a broad range of business topics and helping them to gain an understanding of business. The core curriculum listed below is designed to provide students an in-depth mastery of the academic discipline and functional areas needed for today's business leaders.
Real-World Experience Requirement
The MBA Program requires work experience. To satisfy this requirement students may:
complete a 300-hour business-related internship
take the MBA 699: Real-World Experience: Business Internships course for credit
complete a PCSB real-world consulting class for credit
demonstrate significant prior business work experience.
More details on these options can be viewed on the School of Business Graduate Programs Advising page. Students who do not take MBA 699 substitute it with an elective.
MBA Core Course Waivers
Students are able to waive select core courses based on previous academic work. Please see the Graduate Programs advising page for more information about MBA core course waivers.
Electives
MBA students must complete between three and four electives to obtain an MBA degree. Sample electives include:
Accounting Frauds, Scandals and Scams
Accounting for Government and Non-Profits
Fixed Income Securities
Portfolio Management
Brand Marketing
International Marketing
Social Media in the Business Environment
Leadership Coaching
Concentrations
While the core of the MBA curriculum provides breadth of knowledge, students can develop depth of knowledge in a particular area by completing an elective concentration in Finance, International Business, Management, or Marketing. Students interested in Accounting should apply for the Accounting Cohort program. Part-time students interested in Accounting must declare a concentration upon entry into the program.
Three electives in the same subject can be used toward a concentration. For more information about concentrations, please refer to the Electives and Concentrations document for more information.
A concentration is not required to complete the MBA.
The Providence College School of Business is accredited by AACSB International, a distinction held by only 5 percent of business schools worldwide.