Majors, Minors & Certificate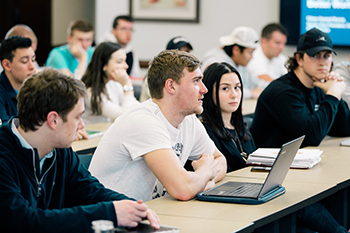 There are four academic departments and corresponding majors in the School of Business:
Major Degree Requirements
A bachelor of science degree in a business discipline requires a minimum of 120 credit hours. Some degree programs require more credit hours. To successfully complete the degree, students must maintain good academic standing with a minimum GPA of 2.0, both overall and in the major. Course requirements regularly evolve to meet the demands of the modern, changing market. Students should be careful to select the academic planning form corresponding to their major and expected year of graduation.
Accountancy Academic Planning Forms
Finance Academic Planning Forms
Finance Fast Track Academic Planning Form
Management Academic Planning Forms
Marketing Academic Planning Forms
Minors
The PCSB offers minors in accountancy and finance. Minors offer students the opportunity to focus on an academic area that may complement their major. Both business majors and non-business majors may consider completing an accountancy or finance minor.
View the accountancy and finance required courses sheet here.
Business Studies Certificate
There are many academic paths for students to follow in developing a potential career in business. The traditional business major is one route that many students follow. However, there are other students who are interested in careers in business but do not wish to major in business. The School of Business offers a Business Studies Program to satisfy the needs of these students. Students who successfully complete the requirements of the program are awarded a certificate in business studies.
Please note: We are in the process of re-designing the Business Studies Program curriculum. First-year students should check back  for updated information. 
Current sophomores and juniors should contact the PCSB Undergraduate Program Office in Ryan Center 135 for information on the Business Studies Program application process and curriculum.