Marketing Minor for Non-Business Majors

What is the Marketing Minor at PC?
Marketing is an art and a science of value creation, communication, delivery, and exchange. The Providence College marketing minor enables students from the School of Arts & Sciences and School of Professional Studies to acquire new marketing communication skills and gain a greater understanding of the connections between the liberal arts and business. The minor complements various non-business majors by creating pathways for students to bridge their main academic focus in liberal arts or professional studies with the business world.
How it Works
The minor is a tailored set of six courses that are intended to provide breadth in the marketing discipline and depth in specific thematic areas, leading to potential careers in sales, consumer research, digital marketing, advertising, media planning, or brand management, among others. Each course includes a hands-on marketing project to provide an experiential component to the minor.
Courses
The marketing minor consists of six courses. These include two foundational courses that introduce students to core marketing concepts, one communications-focused course from a menu of three electives, and three additional electives to build a set of six courses to complete the minor.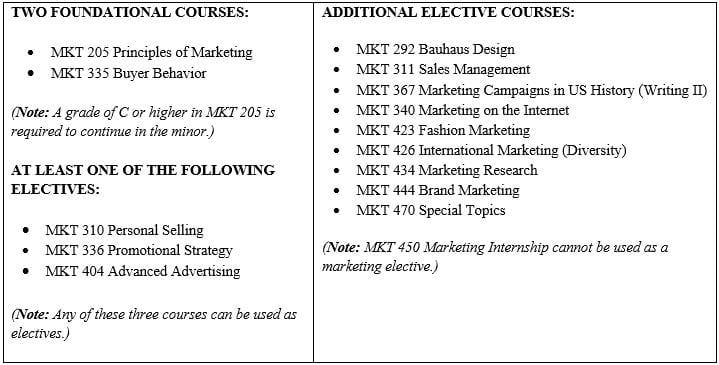 Please see the PC catalog for current course descriptions for the marketing minor.
How to Declare
Students applying for a marketing minor must have a declared non-business major (either in the School of Arts and Sciences or the School of Professional Studies). Please print out your current academic transcript from CyberFriar indicating your declared non-business major.
Complete the Academic Program Adjustment Form. Please make sure to obtain signatures from your major advisor (required) and the major department chair (required).
Make an appointment with Dr. Piotr Chelminski in the Department of Marketing (Ryan Center 265, pchelmin@providence.edu). When requesting an appointment please indicate your availability to meet during weekdays. Please bring the following to the meeting:


The Academic Program Adjustment Form signed by both your major advisor and the chair of your major department.
Your current academic transcript printed from CyberFriar.

After obtaining an approval signature from Dr. Chelminski, please submit the completed Academic Program Adjustment Form to The Office of the Registrar in Harkins Hall 310.
Please check your CyberFriar record after a few days to verify your declaration.