Site Home
>
Quarterly Update: A Letter from Dean Maxfield (July 2020)
Quarterly Update: A Letter from Dean Maxfield (July 2020)

Greetings from Dean Maxfield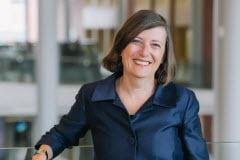 Dear Friends,
Even from a figurative and literal distance, it is clear to me that the renewed sense of outrage against systemic racism in our country has ignited something in our Providence College School of Business students. They are telling us, directly and through their social media commentary, that they are adamantly committed to justice and equity, a cause that will remain at the forefront for them throughout their lives and their careers. As educators, we have both the opportunity and the responsibility to join and engage with those students – our future leaders – as we work together toward fostering meaningful change.
This cannot wait until the fall semester begins, so the PCSB faculty and leadership team have been working on initiatives meant to effectively begin this work. The PCSB Racial Injustice Summer Challenge invites our students to enter an essay (written or video) contest analyzing injustice and inequity in a business context and offering ideas – based on real-world examples – about ways business can effect societal transformation.
We also are encouraging all in our PCSB community, including alumni, to participate in the Providence College Anti-Racism Series of virtual presentations, organized by our inspiring colleagues in the Office of Institutional Diversity, Equity, and Inclusion. The next session, incidentally, is scheduled for Thursday, July 9.
In settings both formal and informal we are talking about ways to carry this commitment into the classroom and other parts of PCSB life in the fall semester. We owe it to our students, who look to us for guidance and example, to exemplify commitment to a just society, and we will deliver on that promise.
I hope you have seen the May 31 and June 12 messages from Rev. Brian J. Shanley, O.P. '80 who just concluded his 15-year term as president, and Rev. Kenneth R. Sicard, O.P. '78 & '82G, who takes over as president today. They reflect my own deeply held feelings about the evils of racism and injustice, and the examples they have set as our leaders makes me proud to be a member of the Providence College community.
PC is the kind of place where we should challenge and commit ourselves to a meaningful and ongoing discussion about critical matters such as these. The business degree we provide exists within a liberal arts context, giving our students the opportunity to develop the insights they need to thrive in a changing world. If we are doing our jobs correctly, we will help them develop the habit of reflection and the courage to act – characteristics that will make them effective leaders in our shared quest to become a more just society.
Sincerely,