Michael Smith Business Ethics Case Competition
The Providence College Ethics in Business Education Program hosts the Michael Smith Business Ethics Case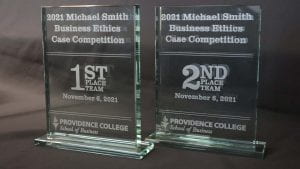 Competition. For this competition, teams comprised of undergraduate students examine a business ethics case over a two-week period and then present their analysis and solution to a panel of judges consisting of corporate and ethics professionals.
There is a $2,400 prize for the first place team and a $1,200 prize for the second place team. All teams are required to have an advisor. Space is limited and teams are registered on a first-come, first-served basis. One team per college or university.
The most recent Michael Smith Business Ethics Case Competition was held on November 6, 2021. Please see the Past Competitions page for more information about this event, as well as the PC Business Ethics Case Competition, which is held exclusively for Providence College students.
About Michael Smith
Michael T. Smith '65 is the retired chairman of the board and chief executive officer of Hughes Electronics Corp., which he served from 1985 to 2001. While with Hughes, he served as chairman of Hughes Aircraft Company and of Hughes Missile Systems Company, and was vice chairman of Hughes Electronics.
Mr. Smith helped transform Hughes, which at one time was an anchor of Southern California's military industry, into a technology powerhouse and the third-largest provider of pay television in the United States. Hughes' best-known venture was DirecTV.
Mr. Smith joined Hughes after 17 years at General Motors, first with the accounting department and then with the finance team. He worked for GM in the U.S. and Spain before returning to Detroit in 1982 as the corporation's assistant controller.
A native of Worcester, Mass., and a U.S. Army veteran, he earned a bachelor's degree in political science from Providence College and an MBA from Babson College. He also holds an honorary doctor of laws degree from Pepperdine University. A former member of PC's Board of Trustees and the PC School of Business Advisory Board, Mr. Smith is a director at Teledyne Technologies, FLIR Systems, Inc., WABCO Holdings, Inc., and Zero Gravity Solutions, Inc. He is married to Jane E. Smith.