Site Home
>
Quarterly Update: A Letter from Dean Maxfield (4/1/20)
Quarterly Update: A Letter from Dean Maxfield (4/1/20)

Greetings from Dean Maxfield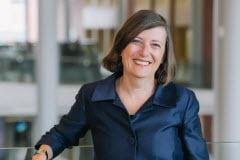 Dear Friends,
Even in these strange and trying times, so many things happening at the Providence College School of Business – and throughout the PC community — illustrate in this crisis the core values of the Friar Family. Faculty and staff put in countless hours of virtual training and continuity planning over spring break to enable the remote instruction and administrative work that are allowing our students to continue their studies. For instance, although we have had to cancel several events, most of our experiential learning programs are in place using technology-mediated formats. Also, PCSB faculty and staff have not missed a beat in their one-on-one student advising, providing insights on job searches in economic hard times and encouraging students to be persistent and resilient. The Center for Career Education and Professional Development is supporting these conversations by offering services to students through online resources and other technology-based platforms. The College-wide outreach coordinator, Cheryl Granai, remains available to support students with resilience coaching, a valuable resource that I hope you will share with PC students and families you may know.
While seniors are understandably devastated to miss many wonderful senior spring traditions, I am so proud of how students have stepped up. One wonderful example comes from a PCSB Organizational Theory class, which made a video encouraging responsible decision-making to promote public health and posted it on social media. More than 40,000 people have watched the video on YouTube, and our colleagues in the communications office posted a story with all the background and a link to the video. I am also very grateful to those alumni and friends of the PCSB who have sent notes of encouragement during a time when they are facing their own extraordinary challenges. All of this activity – and so much more that we are hearing about every day — shows the strength of our community. We are a strong and united #FriarFamilyStrong and I am certain that we will come through these historic circumstances better than ever.
Necessity is the mother of invention and this situation has pushed us forward on the path of building from the best of the 800-year-old Dominican tradition as we lean into the 21stcentury. It is exciting to see faculty embracing new ways of teaching and watching everyone — staff, faculty, students, and alumni — rise to the challenges we all face. I am confident that the innovation occurring right now in how we do our work as a business school will have a lasting positive impact, when our lives return to normal. More than ever I am grateful for your support as alumni and friends of the college.
Sincerely,