Site Home
>
Greetings from Dean Maxfield – April 2022
Greetings from Dean Maxfield – April 2022
Dear Friends,
Coach Ed Cooley has a knack for getting to the heart of the matter.
We can all take valuable lessons about leadership and team building from Coach Cooley's example, beginning with his extraordinary communication skills that were on full display during the just-completed historic season that thrilled us all.
From his viral "be them dudes" sideline huddle speech to his insightful, endearing postgame interviews, Coach Cooley always makes his points with clarity, authenticity, and personality.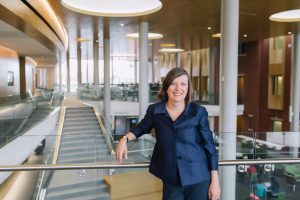 In these examples, we focus on what he is saying. But we should also pay attention to the players in the huddle and to the interviewer, because we can see the straight line from good communication to creating strong relationships. People engage with Coach Cooley's message because they have genuine relationships with him. Creating those connections is an ability he has acknowledged to be his greatest strength as a leader and builder of teams.
While there are not many Ed Cooleys among us, these are universal guiding principles at the core of the Providence College School of Business experience. We are committed, in both curriculum and associated programming, to nurturing students who will be effective team members and who are ready to develop into leaders.
One good example is the PoWE (Power of We) peer assessment tool, created by faculty members Chris Lyddy and Deirdre Snyder. Using this platform in team settings, students give and receive peer feedback as they work on projects. As with the example of Coach Cooley, this idea connects the concepts of communication and relationship-building to leading the development of teams.
Examples abound inside the classroom and in other spaces, as we work – based on purposeful planning by our faculty and staff – to replicate team environments that we know students will find when they enter the workforce. Our alumni advisers and the business people who hire our graduates tell us this is important and that they value the capabilities of PCSB graduates when it comes to collaborating in groups working toward a common goal.
This teamwork orientation is one of the attributes that sets PCSB apart, and it is at the core of the school's brand identity. What a joy it has been over the course of the past several months to see these concepts exemplified by this great Friar basketball team and its inspiring leader. I hope you enjoyed the season as much as we did here on campus.
Thank you for your ongoing interest in the Providence College School of Business.
Sincerely,

Dean Sylvia Maxfield
Providence College School of Business