Finance Courses & Tracks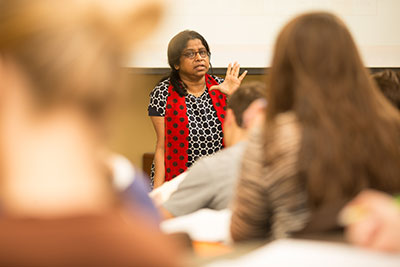 Courses offered in the finance major and minor expose students to the traditional areas of study within the discipline: corporate finance, investments, and financial institutions.
Subject areas include:
Financial Accounting
Managerial Accounting
Managerial Finance
Statistics
Financial Markets and Institutions
Investments
International Finance
Seminar in Finance
Ethics
View the full and current list of course offerings in the Course Catalog.
Special Course Opportunities
Within the Finance major, students can also choose to pursue specialty programs and tracks to better prepare them for specific careers after graduation. Program summaries are below, but students seeking the Fast Track, CFA, or CTP Options should contact their advisor (preferably) or the Finance chair for directives on the sequence of courses.
Fast Track Option
The Department of Finance offers a Fast Track Option for selected first-year students. This option provides the student the opportunity to complete the required courses in Finance at a faster pace and enroll in higher level finance courses sooner, which may result in students being better prepared for careers in commercial banking/credit risk analysis, investment/wealth management, and corporate treasury management. Students with acceptable scores in AP Calculus, AP Statistics, AP Economics and SAT (Math) scores above 600 are strongly encouraged to apply for this track. For more information on the Finance Fast Track option, contact Professor Matthew Callahan in the Finance Department.
Risk Management Track
Industries that utilize risk managers include commercial banking, insurance, investment banking, commercial real estate, financial services consulting, and the list is only growing. In fact, according to the Bureau of Labor Statistics, job growth is expected to be 19% through 2026.
The Providence College Finance Department is one of the few programs that offers a risk management track at the undergraduate level. This track includes preparing students to sit for the Certified Credit Essentials examination. In addition, the department has entered into an agreement with the Risk Management Association, opening unique opportunities to PC students interested in this field, such as resources to find risk management internships and information on scholarships.
The PC School of Business also has a partnership with the Saint John's University (NY) Masters in Science program in Risk Management and Risk Analysis, which provides priority consideration and a tuition discount to PC Risk Management Track graduates.
For more information about the Risk Management Track contact Dr. Vivian Okere or Professor Kevin McMahon.
Risk Management Track Courses:
Required Courses:
FIN 417 – Fixed Income Securities
FIN 440 – Options and Futures
FIN 475 – Financial Modeling
FIN 470 – Special Topics in Enterprise Risk Management
FIN 422 – Commercial Credit Risk Analysis
* FIN 422 prepares students to sit for the Certified Credit Essentials examination
Elective Courses (Optional):
FIN 311 – Management Science
FIN 320 – Insurance and Risk Management
FIN 445 – Portfolio Management
The Chartered Financial Analyst (CFA) Option
The Finance Department offers course options (see below) augmented by co-curricular activities that prepare students to sit for the Level I CFA exam in the spring semester of their senior year. This exam is paid for by the Providence College School of Business.
Offering this option at the undergraduate level provides PC students with a clear competitive advantage, increasing their value to a wide range of employers, including firms involved with security analysis and research, investment banking, asset/wealth management and financial planning. For more information on the Chartered Financial Analyst Track, contact Professor Marcin Krolikowski, Ph.D., CFA, or Professor Edward Szado, Ph.D.
Investment Management Track (IMT)/Treasury Management Track
(Certified Treasury Professional (CTP) Option)
The Certified Treasury Professional designation (CTP) is the flagship for students desiring to pursue careers in Treasury Management. The Finance Department is a member of and participant in the Association of Finance Professionals (AFP) Corporate Treasury Management (CTM) Program. The CTP is the Global Standard of Excellence in Treasury Management. As a participant, the Finance Department has been granted access to the resources that assist instructors in the delivery of the course and in preparing finance majors to sit for the CTP examination. The programs are called the PCSB Investment Management Track (PC-IMT) and Treasury Management Track respectively.
Offering these options at the undergraduate level provides Providence College students with a clear competitive advantage, increasing their value to a wide range of employers, including those involved with securities analysis, investment banking, treasury management, asset-liability management, and financial planning. For more information on the Investment Management Track or the Certified Treasury Professional Track, contact Dr. Vivian Okere.
Chartered Financial Analyst (CFA) & Certified Treasury Professional (CTP) Recommended Courses
Rather than enrolling in free electives towards the minimum credit requirement for graduation, students in CFA and CTP Tracks are advised to enroll in:
For both CFA & CTP Tracks:
ACC 310 – Intermediate Accounting I
ACC 311 – Intermediate Accounting II
FIN 420 – Corporate Treasury Management
For CFA Track:
FIN 440 – Options and Futures
FIN 445 – Portfolio Management
FIN 417 – Fixed Income Securities
Students may also enroll in the two-semester course:
FIN 495 – Student Managed Investment Fund I
and
FIN 496 – Student Managed Investment Fund II