Site Home
>
PCSB and Beyond: An Interview with Hannah Flynn '22
PCSB and Beyond: An Interview with Hannah Flynn '22
PCSB and Beyond seeks to engage members of the Providence College School of Business community in meaningful dialogue about the importance of an education that combines studies in business with the Liberal Arts and other areas. The podcast is hosted by Madison Palmieri '22, Editor for the 2021-2022 Benjamin Family Social Media Fellows. A Rhode Island native, Madison is also a Head Writing Tutor at PC's Writing Center and an editor at The Cowl and Veritas.
MP: Hello and welcome to PCSB and Beyond, where we talk with Providence College students whose studies take place both inside and outside of the Ryan Center for Business Studies and discuss how this has impacted them both inside and outside the classroom. We're here today with current student Hannah Flynn. Thanks for joining us today, Hannah. To kick things off, can you tell us a bit about yourself?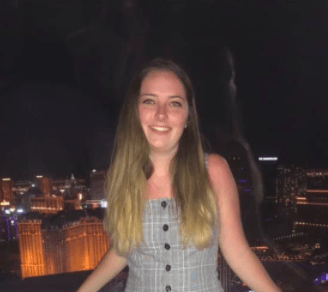 HF: Sure. I'm a senior from West Bridgewater, Massachusetts. I'm a political science major with a double minor in sociology and business and innovation on an organizations and entrepreneurs track.
MP: Awesome. So how did this combination of majors and minors come about? What made you decide to pursue that really unique mixture?
HF: I came in undeclared. I really didn't know what I wanted to study. The school put me into an undeclared advising course, which was extremely helpful in gauging where I wanted to be, what my potential interests were, and what I wanted the future to look like for me. It was through that, with a bunch of other undeclared students and my undeclared advisor, that I came to realize that I had a real passion for politics and that I really wanted to pursue that. But I also realized the importance of business and, knowing that I wanted to be a lawyer, I thought that it was important to have somewhat of a business background. But I wasn't sure if I was ready to fully commit to a business major along with the political science major. My course actually had us all go to the major/minor fair together. When I was there, I was talking to Dr. Veliz-Moran, who actually ended up being one of the track sponsors for the business and innovation program. She basically explained it to me as a minor for non-business majors that allowed me to get that interdisciplinary study and combine my love for politics, while also picking up a sociology minor, with a business background that was pertinent to what I was studying. So, within the business and innovation minor, there was a bunch of different tracks you could choose from. I chose the organizations and entrepreneurs one because I felt like that one used more sociology and politics and things that I'm passionate about and have been learning about to look at business. So, whether it be looking at why consumers shop the way they do or how to market products a certain way, the more sociological background pertains to that.
MP: That's awesome. I know you just kind of touched on this a bit, but would you like to elaborate any more on why you particularly like this combination of majors and minors that you're studying?
HF: Yeah, I like it because it allows me to pursue my passion in political science while also getting that basic background. There's been lots of different opportunities through the minor that I've been able to take advantage of that I might not have really known about if I was just a political science major, such as getting Excel certified. I've had amazing professors who are important people and have done really amazing things in the business world, and the emphasis in a lot of these classes has been that you don't have to be a business person, you don't have to be analytical, you don't have to be good with math. There's lots of different attributes that make someone into a good businesswoman or businessman, and you don't have to follow a typical route to get there.
MP: Yeah, definitely. So, what has studying both inside and outside of the business school taught you? Have you found that your business classes help you with your non-business classes and vice versa?
HF: Yeah, it's definitely given me more of a perspective. In political science, we're learning about government and the rules that make up the business world and how those are regulated, and in the business classes, we're actually seeing how those regulations can affect a business and how they can lead to some people getting more advantages and some getting less advantages. It's made me better understand not only the relationship between government and businesses in America, but also on a global scale, looking at different countries and their relationships, how sometimes businesses are more ingrained in government whereas in other places they might be separate. So, it kind of aids in that study. Along with my sociology, it also aids in understanding how people are accustomed to buying certain things or subscribing to certain things because of where they grew up and the influences that they had.
MP: Definitely. So, how would you say that this combination of majors and minors has helped you outside the classroom? Has your program of study led you to any unique experiences, or to consider a particular career?
HF: Yeah, so I think that it's definitely made me more sure that I want to be a lawyer, because I'm able to combine my love of politics with more of a business background, and potentially either have my own firm one day or go into business law having that background. Last spring, I ended up working for the South African government where I was doing conflict-related research directly stemming from COVID. We were working with different businesses and different companies to try and figure out how to resolve conflict and how to make the workplace less divisive, especially during COVID. We were seeing that kind of play out on a mass scale, so even though I was still here on campus and I wasn't able to go abroad, I was still using that background knowledge to contribute to one of the largest nongovernmental agencies in the world and see it play out on a global scale.
MP: Wow, that's awesome.
HF: I also interned with US Congressman David Cicilline and this happened right during the height of COVID, and we were seeing that there were a lot of changes that had to be made to support businesses and to really help them out in these times of struggle. So, I think that it allowed me to better understand the laws that we were making and how they were directly affecting business owners.
MP: Yeah, definitely. So how do you see this helping you in the future, with maybe some more internships down the line or even your future career?
HF: Yeah, I definitely think that it has made me more confident in my bargaining skills, in standing up for myself, and in being familiar with those business practices that I might not have learned otherwise. Also, it will help me a lot when navigating law school, with understanding how laws play into everyday life and how they apply to businesses, and basically how they apply to how our society's functions in so many different ways. I don't think that you can have business without government, and I don't think that you can have government without business, so I think that they go hand in hand in that, and I see that being the case in my future career if I decide to go into business law.
MP: Awesome. So, one final question for you today. Thinking holistically, what do you think are the benefits of combining business and nonbusiness studies?
HF: I think that it's allowed me to tailor my studies exactly to what I'm looking for and what I'm trying to get out of my education. Instead of studying them separately, I'm able to tailor what I'm learning in politics and about the type of business that I want to study. I think they're very vast fields with lots of different avenues to go down. So, having the certain directions that I know I want to study and knowing that I want to look at politics in terms of business has allowed me to find that passion for law and understanding the market. It's given me a lot of opportunities to meet people I probably would've never had class with before, especially people that might be biology majors, or history majors, as we all use our common background and our different backgrounds to come together and utilize that business thinking. I think it's given me a better sense of the world around me. It's really helped me to understand how the laws that we as a country are establishing are directly affecting businesses and people's livelihood and their successes as well as to see how that trickles down on a smaller scale around us every day.
MP: Yeah, that's a great point. Well, thank you so much for joining us today.
HF: Thanks for having me.