Site Home
>
PCSB and Beyond: A Conversation with Seamus Crowell '23
PCSB and Beyond: A Conversation with Seamus Crowell '23
PCSB and Beyond seeks to engage members of the Providence College School of Business community in meaningful dialogue about the importance of an education that combines studies in business with the Liberal Arts and other areas. The podcast is hosted by Madison Palmieri '22, Editor for the 2021-2022 Benjamin Family Social Media Fellows. A Rhode Island native, Madison is also a Head Writing Tutor at PC's Writing Center and an editor at The Cowl and Veritas.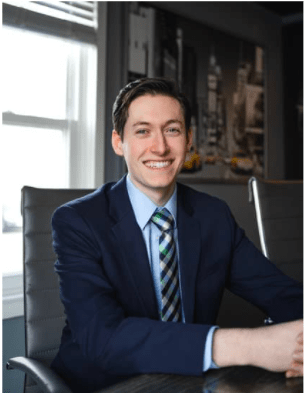 MP: Hello, and welcome to PCSB and Beyond, where we talk with Providence College students whose studies take place both inside and outside of the Ryan Center for Business Studies and discuss how this has impacted them both inside and outside of the classroom. We're here today with current student Seamus Crowell. Thanks for joining us today, Seamus. To kick things off, can you tell us a bit about yourself?
SC: Yeah, thanks for having me, Madison. I'm excited to go on this journey with you here. My name is Seamus Crowell and I'm a junior from Glastonbury, Connecticut but I just moved to Rhode Island. Here on campus, I am pretty involved. I am a business management major and a finance and Spanish minor. I am also a member of the Admission Ambassadors program, the Student Alumni Association, Delta Sigma Pi, our professional business fraternity, and the Office of Academic Services as a writing tutor. I want to "shout out" that this past weekend was a lot of fun because we had our Golden Friars reunion as well as a lot of Admissions-related things happening on campus. So, needless to say, I was really active in a lot of things I'm involved in this past weekend.
MP: Awesome. Can you tell us a bit about your major and minors here at PC?
SC: Yeah, so with Business Management, I decided to come in thinking, "business undecided" and ended up really liking management. I believe it was the second year Management 101 was offered, and it was taught by Dr. Matthew Erickson, the chair of the department. I loved it, so I wanted to stick with the subject. But since then, I've enjoyed the finance classes I've had to take as a business student, so I picked up the finance minor last year, towards the beginning of last semester, and I'm taking a lot more of those finance classes this year. I also took five years of Spanish from middle school to high school, and I really liked it and went abroad my senior year of high school, so I decided to stick with that and put them all together, and here we are.
MP: So, what do you like about your combination of majors and minors?
SC: I like it because I think it lets me have a lot of options in the future; it doesn't limit me. Management and finance aren't so limiting in the sense that I would have to go right after college to get my CPA exam to be, say, an accountant, not that there's anything wrong with that. Just for me, I'm very indecisive, so it's hard for me to know exactly what I want to do after college. I know I like to work with people in a professional setting, so I could see myself doing something with commercial real estate or some kind of recruiting, HR maybe. I know I enjoy that, and finance and management will help me out with that, but the Spanish piece is nice too. I really love Spanish, and an internship I have coming up in the future, which is a talent acquisition internship, will allow me to use my Spanish with some of the workers at the company I'll be working for, which I'm really looking forward to doing.
MP: That's awesome. Can you tell us a bit more about that internship, or is it still in the preliminary stages?
SC: It's still in the preliminary stages, but the company is great. For my local Rhode Islanders or New Englanders, it's with Blount Fine Foods, which is a food company here. It was founded in Rhode Island, in Warren, where I live now, and I grew up going there. It's for their corporate office in Fall River and I'll be working in the HR department with talent acquisition, so I'll be getting people's resumes and cover letters coming to me, and I'll be vetting them in their application process as well as calling them and making sure they're feeling okay about everything related to applying for new jobs. Blount is a really cool company; it's very family oriented. It's like PC – we have our Friar family, and they are very much a big family over there. They stress making sure everyone who is applying is confident in that, and they have been great about keeping me in the loop, so I'm quite excited to start that internship up during the spring semester.
MP: That's awesome. That sounds like a great opportunity. So, turning back to your combination of majors and minors, what has studying inside and outside of the business school taught you? Do you feel that your business classes help you with your nonbusiness classes and vice versa?
SC: Yeah, definitely. Even before my Spanish minor, I think Civ is a great program, and professors are always saying, "you never know, you're going to be able to make these connections later on," and first semester freshman year, I'm thinking, "I don't know how The Iliad is going to help me do any of this," but I've definitely seen a great improvement in my writing skills, which is super important anywhere and with Spanish especially. There's such a big emphasis on geographic diversity and different demographics in the work environment, and as a management major, that's really important. For example, in Organizational Behavior, which is one of the management courses, we talk about diversity in the workplace and how it really changes the atmosphere of a workplace and makes it more efficient and productive as well as more of a healthy environment. It's interesting to see how these ideas come up in some of my Spanish classes. For instance, I've taken Spanish for Business, where we focused on local businesses in Rhode Island. In this class, I was able to see how some business elements and a lot of important vocabulary about business and Spanish go hand-in-hand. This will help me when I'm doing some business in the future, Spanish-involved or not. Even now, it's definitely helped me become a more proficient writer, and definitely opened my eyes to a lot of diversity-related issues happening in the workplace. Overall, even just those Liberal Arts core classes that we have to take at PC are super helpful. I think what's really important is that they teach you to think, so that you get better at learning and thinking on your feet in new environments regardless of what the job is.
MP: Yeah, definitely. So, I know you touched on this a bit earlier when you were talking about that upcoming internship, but how has this combination of majors and minors helped you outside the classroom? Has what you've been studying here at PC led you to any unique experiences or to consider a particular career?
SC: Yeah, I know we talked about that internship – I would say that's probably the coolest, most unique experience. I'm excited about being able to use my Spanish in the workplace. Other than that, there's just being able to go abroad in the future. I'm really looking forward to doing a Maymester after this spring semester, so this upcoming May, and I don't know whether they'll be having business students do internships for that, but I'll be excited to keep an eye out because when I went abroad in high school, I was very wide-eyed but now I'll be expecting certain things when I go back and be able to take some of those things I've learned in my business classes and in college overall and be able to apply those when I'm looking out at the world. Other than that, we have 50 million Spanish speakers here in the United States and I feel like this opens so many doors for me. Just overhearing conversations in Spanish and being able to pick up on them has been cool, and I think that it's important too, just in any kind of workplace situation. Your boss might be a native Spanish speaker, you might be having coworkers who are native Spanish speakers, and I think speaking the language is really helpful when it comes to that sort of thing. I think it's also made me well-rounded, and I've thought about working abroad in the future, which would be a cool opportunity. I'm not sure if that's exactly where I want to end up, but I think that would be awesome.
MP: Yeah, that's awesome. So, it definitely seems like your combination of majors and minors is not only helping you with your experiences right now, but even as you're looking far off into the future, that it's really shaping what you're thinking of, so that's awesome. Final question: what do you think are the benefits of combining business and non-business studies?
SC: I think that there are so many. There's too many to count. I know it does sound kind of corny, always saying, "what's the benefit of a Liberal Arts education?" and everything, but I think it is really important that all students, whether they're in the business school or not, remain aware of the world around us. And I think doing this by being in Spanish classes and learning about diversity in my management classes, again, it's made me a more well-rounded person. I feel like I've been able to learn from those experiences even more so when my Spanish teachers are native speakers sharing some of their real-world experiences as non-native English speakers in the United States. PCSB does a great job teaching students about inequalities in the workplace and the impact of diversity, as well, in the workplace, but I do think overall that combining these studies together is really important to keep people aware of the outside world. And I also think too, going back to that Liberal Arts piece, that classes like English and philosophy are super important because they teach people how to think. I think one of the most important things, regardless of where you end up in your workplace, is just being able to stay true to yourself and make ethical decisions about everything, but also be able to be moldable and learn in any situation, which I think PC does a great job of doing.
MP: Well, thank you so much for joining us today.