Site Home
>
Greetings from Dean Maxfield – October 2021
Greetings from Dean Maxfield – October 2021
Dear Friends,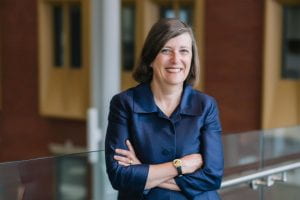 Phi Beta Kappa might represent a bit of an unusual starting point for a business dean's message to alumni and friends, but the recent award of a PBK charter to Providence College affirms PC's excellence in an area critical to the ascendancy of our business school in recent years and to our prospects for continued success.
Phi Beta Kappa, as you probably know, is the nation's oldest and most prestigious liberal arts honor society. PC is now one of only 290 or so institutions with a chapter, and we will begin admitting members during the spring semester. This is an important achievement and a real credit to the College, in particular the faculty who make our liberal arts programs both excellent and distinctive.
This honor only serves to reinforce the indisputable proposition that our outstanding liberal arts foundation makes the Providence College School of Business stand out. Current PCSB initiatives, such as our quantitative finance track and Excel certification, raise the bar for analytical reasoning and applied data analysis and align with the campus-wide focus on academic excellence. Along with our superb business faculty, these markers of academic excellence give me confidence that we will be able to sustain our momentum.
We continue to attract students and families who assign value to a degree that provides the technical training and skills acquisition necessary to work in business fields, along with the broad-based education that prepares graduates to think critically, communicate effectively, and solve problems effectively, all within an ethical framework. That is exactly the kind of person every employer wants and needs.
In last Friday's presidential inauguration address, Father Sicard described ours as being "an education in the human experience," and he described how that approach gives the College the foundation necessary to create new, innovative programs that will draw to PC "talented and diverse students and faculty who will be drawn to the unique cultural, spiritual, and intellectual experience" offered here. That is a superb framework for all of us in PCSB to continue to use as we plan for what I believe is a very bright future under Father's leadership.
I wish you and your families the best, and I think each of you for your continued interest and support.
Sincerely,

Sylvia Maxfield, Ph.D.
Dean