Site Home
>
Greetings from Dean Maxfield – July 2021
Greetings from Dean Maxfield – July 2021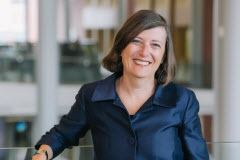 Dear Friends,
We business educators have to develop an ability to predict trends in the interest of preparing our students to enter a workforce where adaptability is mandatory. This ability – along with the capacity to adjust academic and co-curricular programming accordingly – is a hallmark of the Providence College School of Business and other effective business schools.
One of the things we watch carefully is change corporate behavior, which often occurs in full view of the public and is purposefully amplified through social media platforms or other means of gaining attention. More often than ever before, businesses of all sizes are taking stands and speaking up on matters of social justice, environmental sustainability, and more. Major League Baseball's decision to move its 2021 All-Star Game out of Georgia, in reaction to that state's new voting laws, is perhaps the most high-profile recent example but it is only one of a great many.
Speaking out with authenticity and purpose can be good business as long as the context is appropriate, the statement is in alignment with corporate values, and the businesses back up their words with meaningful actions. Poor execution can come off as tone-deaf or virtue signaling and, as many businesses have seen, the repercussions can be severe. The public has a finely tuned ability to read corporate motivations and, increasingly, people are making consumer decisions based upon the alignment of their own values with those that businesses are expressing publicly.
I find this particularly interesting in the context of our fundamental purpose as a business school that is part of a mission-based institution: developing in our students the skills and perspectives that will prepare them to be the principled business leaders exemplified by generations of Providence College graduates before them. We encourage our students to engage the difficult issues that society faces, to listen to others who may feel differently, and to express themselves with enough conviction and humility to effectively contribute to the public discourse. Today's students see nothing unusual about corporations taking public stances on contentious issues; indeed, they expect it.
I feel confident that we are responding to the challenge of preparing students to engage in respectful dialogue and thoughtful advocacy as they become the ethical leaders that society needs. This is central to the liberal arts business education PC offers. My faculty colleagues and I are committed to supporting our students as they find their voices and learn to join the conversation in a world where it is at once increasingly more challenging to be heard and increasingly more important to try.
Sincerely,

Sylvia Maxfield, Ph.D.
Dean