Site Home
>
Greetings from Dean Maxfield – April 2021
Greetings from Dean Maxfield – April 2021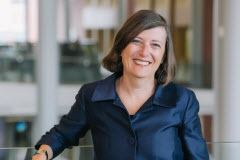 "I think we all have empathy. We may not have enough courage to display it." – Maya Angelou
Dear Friends,
I hope that the onset of spring, halting as it may be here in New England, is filling you with hope and optimism. The difference in attitude and spirit is noticeable here on campus, as we turn the corner toward the end of an academic year that has been remarkable in every way.
In that context, I am beginning to think about what I will say to our Providence College School of Business students who will graduate in May. I am drawn to the idea that my central message needs to emphasize the importance of kindness, empathy, and humility in our lives. I have thought more in the past year-plus about these traits – all ideals that we hold dear as a Catholic and Dominican institution – than ever before in my life. These are some of the other ideas that are running through my mind.
I will certainly congratulate them on their resiliency, a characteristic – now honed to a razor's sharpness – that will serve them well throughout their lives.
I will ask them to reflect on what it has taken for their professors to continue to provide extraordinary instruction and mentoring, often while managing extraordinary challenges related to childcare, eldercare, and other life circumstances.
I will tell them that I am proud of all of them, especially those whose own family situations have been exponentially more challenging during the pandemic.
I will point out that this pandemic has highlighted so many inequities in our society, and I will encourage them to lead the fight for justice and equity in all that they do.
I will remind them of how little any of us could have accomplished over the past many months without each other's support.
Our experiences of the past 15 months serve to amplify the importance of these fundamental characteristics of lives well lived. Examples of good things can help crowd out the bad and fuel our collective hope that we will all remember to work diligently toward being more kind, empathetic, and humble even after things get back to more like they were before we ever heard of COVID-19.
How, you may ask, does this relate to teaching and mentoring business students? In many ways, the practice of putting oneself in someone else's shoes (to borrow the cliché) is one of the most important things we must teach future leaders. Understanding must precede judgment which must precede action, especially when our decisions affect others. Maya Angelou's quote cuts to the heart of this. It takes courage to display empathy and finding that courage is essential to leadership. Our PCSB students have always learned this, but those who will graduate in the Class of 2021 will have a unique well of experiences from which they will draw throughout their lives, and it is my hope and prayer for them that they will leave us prepared to be strong and to lead with compassion. I have every confidence that they will make all of us, including our distinguished alumni who came before them, proud of both their accomplishments and the positive impact they will have on others.
Sincerely,

Sylvia Maxfield, Ph.D.
Dean