Feedback Is a Gift
Feedback Is a Gift – Panel Discussion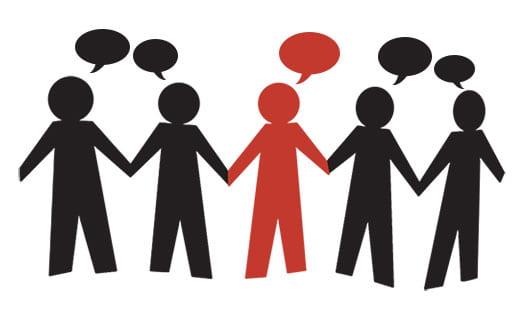 Read more about the December 2020 panel discussion here.
Panelist Biographies
Jane D. Benson '92 Vice President, Youth Programs & Marketing, New York Road Runners
Jane Dillon Cerosky '83 Channel Account Manager – Data Center Group, Lenovo
Keith Dragicevich '11 Account Executive, Google
Walker Sands '03 Change Management Strategist, Booz Allen Hamilton
Jane Benson joined New York Road Runners in February 2020 to lead the newly formed Youth Programs & Marketing department with a focus on significantly growing and scaling Rising New York Road Runners in New York City and nationwide through effective program delivery as well as an innovative approach to program marketing and outreach. Benson's career to date has given her a unique ability to utilize her marketing expertise to impact education-based programming. Prior to joining NYRR, Benson was the vice president of direct marketing at The College Board. In this role, she led the consumer marketing strategy for The College Board's programs, which are designed to connect students and their families to college success and opportunity. She oversaw program marketing, digital performance marketing, and analytics for the mission-driven, not-for-profit organization. She previously held the position of senior vice president of customer experience at Discovery Education, where she led cross-functional teams to deliver digital textbooks to K-12 educators, creating and managing an ecosystem of communications, product onboarding, training, and instructional and technical support designed to help K-12 teachers integrate online curriculum into their everyday instruction. Benson holds a bachelor's degree in business administration from Providence College and an MBA with a concentration in marketing form the University of California, Los Angeles.
Click for Jane's bio.
Keith Dragicevich is an Account Executive on the Large Customer Sales team at Google. He is responsible for advising some of Google's largest advertisers, such as Etsy, Indeed.com and 1-800-Flowers on how best to manage their advertising investment across Google's owned and operated properties. He is responsible for helping his customers with their overall business strategy, acting as a consultant of how to grow their business in the digital age.

After graduating from Providence College Keith began working for an event marketing company that planned and managed the New York City Triathlon and Ironman races. While he enjoyed the world of event marketing, he quickly realized that he was most drawn to the digital advertising part of the job, which led him to accept a job in Paid Search Marketing at Mediacom, a large digital advertising agency in New York City. After a couple years at Mediacom, where he built his foundational understanding of the digital advertising space, he accepted a job at Google, where he's worked for the past 6 and a half years.

Keith is a dedicated member of the Providence College family and understands the importance of building a strong professional network. He owes a lot of his own success to fellow Friars who have advised him throughout his professional career and is always willing to do whatever he can to return the favor to his fellow Friars. He recently relocated from New York City to Fairfield, CT, where he lives with his new wife (COVID wedding!) and 8 week old puppy.
Walker Sands believes in empowering others to become their own heroes. Currently at Booz Allen Hamilton, Walker is a change management strategist with experience in organizational development, recruiting and human centered design. Walker has led initiatives across a spectrum of industries, from film marketing to green jobs development to healthcare innovation. Walker's skills in change management, advocacy and strategic communications have helped transform company's communities and improve their productivity. By continually refining his skills in business process improvement and design thinking, Walker has been able to rudder his teams to improve their work culture and increase their value-add in profit and for neighborhoods in need.