Site Home
>
Updated Fall 2020 Registration Information
Updated Fall 2020 Registration Information
The following provides important updated information for fall 2020 Registration. There are many changes of dates, times and recommendations, so please read it carefully.
Updated Dates for Fall 2020 Registration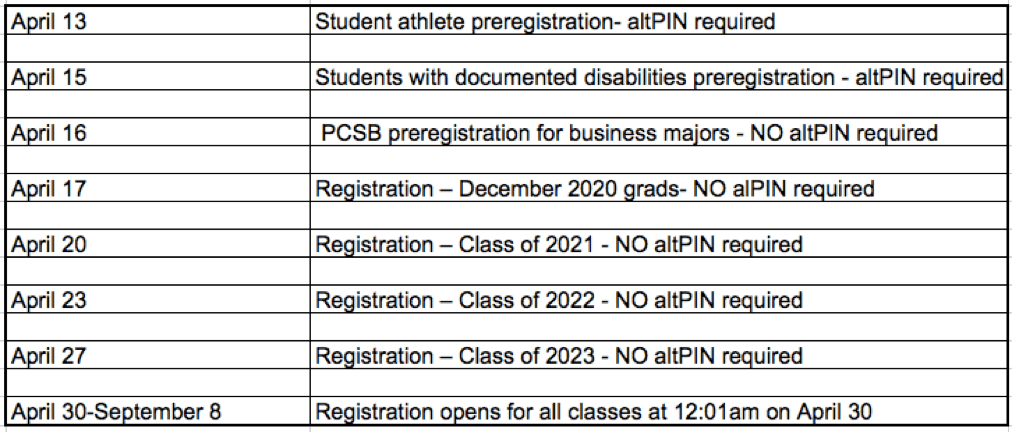 To view the updated PC Class Year Registration Timeline, click here.
Alt Pin Requirements
In-Season Student Athletes and Students Requiring Accommodations will continue to use their ALT PINs for their registration days.
On all subsequent registration days, no ALT PIN will be required. This is not an indication that you do not need to speak with your advisor. It is highly recommended that you meet with you advisor to discuss your course selections.
Change in Time of Registration
In order to take into account that students will now be accessing registration from several different time zones, registration will go live at 4:00 PM Eastern Daylight Time. This time was made in consultation with the IT department in order to find when the web traffic to campus slows down.
PCSB Preregistration – Thursday, April 16, 2020 – No Alt Pin Required
PCSB majors are encouraged to preregister for business courses on Thursday, April 16. All declared business majors should register for only ACC, FIN, MGT, and MKT classes during preregistration. NO OTHER COURSES MAY BE SELECTED AT THIS TIME.
Registration is Based on Class Year
​December 2020 Grads – Seniors
Class of 2021 & December 2021 Grads – Juniors
Class of 2022 & December 2022 Grads – Sophomores
Class of 2023 & December 2023 Grads – First-Years
4:00 PM – 11:59 PM​
4:00 PM – 11:59PM
​​4:20 PM – 11:59 PM
4:40 PM – 11:59 PM​​
No DWC Preregistration Day
There will not be a DWC pre-registration day this semester. You will register for your DWC lecture and seminar at the same time as you register for the rest of your semester courses. The list to see which lectures go with which seminars can be found on the Registration Website.
Fall 2020 Study Abroad Students
If you are scheduled to study abroad in the Fall of 2020, we're going to ask you to register for Fall courses as if you're not going abroad. In the event that you have to withdraw or the College suspends Fall study abroad, you will already have a full load of courses to fall back on to ensure that you are making steady progress towards a May 2022 graduation. Should you (and the College) continue with Fall study abroad, at a date to be determined in the future, we would then drop you from your PC courses and register you into your JYA credits.
PLEASE NOTE: The experiential learning internship component has been suspended for business majors studying abroad in the Fall of 2020 and the Spring of 2021.
Account Holds
Students are encouraged to check their account status immediately and continually prior to PCSB preregistration.  "Holds" are placed on student accounts by the Financial Aid Office, and students cannot preregister for courses with a hold on their account. Hold FAQs can be found here. Students can check to see if they have any registration holds by using the My Academic Profile Tool. More information at My Academic Profile can be found here. Students should still meet with their advisor to discuss course scheduling for fall 2020. If holds cannot be cleared before registration, students should submit exception requests for business courses by the submission deadline of April 30.