Site Home
>
PCSB Continues to Ascend Poets&Quants Ranking of Best Business Schools
PCSB Continues to Ascend Poets&Quants Ranking of Best Business Schools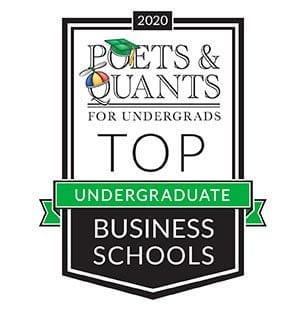 The Providence College School of Business has climbed to #41 on the Poets&Quants for Undergrads listing of the best undergraduate business programs in the country.
Poets&Quants uses a comprehensive ranking methodology that takes into account admission standards, academic excellence, and employment outcomes. Results are based on school-reported data and a survey of recent graduates.
"This ranking is a credit to our faculty and to all our colleagues who strive to provide Providence College business majors with an outstanding business education steeped in the liberal arts," said Dr. Sylvia Maxfield, the school's dean. "This independent verification – based in part on the perspectives of our graduates – affirms our belief in the direction and trajectory of PCSB."
This is the fourth year Poets&Quants has created its ranked list. PCSB earned its first ranking at #63 in in 2017, ascending to #52 a year ago. Bloomberg Businessweek published a similar list until early 2016, when that publication stopped ranking business schools. PCSB was #61 in that survey, up from #75 in 2015.
AACSB International (the Association for the Advancement of Collegiate Schools of Business) provides accreditation to more than 500 U.S. schools, including PCSB. There are a great many more unaccredited programs at colleges and universities throughout the country.