MBA Academics
MBA Curriculum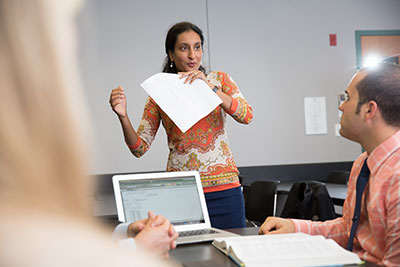 The PC MBA Program is dedicated to providing students with maximum flexibility by offering MBA courses throughout the year — fall, winter, spring, and summer semesters, as well as accelerated courses taught in weekend and week-long programs.
The MBA Program requires 12 to 21 courses: nine prerequisite courses, nine MBA core courses, and three electives.
For more details, see the MBA Program of Study Curriculum relevant to your interest. The PC MBA Program offers 4 + 1, Accounting Cohort, Full-Time, and Part-Time Program options.
MBA Prerequisite Courses
The MBA Program requires each student to complete nine prerequisite courses. These courses provide a basic foundation for the MBA Program and are prerequisites for MBA core courses. A complete list of core and prerequisite courses can be found in the 4 + 1 Plan of Study, the Full-Time/Part-Time Plan of Study, and the Accounting Cohort Plan of Study.
Financial Accounting and Managerial Accounting
Managerial Finance I & II
Microeconomics
Macroeconomics
Mathematics for Business Analysis/Business Calculus
Statistical Analysis
Principles of Marketing
These courses are not required to begin the MBA Program. However, students may complete all, some, or none of these courses before applying and beginning the program. It is recommended students apply to the MBA Program prior to taking prerequisite classes. Students who need to fulfill any of the prerequisite/foundation courses can take these courses at any accredited institution or through the PC School of Continuing Education (SCE). Students interested in taking a course with SCE as a prerequisite should contact the SCE Office at 401-865-2487 or sce@providence.edu.
The MBA Program offers three MBA prerequisite courses one time a year:
| | | |
| --- | --- | --- |
| MBA Prerequisite | Prerequisite MBA Course Equivalent | Semester Offered |
| Financial and Managerial Accounting | MBA 548 – Introduction to Accounting Concepts | Fall |
| Principles of Microeconomics and Principles of Macroeconomics | MBA 533 – Introduction to Economic Concepts | Fall |
| Managerial Finance I & II | MBA 532 – Introduction to Financial Concepts | Spring |
MBA Core Courses
The MBA Core consists of 12 courses – providing students with exposure to a broad range of business topics and helping them to gain an understanding of business. The core curriculum is designed to provide students an in-depth mastery of the academic discipline and functional areas needed for today's business leaders.
Core Course Number
Core Course Title
Credit Hours
MBA 603
Accounting and Decision Making in Organizations
3 credits
MBA 626
Financial Management for Corporations
3 credits
MBA 651
Marketing Management in Competitive Environments
3 credits
MBA 676
Organizational Effectiveness Through People and Teams
3 credits
MBA 677/611
Professional Ethics and Responsibility/Accounting Ethics
3 credits
MBA 689
Managing Information Resources
3 credits
MBA 687

MBA 690

Analytics I: Statistics & Modelling
Analytics II: Operations Management and Optimization
3 credits

3 credits

MBA 699*
Real-World Experience: Business Internships
3 credits
MBA 700
Strategic Management in a Global Business Environment
3 credits
*MBA 699 Real-World Experience
The MBA Program requires work experience. Students are required to complete a 400-hour business-related internship. Students must be registered for MBA 699, the Real-World Experience: Business Internships course at the same time as working the internship. The internship requirement must be completed within the first semester of attendance. Working professional MBA students and students with significant prior business work experience may waive this requirement and substitute with an elective.
Core Course Waivers
Students are able to waive select core courses based on previous academic work. Students with a B or better in six courses in Accountancy, Finance, Management, or Marketing may waive the core course equivalent.
Accounting → MBA 603
Finance → MBA 626
Marketing → MBA 651
Management → MBA 676
Elective Courses
MBA students must complete between three and five electives to obtain an MBA degree. The MBA Program offers electives each semester. In addition, the program offers elective courses in an accelerated format throughout the year. The schedule of classes has been developed by the faculty to build upon each other to provide the analytical tools and business knowledge needed to compete. These courses are typically all-day, evening, and, in some cases, weekends.
For a complete listing of MBA elective courses, please refer to the Electives and Concentrations document.
Concentrations
While the core of the MBA curriculum provides breadth of knowledge, students can develop depth of knowledge in a particular area by completing an elective concentration in Finance, International Business, Management, or Marketing. Students interested in Accounting should apply for the Accounting Cohort program. Part-time students interested in Accounting must declare a concentration upon entry into the program.
MBA electives can be used to fulfill a concentration. Concentrations require the completion of at least three elective courses that are discipline specific. Please refer to the Electives and Concentrations document for more information.
A concentration is not required to complete the MBA.
Transfer Credits
Graduate courses that have not been applied toward another degree may be evaluated for transfer credit by the MBA Program. Transfer credit must meet the following minimum criteria for review:
Credits must be from an AACSB-accredited institution of higher learning.
Credits must have been taken within five years of the date of transfer.
A minimum grade of "B" or equivalent score is required in each course.
Students should complete and submit the transfer credit form with relevant syllabi to mba@providence.edu. Final transcript(s) should be mailed to the MBA Program Office at 1 Cunningham Square, Providence, RI 02918.
A maximum of six graduate credits may be transferred.
MBA Course Schedule & Academic Calendar
MBA courses are offered in the late afternoons and evenings during the fall, winter, spring, and summer terms. Information regarding the MBA schedule can be found on CyberFriar. MBA core courses are offered fall, spring, and summer sessions. Electives are offered fall, winter, spring, and summer. The MBA Program offers week and weekend-long accelerated courses, which are offered throughout the year and always during winter intersession.
Semester
Days per week
How many week(s)
Times
Fall
One
15
4:00-7:00pm

or

7:00-9:30pm

Accelerated
4-5

4-5

2-3

1 week

2 weeks

2 weekends

9:30am-5:30pm*

*varies

Winter Session
Every Day
1
10:00am-6:00pm
Spring
One
15
4:00-6:30pm

or

7:00-9:30pm

Summer
Two
5
4:00-7:30pm

or

6:30-10:00pm
For more details regarding academic dates, please see the Academic Calendar.
Non-Matriculating Students
Students who would like to take a graduate course at PC should apply to the MBA Program as a non-matriculated student.
Non-matriculated minimum admission criteria:
A bachelor's degree from an accredited college or university
A minimum cumulative undergraduate GPA of 2.70
The Non-Matriculated Application Form must be filled out and returned to the MBA Program Office along with official undergraduate transcript(s).
Non-matriculating applications must be submitted no later than two weeks prior to the start of the semester. Decisions on non-matriculating student applications and course requests will be made after MBA new student orientation each semester, approximately one week prior to the start of classes each term. Priority will be given to students who have completed a PC MBA application.
Taking Courses as a Current PC Undergraduate

Current undergraduates admitted into the 4+1 and Accounting Cohort Programs may be approved to take an MBA course during their senior year. Students are eligible to take one of their free electives on a space-available basis. Interested students must obtain approval from the Office of the Dean of Undergraduate and Graduate Studies.
If Taking a Graduate Level Class as a 5th Course:
Fill out the Graduate Course Permission Form found here. Obtain your advisor's signature before obtaining approval from the MBA Program Office. Lastly, obtain approval from the Office of the Dean.
If Taking a Graduate Level Class as a 6th Course:
Fill out the Graduate Course Permission Form found here. Obtain your advisor's signature first, then obtain approval from the Office of the Dean. Lastly, obtain approval from the MBA Program Office.
Office of the Dean of Undergraduate and Graduate Studies Contact Information:
Harkins Hall 213
Phone: 401.865.2495
dean@providence.edu