Accepted Students
Congratulations, You've Been Accepted! – Next Steps
Welcome to PC! We are delighted to have you join the PC MBA community! Now that you've been accepted, you will be emailed an acceptance packet. The packet will include information on courses required for MBA degree completion and forms that must be signed and returned.
1. To confirm your decision and to secure a spot in the MBA Program, you must submit the following items by the deadline listed in your acceptance letter:
reply form and electronically signed policies and procedures
$250 non-refundable enrollment fee
Note: a Graduation fee will be due upon completion the Program
After confirming attendance, next steps are as follows:
2. Within ten business days from submission of the reply form, students receive, via mail, PC login information (e.g. username and passwords for registration and more). Please ensure your mailing address is up to date with the MBA Office. The letter will include your login information for the following:
CyberFriar
Sakai
PC Email
Network access
Note: PC email is the preferred communication for Providence College. Be sure to begin checking PC emails once login information is received. Any emails regarding financial aid or registration will be sent here.
3. Obtain a PC Student ID: Students enrolled in a degree program are eligible for a PC ID card, which allows access to parking, the library, printing, access to the Ryan Center after hours, the RIPTA bus line, etc. To sign up for an ID, click here and upload a photo. ID cards are generally available for pick-up in the PC ID Office, Harkins 401, within 2-3 business days.
4. Request a Parking Sticker: Graduate students are eligible for a free parking sticker to be able to park on campus. Stickers should be requested here. Stickers are mailed within 2-3 business days. Student parking is available in the Anderson Stadium garage. Parking locations may be viewed on the Office of Public Safety website.
5. Search for an Internship! All MBA students, unless waived, must complete an internship and must be concurrently registered for the MBA 699: Internship course within the first semester in the MBA Program. Students should utilize the Center for Career Education & Professional Development or speak with the MBA Faculty instructor for MBA 699. Once an internship is obtained, follow the MBA 699: Internship course approval and registration process on the Academic Policies & Forms site.
6. Register for and complete pre-requisites: One-year students should complete any pre-requisites over the summer term prior to beginning full-time fall courses. Refer to pre-requisite details on the MBA Advising site.
7. Create a Program Plan and work with an Advisor: Students must complete and submit an individualized program of study to the MBA Program Office by the dates listed below. The advisor and student will work together to form the student's curriculum and to plan what classes the student will register for their first semester. The student is then registered for courses by the MBA Program Office. Students are not eligible to register for courses until a program plan is submitted. 
Semester admitted
Fall……………………………….. July 20
Spring…………………………… November 30
Summer………………………… April 2
7. Request final, conferred transcript: Students admitted to the MBA Program prior to completing their undergraduate studies, must request a final transcript that lists their graduation/conferral date, to be sent to mba@providence.edu. Students are not entered into the MBA Program until conferred from their undergraduate degree. Students are ineligible for Financial Aid, Scholarships or Graduate Assistantships until entered into the Program, thus cannot be registered for classes and will not receive PC logon credentials.
8. Complete MBA 502: Foundations of Business:
MBA Math (online): All sections of MBA Math, which consists of: Spreadsheets, Accounting, Economics, Finance, and Statistics, must be completed with, at least, an 85% to satisfy MBA 502 and to graduate from the MBA Program. MBA Math is paid for via your enrollment deposit. Access to MBA Math will be provided to students shortly after the reply to offer of admission and enrollment deposit are received.Undergraduate business majors should have most, if not all, pre-requisites coming into the program and should complete MBA Math prior to the date of orientation.Students who do not have all pre-requisites will complete the Spreadsheets section of MBA Math prior to the date of orientation. These students will then have one year from the start of the program to complete the foundational pre-requisites and remaining MBA Math sections.NOTE: The MTH/FIN 217 pre-requisite must be satisfied prior to the Statistics section of MBA Math and the Statistics section must be completed prior to registering for MBA 687.Students who do not complete MBA Math sections by specified deadlines will be withdrawn from section-aligned courses the week before classes begin, which may delay graduation.
Excel Proficiency: Students must demonstrate Microsoft Excel proficiency in preparation for MBA 687 and MBA 690. Confirmation of Microsoft Excel Certification, which can be completed online or in-person with a program of the student's choice, must be provided to the MBA Program Office prior to the start of MBA classes.  Information on MS Excel workshops available at Providence College will be available upon the student's confirmation of attendance to the PC MBA Program. Students who do not submit Microsoft Excel Certification prior to beginning MBA 687 will be withdrawn from the course, which may delay completion of the MBA Program.
Attend the mandatory New Student Workshop: All new students must attend the mandatory New Student Orientation Workshop(s). Orientation is designed to prepare students for the MBA Program on topics such as: skills and professional development, business communications, and leadership. Students will also network with peers, professors, and MBA staff. Until the workshop requirement is fulfilled, a hold is placed on the records of students who do not attend, preventing registration for following semesters. The workshop date you are required to attend is listed in your acceptance letter. Dates may also be viewed on the New Student Workshop Site. This workshop will not include campus resources and curriculum information. Resources are listed below and in your student acceptance packet or you may schedule an appointment with the Academic Advisor.

8. Monitor your PC email. PC email is the official form of communication at Providence College. MBA newsletters as well as communications from the Office of Financial Aid or Student Accounts will be sent here.
9. Students should utilize the MBA Student Portal for student forms and other academic resources, such as the MBA Handbook. Students are responsible for familiarizing themselves and understanding Graduate and MBA policies and dates listed in the:
MBA Student Guidebook (see portal)
New Student Resources
Financial Aid and Tuition Information
Financial Aid is available for qualifying Graduate-level students. Students must be enrolled in at least six credits per semester and in a matriculating program to be eligible. For more information on financial aid policies and eligibility, please refer to the Office of Financial Aid website.
Information on current Graduate tuition costs can be found on the Bursar's Office website.
Graduate Assistantships
Many students are interested in the Graduate Assistantship Program as a way to pay for their tuition costs. Tuition remission, along with a monthly stipend, is given for the time period the student is working. It is important to note that there are 9-month, 12-month, and 2-year Graduate Assistantships; therefore, depending on your program, there may be some courses not covered through tuition remission, in which you may need to pay out-of-pocket. For example, students must take MBA 699: Internship in the first semester, typically over the summer. Since many GA positions do not run in the summer, students should be prepared to pay out-of-pocket for the MBA 699 course. Graduate Assistants work 20 hours per week in various departments at Providence College. Students should view positions and apply here once admitted to the MBA Program. Typically, openings begin in February.
Students must be enrolled in a Graduate program before applying to GA positions.
MBA Newsletter
Soon thereafter being accepted and admitted to the MBA Program, you will begin receiving bi-weekly newsletters via email from the MBA Office. This will be a major form of communication from the MBA Program office to all MBA students and it is important to thoroughly read these newsletters. Newsletters will contain important information on registration, future course schedules, Internship and GA offerings, etc.
Graduate Academic Calendar

All Graduate and MBA students must refer to the Graduate Academic Calendar, which can be found here. Students utilize this resource for semester start and end dates, Holidays and registration dates.
Graduate Student Catalog
All MBA students are responsible for reviewing and understanding Graduate policies listed in the Graduate Student Catalog. Topics included in the Graduate Catalog include grading, probation, leave of absence, and course descriptions and pre-requisites.
Campus Map
A campus map of the College can be found here.
Bookstore
Students may access course materials and books at the Providence College bookstore website by entering the course information and term. Books are available for purchase or rental.
Library

The Phillips Memorial Library is available to MBA students with a valid PC Student ID. Students are able to access books, computer labs and electronic resources.
Copying and Printing
MBA students are able to make copies and print papers, etc. with the use of their PC Student ID Card. Student may load cash onto their ID card and use this to print and copy. For more information, please refer to the PC Prints website.
Housing
On-campus housing is not available for Graduate students. However, a listing of available rental property can be accessed via JumpOffCampus or click here to learn more. Students enrolled in a 13-14 month MBA Program must plan housing accordingly as some curriculums end in June or July.
Fitness Center
Students enrolled in a degree program and taking a full-time course load (9-credits or above) are eligible for a gym membership at the Concannon Fitness Center. A membership may be purchased for $50 per semester. More information can be found at the Fitness Center website.
On Campus Dining

Student dining is available at the below locations:
The Ryan Center Cafe, located on the first floor of the Ryan Center for Business Studies
The Alumni Food Court, located in the lower level of Slavin Center
Dunkin' Donuts, lower-level Slavin
Ruane Café, located in Ruane Center for Humanities
Living in Providence
PC is a vibrant campus located less than 10 minutes from downtown Providence and about an hour south of Boston. The city of Providence is a historic, college-friendly city that serves as capital of the state of Rhode Island. Established in 1636 as one of America's first cities, Providence today is a popular destination of travelers for its historic College Hill, fun events such as WaterFire, and Rhode Island's famous shoreline. Providence is also the home to many companies: G-Tech, Hasbro, CVS, and many more.
Providence is an affordable city situated about an hour south of Boston, and three hours north of Manhattan. PC students enjoy traveling to these cities and find many additional job opportunities as a result of living in the Northeast.

City of Providence
Providence is a city of neighborhoods, each with a distinct character and feel. Explore the European charm of Federal Hill; the history and beauty of College Hill; and the hip, trendy shops and cafes along Thayer Street and Wickenden Street.
Downtown, take in a Friar men's basketball game or a Providence Bruins hockey game at the Dunkin' Donuts Center, see a touring Broadway show at the Providence Performing Arts Center, shop 'til you drop at Providence Place mall, and eat at some of the best restaurants in the Northeast.
Things to do and see in Providence
Hit the Dunkin' Donuts Center for some professional American Hockey League action, a major concert, or to cheer on the Friars in a home men's basketball game.
Catch a Broadway show at the Providence Performing Arts Center (PPAC).
Check out the eclectic collection of stores and restaurants as well as the city's thriving music scene on Thayer Street.
Head to the award-winning restaurants and cafes that thrive in the Old Neighborhood on Federal Hill for a delicious Italian, Mediterranean, Caribbean, Mexican, or Chinese meal.
Soak in the magic of WaterFire, where more than 100 bonfires blaze just above the surface of the three rivers in downtown Providence and are accompanied by world music, vendors, and street performers.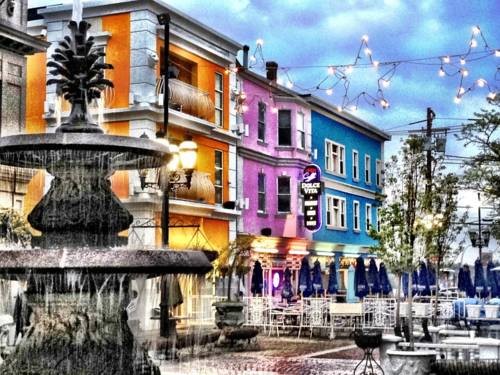 For more information regarding Providence and Boston, check out these websites: