Data Visualization & Data Analytics Bootcamps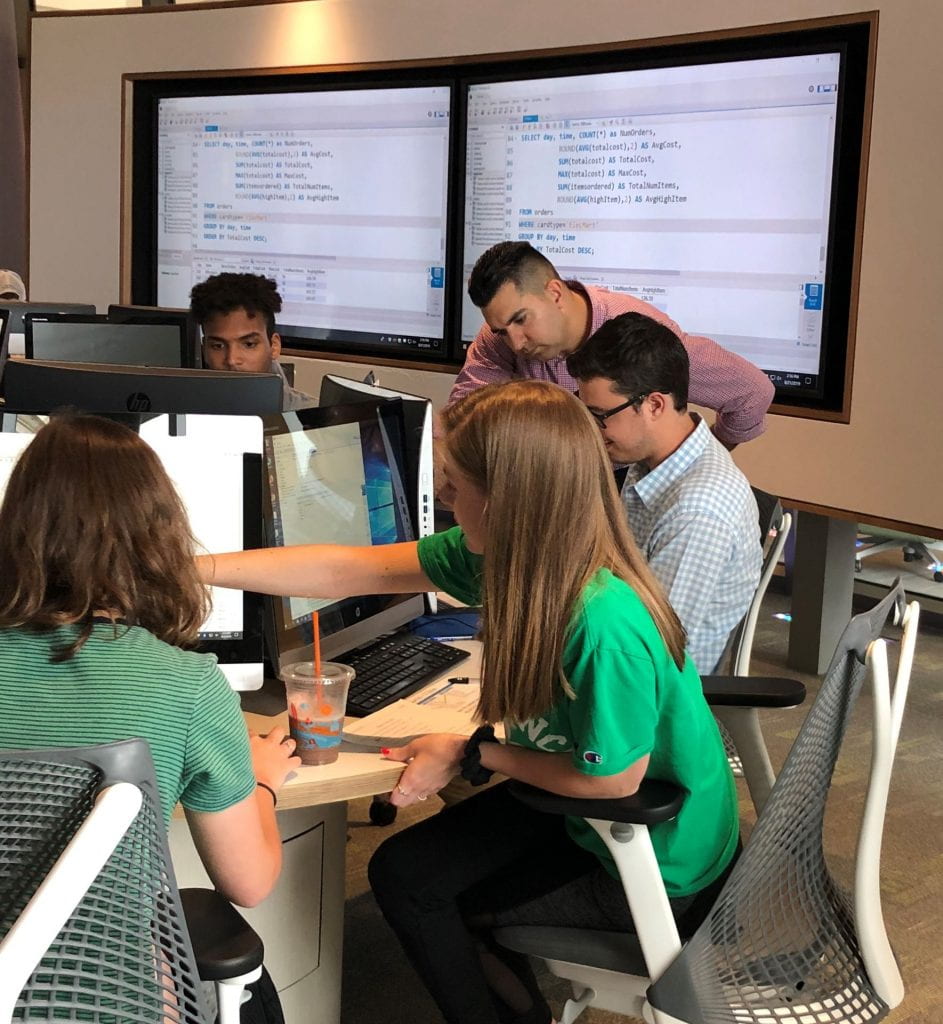 Data analytics continues to be highly valued by employers, as they need candidates who can understand and analyze data on a large scale, as well present data in an effective and compelling visual manner. To meet these needs and better prepare our students for the workplace, the Providence College School of Business incorporates the learning of these skills throughout the curriculum and across a variety of platforms.
Students who enjoy data analysis or expect to pursue careers requiring significant data analysis and presentation should consider enrolling in PCSB's supplemental programs: the Data Visualization Bootcamp and the Data Analytics Bootcamp.
Both of these bootcamps are intensive, immersive programs that provide advanced training in critical data visualization and data analytics software such as Tableau, R, SQL, and Python. These programs are offered outside of the standard semester – the Data Visualization Bootcamp during the last three days of Winter Break and the Data Analytics Bootcamp the week before the start of the fall semester – for an additional program fee.
Upon successful completion of a bootcamp, students are award a certificate acknowledging their expertise on the subject and an indication of completion will appear on the student's Providence College transcript.
All students who indicate an interest on the application will be considered for need-based financial assistance that will cover some of the billed charges. Please see the program application for more information.
Data Visualization Bootcamp
The PCSB Data Visualization Bootcamp serves as a perfect starting point for sophomores, juniors, and seniors – of any major – looking position themselves for classes and careers that require strong data analysis and data presentation skills. This program will use Tableau and other tools to enhance students' data visualization and presentation skills. Students will learn how to make sense of data and how to effectively present and communicate evidence in a compelling manner. The three day program will conclude with students presenting findings.
The next Data Visualization Bootcamp will be offered from January 12-14, 2021. Click here for more information.
Data Visualization Bootcamp Application
Data Analytics Bootcamp
The PCSB Data Analytics Bootcamp is for rising seniors from all majors who are seeking experience in sourcing and prepping data, handling unstructured data, query development, and data mining techniques. After learning about the tools, techniques and principles of analytics, students apply that knowledge to a case analysis project. This project requires them to use the skills learned throughout the week to describe, predict, and improve business performance. The program culminates with a presentation of the case to corporate executives, who provide valuable feedback to the students. Previous corporate participants have included Blue Cross Blue Shield of Rhode Island, PwC, KPMG, Fiserv, Gallagher, and the Foskett Family Foundation.
The next Data Analytics Bootcamp will be offered in August 2021. The application will be available in April 2021.
For More Information
If you would like more information about the Data Visualization and Data Analytics Bootcamps, or you would like to provide financial assistance for need-based scholarships to these programs, please contact PCSB Associate Dean Dan Horne.