Site Home
>
Greetings from Dean Maxfield  — January 2021
Greetings from Dean Maxfield  — January 2021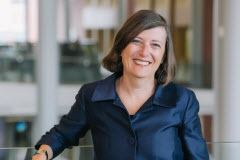 Dear Friends,
While flipping the calendar to a new year has never felt so good, I would like to reflect on a fall semester that was challenging to say the least but – thanks to the incredible determination and resiliency of our faculty, staff, and students – ultimately rewarding and, in many ways, more successful than I had dared to hope it would be.
I am grateful beyond words for the sacrifice and commitment it has taken to bring us to this point, and I acknowledge that we have a great deal more hard work ahead of us, all while living with the real-life concerns that have dogged all of us for many months. But I am filled with hope and, at the start of 2021, I hope each of you also finds reason to look forward with a renewed sense of energy and purpose.
The technology that brings us together where the virus has forced us apart has changed so much of what we do in the Providence College School of Business, and I am certain that you are seeing the same thing in your own businesses and families. The infrastructure and capacity are now in place – thanks to the incredible efforts of our faculty and the College's academic support and technology teams – to use technology to supplement in-person instruction even after things return to the way they were before; in fact, I believe access to these modalities can help us provide that traditional, place-based education in ways that are even better.
How, you might ask, can technology-mediated instruction enhance the undergraduate business student experience? Candidly, we cannot yet fully answer that question. However, our recent experiences give us some ideas about ways in which technology allow us to create student experiences that are – in some circumstances – customized to interests and learning styles while maintaining fidelity to the established goals for each course.
One good example comes from our fall semester Intro to Finance Profession course, designed to introduce sophomores to potential career paths. In the past, this course was offered in a large classroom to dozens of students at a time, and professionals would come to campus to talk about their work. Under the new design, our staff conducted remote interviews with alumni working in finance and developed a video library that students use to gain the insights that allowed them to focus their interests. The next step was formation of small groups comprising students who wanted to explore specific pathways, and those groups then had real-time virtual meetings, after significant and specific preparation, with professionals in their fields of specific interest. This was immensely successful and it all occurred within the context of the course's vital learning goals. We saw similar examples, large and small, across our curriculum in the fall semester and we can expect even more of the same in the spring.
I see parallels here to trends in business, where access to data allows for market segmentation, leading to a more customized customer experience. PCSB will never be Amazon – and that is not our goal by any means – but incremental steps toward aligning our teaching resources with students' goals and learning styles will have a positive impact on their educational outcomes.
I appreciate your ongoing support of the Providence College School of Business, and your interest in the work of our students, faculty, and staff. Best wishes for a happy and prosperous 2021 from all of us at PCSB.
Sincerely,

Sylvia Maxfield, Ph.D.
Dean