"Your Greatest Challenges Are Often Your Greatest Opportunities"
EY's Kelly Grier Speaks at the PC School of Business 2022 Dean's Symposium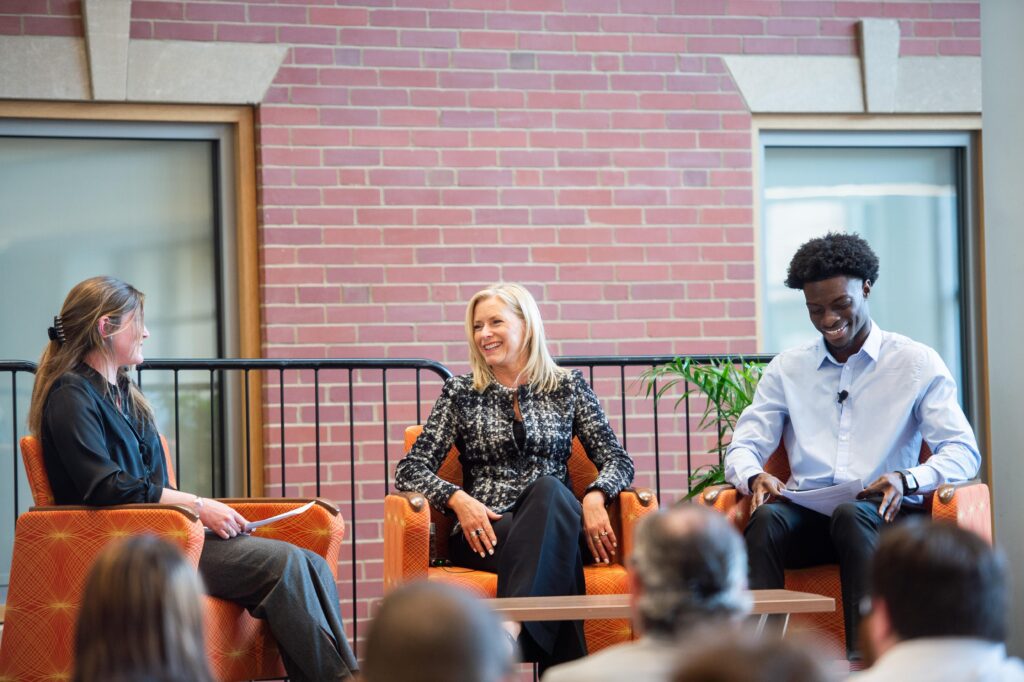 The Providence College School of Business welcomed Kelly Grier, US Chair and Americas Managing Partner of EY, as the 2022 PCSB Dean's Symposium keynote speaker. PCSB students and faculty, as well as regional EY professionals, attended in droves, resulting in approximately 400 people filling the Palmisano Family Atrium and an overflow room. The symposium featured a student-moderated conversation with Grier, who spoke about her career experiences as a leader in the professional services industry and the importance of social justice, mental health, and creating a culture of belonging. The well-rounded conversation kept the audience engaged throughout the hour-long discussion.
The 2022 PCSB Dean's Symposium opened with School of Business dean, Dr. Sylvia Maxfield, followed by a welcome given by Dr. Sean Reid, provost and senior vice president for academic affairs at Providence College. After opening comments by Grier, Dean Maxfield introduced the two students moderating the panel:  Joseph Adegboyega '22, marketing and finance double major who will be joining EY after graduation, and Anna LaFortune '22, management and global studies double major with a sociology minor.
To launch the discussion, Grier explained her career journey, describing how she "traveled both the world and the firm." She had many different and enriching experiences that led her to finding the success she has today. When asked about how she overcame challenges throughout her career, Grier pointed out that "your greatest challenges are often your greatest opportunities in disguise." She emphasized that you learn the most when faced with challenging situations. Grier's success did not come without difficulties and her conversation about the cycle of change struck a nerve with the audience. Grier encouraged the audience to embrace change.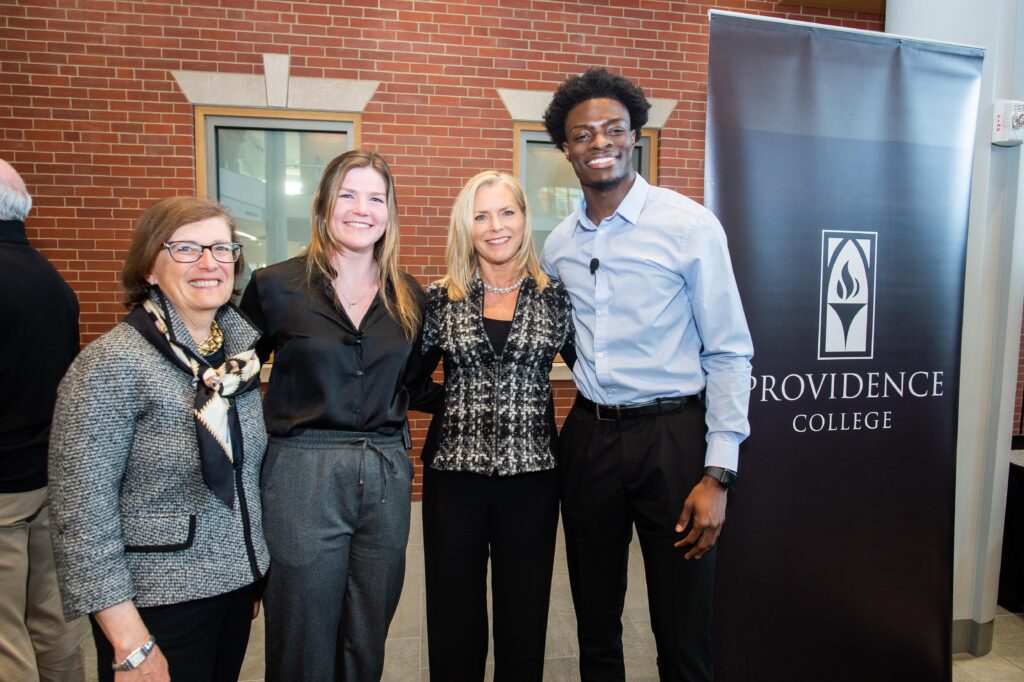 "When I reflect on my career and attributes I'd say of success, in hindsight it's been the ability to be both agile and to adapt to change quickly. There's a predictable cycle to undergoing change, and it could be that you're asked to take on a new assignment, a new opportunity, or you're just thrust into a new situation where you have to step in and navigate change. And this cycle starts with a level of optimism. And then you hit this big trough of despair — the valley of despair — when you wonder if it's possible for you to get yourself out, can you possibly transcend this issue, can you really overcome this challenge? Eventually you realize — you start to see that there is a way through this — and you become more optimistic and eventually you literally do transcend this curve and you're on the other side of it."
Grier also talked about her view on leadership and how she leads her team. "What it means to be a leader has fundamentally and forever changed as a result of the pandemic." She recognized that the pandemic brought out this new leadership style that involves being both vulnerable and confident. As a leader, Grier stressed, you must express empathy and be transparent. She described it as a "constant state of expressing your vulnerability and your empathy, while trying to convey a level of confidence that it's going to be okay." It is essential that both qualities are present to be a successful leader during unprecedented times, according to Grier.
One of the key reasons Dean Maxfield chose Grier to be the symposium's speaker was her career-long focus on diversity, equity, inclusion, and belonging (DEIB). Grier counseled that these factors are all necessary considerations in today's work environment. She spoke openly about learning this lesson viscerally during her time leading EY operations in Europe. Grier assumed this team worked the same way her U.S. team did. She soon realized this was not the case and had to quickly adjust her approach. Once she came to this realization, the full potential and power of everyone on the European team was unlocked and incredible work began to unfold. Grier continued to emphasize the importance of creating an inclusive work environment with diverse representation. It's not only "magic" when everyone on a team feels like they have voice, said Grier, but it is "commercially essential" too.
When asked about gender equality in the workplace and any advice Grier has for women who want to be strong business professionals, she honed in on the idea to have your own vision and to take control of your career. "As it relates specifically to women who are pursuing careers in business, in finance, in technology, whatever the case may be, I would strongly encourage you to, first of all, take control of your own career. You cannot expect that others are going to create both the access and the opportunities for you. You've got to be able to create perhaps a range of plans."
The conversation later welcomed questions from the audience. The first question was from Nick Espinal '23, who is also joining EY after graduation. He referred to Grier's earlier statement about the privilege of leading diverse teams and the responsibility to help amplify those voices. Nick asked what this looks like as you rise through the ranks, asking if it gets harder. Grier expressed that it becomes more complicated the higher up you go.  She mentioned that at EY, they believe in DEIB and "if you can unlock the power of a diverse workforce and that talent base, it will show up in really powerful ways in how you perform from a business perspective."
EY's values align closely with those of the Providence College School of Business and, as a result, the energy after the event was electric. As Dean Maxfield noted, EY's tagline — "Building a Better Working World" – is the foundation of the PCSB's mission.  The PCSB thanks Kelly Grier for her time, the valuable insights she shared, and the way she inspired the PC students to continue to unlock the power of WE.