PCSB and Beyond: An Interview with Celine Dobler '22
PCSB and Beyond seeks to engage members of the Providence College School of Business community in meaningful dialogue about the importance of an education that combines studies in business with the Liberal Arts and other areas. The podcast is hosted by Madison Palmieri '22, Editor for the 2021-2022 Benjamin Family Social Media Fellows. A Rhode Island native, Madison is also a Head Writing Tutor at PC's Writing Center and an editor at The Cowl and Veritas.
MP: Hello and welcome to PCSB and Beyond, where we talk with Providence College students whose studies take place both inside and outside the Ryan Center for Business Studies and discuss how this has impacted them both inside and outside the classroom. We're here today with current student Celine Dobler. Thanks for joining us today, Celine. To kick things off, can you tell us a bit about yourself?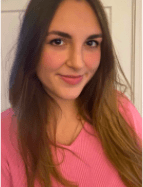 CD: Sure, thanks for having me Madison. My name is Celine, and I am a senior here at Providence College graduating in May of 2022. I'm from Huntington, Long Island, and I'm currently a political science major with a marketing minor, so I'm outside of the business school with my major and inside the business school with my minor. I declared the marketing minor pretty recently, and I've taken a few marketing classes. It's been pretty interesting so far.
MP: Awesome. So, how did this specific combination of majors and minors come about? What made you decide on this combination?
CD: I always loved politics and became interested in the political science major after I started at PC. I declared it during my first semester of sophomore year because at the time, I was going to go abroad and was told that I had to declare a major that semester in order to do so. I chose political science because it was the department in which I had taken a class whose homework I enjoyed doing more so than that for my other classes. I figured I'd taken the Intro to Politics class and was always excited to do that work, so maybe I should major in that. So, I declared a political science major sophomore year and then, I think it was over quarantine, so the second half of sophomore year going into junior year, I took an online quiz, like a career quiz, and one of the top results was a public relations representative, or officer, someone in PR. I thought that was pretty interesting, maybe as a potential career, even though I still didn't know what I wanted to do, so I decided to minor in marketing in order to have the ability to pursue that career if I wanted it after graduating.
MP: Awesome. Could you speak a bit more to what you like about this combination in particular?
CD: Sure. I feel like with political science, oftentimes in the careers you would go into if you're trying to get legislation passed or if you're working on a campaign for someone running for office, you're selling something. With marketing, you really learn how to sell a product, how to sell a brand, and how to focus on the best parts of something and push that to people and show them how it would be beneficial. I think that all those skills really adapt well to politics because your product is a person or policy and you're trying to show people why it's something they should support. I feel like a lot of the lessons I've learned in the marketing classes I've been in—my Personal Selling class, my Public Relations class—have involved techniques for interacting with people and convincing them of something that I believe in, something I'm trying to push or sell or get passed, which is such a big part of politics. So, I think that in that way, marketing and political science really compliment each other.
MP: Yeah, definitely. So, what has studying both inside and outside of the business school taught you? Do your business classes help you with your non-business classes and vice versa?
CD: I think something that's interesting about studying inside the business school is that there's a very different vibe that you get there versus in political science classes. The political science classes are a little more conversational, and so you get to work on skills associated with having open conversation with lots of people with lots of different backgrounds and ideas. In the business classes, I feel like I learn more about the structured side of potential careers, more about how to organize and how to do case studies, things like that. You take more tests and do more group work, especially. I've learned a lot about group work in my marketing classes. They're very group work-heavy, whereas in political science, it's more about individual papers or projects. So, I feel like I learn not only how to interact with people by working in these marketing classes, but also how to get work done with people who are different from me. I think in that sense, being inside and outside of the business school gives me different skills from each area, which is important, especially in marketing, since you do group work and learn how to set meetings and organize things for yourself, which you don't necessarily always get outside of the business school where the work is a bit more individual.
MP: Yeah, definitely. So how has this combination and the skills you've learned from it helped you outside the classroom? Has your program of study led to any unique experiences or to consider a particular career?
CD: Yeah, I actually worked on a campaign this summer and was able to use a lot of skills I'd learned from a public relations class I'd been in. I worked for someone running for city council in New York City and those PR skills, like how to reach out to people, how to format professional emails, how to interact about a specific topic with someone you've never met before, those "professional socializing" skills, were extremely helpful going into that experience. I then found that this internship helped me with the Personal Selling class that I took in the marketing department last semester because as part of the internship, I had to work a phone bank, doing cold calls with people to sell them the product of a person. That experience really related to my sales class and helped me realize how a career in sales or even just the skills learned in sales could adapt to political science outside of school in the real world. So, I think that helped me a lot. Also, this marketing background has allowed me to do a marketing internship over the past few years with a non-profit called Refuge International. I wouldn't have been able to get that experience if I had been just a political science major. In other words, having a major and minor in different areas has allowed me to have internships in different areas, which is so important because we're all still trying to figure out what we want to do. If I didn't have that experience as a basis to put on my resume, if I didn't have the knowledge to actually work in these different areas, I wouldn't have received the opportunity to intern with Refuge International and know that like the sort of marketing I've done as an intern and that it could be something I'd want to go into in the future.
MP: Yeah, that's awesome. So, kind of looking to the future, how do you think that this combination of majors and minors will help you going forward in terms of future internships and even your career?
CD: I think this combination is important because a lot of times you see political science paired with economics or English, but marketing really teaches you so many important skills, like how to to sell an idea, which is one of the pillars of politics: you're trying to sell a person, a policy, or a program. You're trying to find the things about it that are most beneficial to people and communicate them well. Communication is a really important skill I've learned from marketing that is going to be so helpful in the future whether I go into marketing or not, especially since I can translate communication and other skills back to the political science field. I also think having a business background makes me an overall stronger job candidate because it shows I have knowledge in areas besides political science. For instance, if I applied to work on an internship for a campaign or for a polity, having that diverse resume, with diverse knowledge and skills, will make my application stronger. So, hopefully, we'll see it help me down the line when I'm applying to different positions.
MP: Definitely. So, one final question for today. What do you think are the benefits of combining business and non-business studies?
CD: I think you really learn such different skills in each of these areas and just having one alone is helpful if you know exactly what you want to do. For very specific careers, like if you know you want to be a doctor or a lawyer, and you're set on that specific path, maybe just focusing on the particular area of study relevant to that path is helpful, but for someone like me who isn't exactly sure yet what they want to do, or even people who go into jobs where there is intersectionality with different areas, having knowledge from both business and non-business fields of study is so important because you meet so many different types of people who are going in so many different places in their lives and all have a very different perspective. You get to learn so much not about just the different fields out there, the different skills, the different types of knowledge that you can adapt to different careers, but you also get to meet many different types of people, and from them you'll learn so much about yourself, what's out there, and what you want to do. And if anything, it makes your network larger, having combined business and non-business studies. You have people everywhere that you know you can depend on, people who can inspire you and help you in the future. Combining both fields of study offers you more to gain, since you're learning in different areas.
MP: Awesome. Well, thank you so much for joining us today.
CD: Of course. Thank you for having me, Madison.