New DWC Colloquium Explores History of Civilizations Through Development of Retail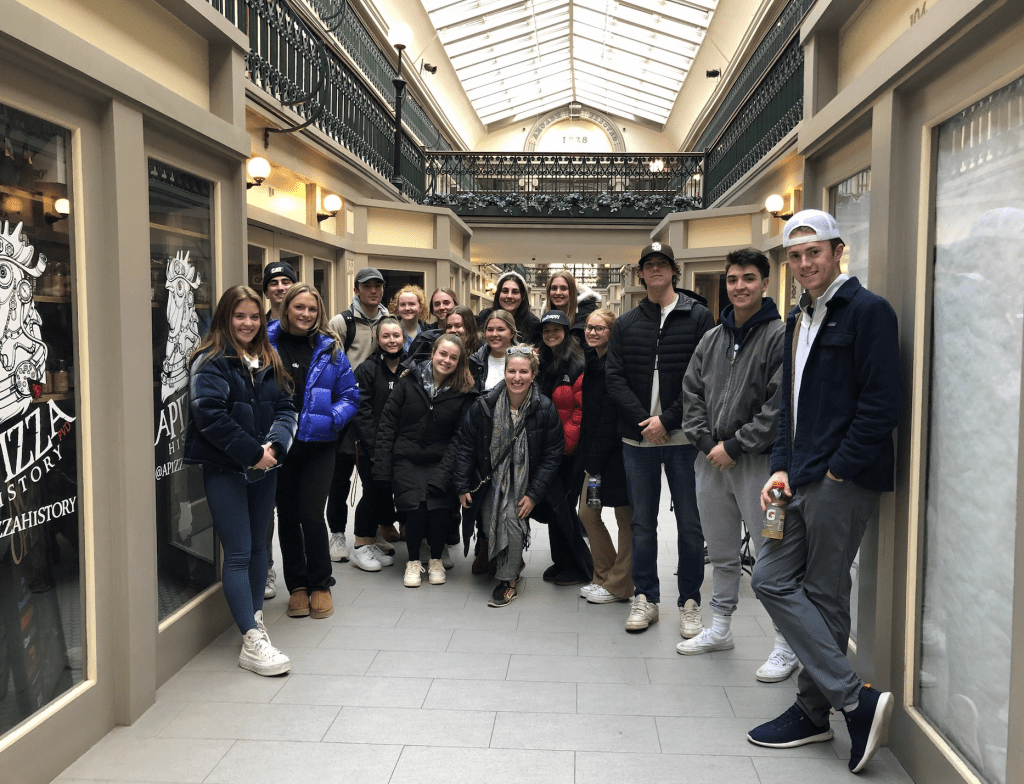 Two PC faculty members have teamed up to take students on a journey from early Mesopotamia to today's metaverse, exploring history, culture and philosophy, as well as marketing concepts and business models along the way.
This new DWC 202 course, "The Bricks and Mortar of Civilization: The History of Retail From Ancient Merchants to Amazon's Marketplace," not only traces the history of retail from early marketplaces through the rise of department stores and e-commerce, but also compares the retail models in the West (Netherlands, England, and the U.S.) and the East (China, Japan, and Korea).
The course is co-taught by Dr. Guolin Yi, Visiting Assistant Professor of History and Courtney Bozigian ('04), Adjunct Instructor in Marketing in the Providence College School of Business.
"The DWC colloquium was envisioned as a way to bring to life for students themes that relate both to their majors and the first three semesters of the program, and with so many students interested in marketing, this course is an ideal opportunity to see DWC working hand in hand with contemporary marketing strategies," said Dr. Jennifer Illuzzi, Associate Professor of History and Director, Development of Western Civilization Program.
"As a historian, I am interested in how cultural and political factors affect the economy. Businesses do not operate in a vacuum, but in countries with unique cultural and political environments. We know that Walmart is successful in China, but not in Korea and that KFC and GM are much more successful in China than in the United States. This course will investigate the contributing factors causing the differences. We will learn how American businesses like NBA and Nike handle human rights issues while operating in China and how Korean retail companies got caught in the geopolitical conflicts between China and the United States," said Yi.
"I wanted to develop this course to not only combine my own PC history major and my field of professional expertise in marketing, but also show business and non-business majors alike how the way we shop for and consume goods is a reflection of the culture and society in which we live," said Bozigian. "PC students have a unique advantage in the workplace because of the Development of Western Civilization program. It develops critical thinking, communication and collaboration skills, for students of all majors, that are essential skills for being successful in their careers. Making connections between historical events and today helps us tell new stories that will reimagine the business world of tomorrow."
---
On a recent field trip to the Providence Arcade in downtown Providence, RI, students in the course had the opportunity to visit the oldest indoor shopping mall of America. Built in 1828, the Greek revival architecture and its mixed-use commercial format is a living metaphor for themes explored so far in the class, including analysis of Ancient Rome's Forum and pre-Industrial Revolution shops. A quick walk through the surrounding financial district of the downtown area, with its winding, cobblestone streets, mimics the development of similar retail districts and department stores in large cities across America.
"I learned in my product management career at Hasbro, that in order to be successful creating and marketing products, you have to get out into retail and see what's new, what's working and what your competitors are doing," said Bozigian. "We're bringing that same lens to this course by taking it out into the real world. Retail business models emerged because of the changing needs of society and culture. We can literally walk from the Providence Arcade to the Providence Place Mall and see that evolution through architecture, retail store formats and consumer brands, while shopping from Amazon on our phones at the same time!"
The semester will conclude with student presentations recommending how current retail brands can reinvent their brick and mortar shopping experience and reimagine their ecommerce experience using key learnings from ancient, historical and contemporary retail business models.
Here's what students have to say about the course:
"The DWC program here at Providence is meant to teach us how to try harder and think deeper. This is exactly the case with The Bricks and Mortar of Civilization Colloquium. From fun class field trips to serious debates, this course has taught us the history of retail from Ancient Greece to Amazon in an engaging manner. This course and all of the DWC courses here at Providence College are what make this place so special." – Jack Coffey '23, Political Science major, Italian minor
"This Ancient Merchant's to Amazon's Marketplace course has seamlessly integrated my liberal arts education with my business interests. Studying the history of retail has provided me with a new lens for looking at current business models." – Kylie Hansbury '24, Marketing & Management double major
"The History of Retail DWC course is the perfect combination of history and business. Professor Bozigian and Dr. Yi have created engaging and interactive environment relating modern retail practices to those in developing Western civilization. As a business student, this DWC course has been the perfect fit as it has allowed me to learn about business and retail methods in a variety of cultures and time periods, better preparing me to enter the field." – Kate Gallagher '24, Marketing major
"The Bricks and Mortar of Civilization: The History of Retail From Ancient Merchants to Amazon's Marketplace" will be offered again in Spring 2023.