How'd You Get Your Job?: Jared DiBella '22
Meet Jared DiBella '22 – Incoming Inbound Success Coach at HubSpot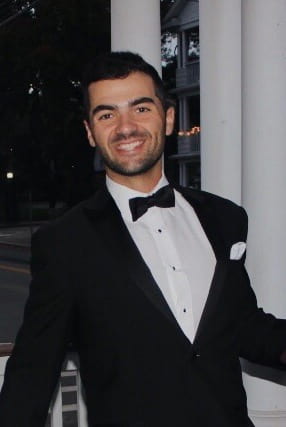 Jared DiBella '22 leveraged the PCSB alumni network to land his post-graduation position at HubSpot and shares advice on how other students can optimize their connections. DiBella is a marketing major with a minor in biochemistry and is a part of many extracurriculars including the Board of Programmers (BOP), New Student Orientation, and Admission Ambassadors. In this installment of "How'd You Get Your Job?" Jared discusses his future role at HubSpot as an Inbound Success Coach and how he utilized the PCSB alumni network to help him secure this post-graduation position.
How did you find your position at HubSpot?
I went on LinkedIn and saw my friend Emily Mastroianni '21 post about some job openings at HubSpot. I knew that I wanted to work at a company that had really strong core values that aligned with my core values. I also want to know that I will be supported. Having known Emily for the past few years, I decided to reach out to her to see how she liked working at HubSpot, and she could not say enough good things about the company. This made me even more comfortable to begin my application process with HubSpot.
Why was it so helpful for you to have that alumni connection prior to applying to HubSpot?
A lot of the positions I was exploring at HubSpot were for sales and marketing roles, but without any sales experience, I wasn't sure how I was going to go down that route. Emily made me feel a lot better about applying to these positions by explaining the structure of the company to me. Initially, I applied for the Business Development Representative (BDR) position, and it wasn't until the last round of interviews that I was able to switch it up a little bit by explaining my interests.
Can you describe your upcoming role at HubSpot?
I am going to be an Inbound Success Coach (ISC) at HubSpot, and what I really like about it is that it combines both marketing and sales whereas the BDR role would be solely focused on sales. I knew that sales was something I was interested in, but I really wanted a role that incorporated marketing as well. In my last round of interviews, I did a role play with three managers who talked to me about how there are opportunities where I can combine sales and marketing. What I will be doing as an ISC is working with the sales team within the marketing team. I will essentially be one of the first faces of HubSpot when prospects call and ask about our CRM (customer relationship management) software. I will be providing a lot of software information to our clients, using plenty of different sales techniques, and ensuring that they are making the best decision for themselves by doing business with HubSpot.
How did you decide to make the switch from a biochemistry major to a marketing major?
I started out college as a biochemistry major because I knew I wanted to go into a field where I could help people. Originally, I went into college thinking I wanted to become a doctor. After some time, I realized that biochemistry wasn't the path for me, but I had completed all the core classes, so I was able to declare it as a minor and start my marketing major the second semester of my sophomore year.
Do you have any advice for underclassmen about the importance of using the alumni network?
The environment at Providence College has made me really comfortable reaching out to just about any alumni I find on LinkedIn that has an affiliation with the school. I usually like to ask them general questions about their job and what their career path has been like so far. Almost everyone is always really receptive and enjoys talking to you. Once you make that initial connection, and even if it doesn't turn into anything right away, you will always have that connection that you could use further down the line. I think a big part of Providence College is to really tap into the College's network. From the moment you mention to someone that you go to PC, alumni are just so interested to talk to you, and I've really found that just reaching out and saying hello to someone can go a long way.
Were there any particular classes you've taken at the PCSB that made you decide you wanted to go into this role at HubSpot?
The first class that made me really want to pursue this was Buyer Behavior with Professor Courtney Bozigian. I loved her class because I was really able to use my own creativity and see how I am able to make myself my own personal brand and add value to whatever it is that I am working on. She really taught me the value of being proud of who I am and how to contribute to whatever company I would work for in the future. Another course that really solidified it for me was Janet Letourneau's Integrated Marketing Communications class. This was one of the best classes I've taken at PC because I was able to work with a team throughout the whole semester to go from figuring out how we would make a business proposal and to presenting it to Barnet General Store (BGS) at the end of the semester. We had a product that we were very proud of. It made me realize that I really wanted to be a part of a team where I could help businesses grow and flourish in whatever capacity that may be. I also learned that communication and working with others was one of my strong skills which made me envision myself doing that in the future.
by Elie Delaney & Sara Dever