PC Team Wins Hartford CFA Research Challenge Third Year in a Row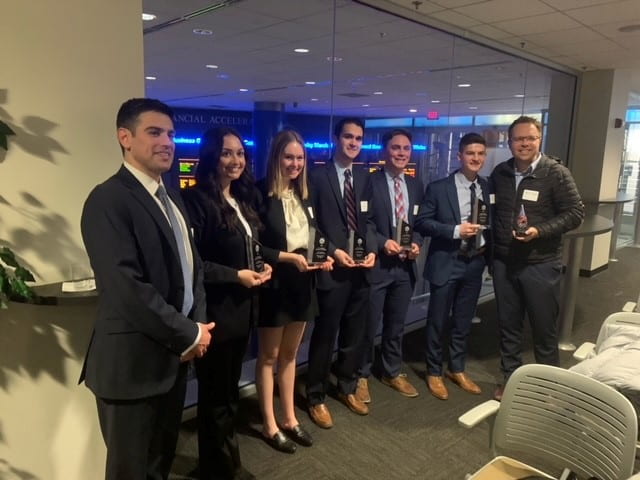 For the third year running, a team of students from the Providence College School of Business has taken first place in the Hartford regional finals of the CFA Research Institute Challenge. This marks the sixth time that a PC team has placed in the top three of the regional finals over the past seven years.
CFA Institute Societies worldwide hold this competition every year to give promising students the opportunity to work as a team to analyze a publicly traded company; craft a research report on said company that includes a buy, sell, or hold recommendation; and present their line of thinking to a panel of industry-expert judges.
Michelle Gugliemo '22, Kristen Moran '22, Christopher Daly '22, Samuel Buchanan '22, and Brian Campbell '22 competed on PC's team this year, with Dr. Marcin Krolikowski, associate professor of finance, serving as their faculty adviser. The team topped 12 other groups, 10 of which represented regional universities such as Yale.
The students will now move on to the sub-regional round, which will be held virtually on March 20. Representing the Hartford region, they will be competing against winning teams from other areas in the Northeast, including Boston, Maine, New York, Philadelphia, Pittsburgh, and Washington, D.C.
The competition is a fantastic way for students interested in the world of finance to gain experience, build their resumes, and forge connections with students from other institutions as well as with industry experts, Krolikowski said.
Team member Campbell '22 echoed these sentiments, reflecting, "the CFA Research Challenge [has] taught me how to truly understand a business; what drives a company's revenue, expenses; and the dynamics of the industry in which [a business] operates."
Campbell also emphasized the importance of teamwork to the PCSB team's victory, remarking, "one of the most important components to our success was learning how to work as a collective unit. There [was] an immense amount of research, information, and analysis that [went] into the final report and presentation that [was] submitted to the CFA judges, and in order to create a professional winning report, cooperation and teamwork is vital."
Congratulations to the winning team, and best of luck at the sub-regional competition!