How'd You Get Your Job?: Alexandra Lanna '22
Meet Alexandra Lanna '22: Incoming Analyst at Precision Medicine Group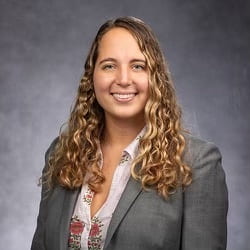 Learn how Alex used PCSB to mesh her interests in finance and medicine to find her dream job!
Alex Lanna '22 is a prime example of why PCSB students should start networking early and how faculty advising outside of the classroom can help you follow your dream path. Lanna began her freshman year at PC as a biology major and as time went on, she found herself wanting to focus more on the numbers. By taking advantage of the great faculty in the PC community, she was able to make a major change and now is a senior finance major in the Liberal Arts Honors Program. She describes how she got to where she is today and why PCSB has prepared her for her future role.
Was there any specific advising from Professors or mentors that helped you land your job?
"The two main courses that helped me find my path was Personalized Health and Medicine, an honors colloquium taught by Dr. Charles Toth, professor of biology, and Introduction to the Pharmaceutical Industry, taught by John Cervione '87. He is the owner of Blue Fin Group, a pharma consulting company, so he was a great mentor for me. I also networked with an alumni named Ann Houston '92, who came to speak in Dr. Toth's class. I connected with her afterwards and she connected me with an internship position at Rallybio, a biotech company in New Haven, Conn. I was a new product planning intern where I looked at commercial opportunity assessments, launching drugs and generally looking at what drugs the company should take on. Working there definitely reaffirmed that I loved the field and the experience helped me a lot to land my post-grad job at Precision."
Can you give us a brief description of your future role at Precision Medicine?
"I will be a market access analyst for a company that consults for pharmaceutical companies. They consult to the top 30 pharmaceutical companies as well as smaller biotechs, which is what I worked in last summer so it's fun to get to mix those two worlds together. In terms of market access, I will be looking at launching new drugs and bringing them to commercialization and helping companies with that whole process."
How do you think your finance background will help you in this role?
"I think the finance knowledge I got from PCSB will be helpful just because it gave me an overall background on how businesses run, especially because I will be working with multiple businesses at once. I also think just knowing the numbers behind things and how to use Excel will be really helpful when it comes to the pricing of drugs."
Do you have any advice for underclassmen with an interest in pharmaceuticals/medicine that are currently studying business?
"I definitely recommend networking early on to get an internship. It's difficult to get into these roles without prior experience. It's never too early to start talking to people and connecting with alumni. I used LinkedIn a lot to research companies I was interested in and to see if anyone who went to PC works there."
How did you end up landing this position at Precision Medicine?
"It all stemmed from my internship last summer that I got from networking with Ann Houston. When I told coworkers about my interests, a lot of them recommended that I consider consulting. Precision Medicine also consults for Rallybio, the biotech company I interned with, so that definitely helped in the interview process that I had that experience with a familiar company to them."
by Elizabeth Delaney '22 & Sara Dever '22