PCSB and Beyond: An Interview with Lydia Watson '22
PCSB and Beyond seeks to engage members of the Providence College School of Business community in meaningful dialogue about the importance of an education that combines studies in business with the Liberal Arts and other areas. The podcast is hosted by Madison Palmieri '22, Editor for the 2021-2022 Benjamin Family Social Media Fellows. A Rhode Island native, Madison is also a Head Writing Tutor at PC's Writing Center and an editor at The Cowl and Veritas.
MP: Hello and welcome to PCSB and Beyond, where we talk with Providence College students whose studies take place both inside and outside the Ryan Center for Business Studies and discuss how this has impacted them both inside and outside the classroom. We're here today with current student Lydia Watson. Thanks for joining us today, Lydia. To kick things off, can you tell us a little bit about yourself?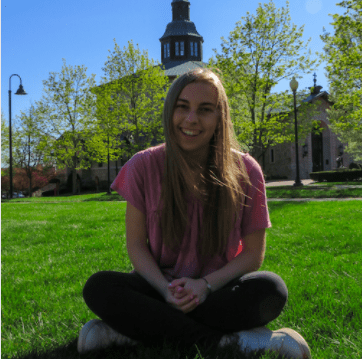 LW: Yes, definitely. Thanks for having me, Madison. My name is Lydia Watson. I am a senior from Northern Virginia, which is just outside of DC. I do a variety of activities on campus. For instance, I am a member of Irish dance club and I've been a part of the Affinity groups. The majority of my life and majority of my time outside of the classroom, however, is spent in Campus ministry. I currently sing in the 7 pm choir, last year I was an usher and greeter at Mass, and I am also a religious education teacher. Additionally, I have the pleasure of teaching four first graders—they're adorable—and being part of Campus Ministry Leadership as the Youth Religious Education Minister.
MP: Awesome. You're definitely involved in a lot. So, what's your major and/or minor here at PC?
LW: I am a senior global studies major with a double minor in Spanish and marketing.
MP: Awesome. So, how did this combination of majors/minors come about? What made you decide to pursue this combination?
LW: I actually came to PC undeclared and had no idea what I was interested in. I was all over the map. I remember on advising day, I was placed in a Global Studies 101 class and I was not happy with that class to begin with at all, actually. The class that I was actually interested in was Anthropology 101. However, I came to really like the Global Studies class. We learned about different communities and how they interact with one another. I was intrigued by the idea of new perspectives. So, that was my introduction to global studies—how I just really enjoy learning about different people and how they interact with one another. With regard to my Spanish minor, I have always been involved in Spanish. In high school, I took Spanish all four years. My elementary school also had an "introduction to Spanish" that I was a part of in my younger years, and my grandmother is from Cuba, so I'm part Cuban, which is really cool, and I've grown up speaking Spanish, so I knew I wanted to continue my Spanish-speaking throughout college. I also wanted to study abroad, which unfortunately never happened, but nonetheless I was really looking forward to continuing my Spanish studies throughout college. With regard to my marketing minor, I thought it was really important to have business content within my Liberal Arts education, and so marketing was a place I could be creative. I wasn't really involved in anything business-related before I took marketing, so it was, again, me exploring different interests I had coming into college.
MP: Yeah, definitely. So, what do you like about this particular combination? I know you just talked about why you like these areas of study individually, but what do you like about the combination as a whole?
LW: Yeah, totally. I really think that these three interest areas encompass a lot of what I want to pursue post-graduation. They have really helped me to grow into the person that I've come to be and this combination, these three interest areas, have allowed me to be expressive of who I am creatively and reflectively. For instance, in global studies, we do a lot of reflective work. I've come to really enjoy journaling and taking notes about who I am and my place in the community. Test-taking is not a strong suit of mine, and I would much rather engage in conversations and with this combination, I can do exactly that. I can be creative and converse with others without having any "pencil and paper" type exams that I'm not super strong at.
MP: Yeah, definitely. So, what has studying both inside and outside of the business school taught you? Do your business classes help you with non-business classes and vice versa?
LW: Totally, I definitely think that having a Liberal Arts education and a major in global studies but then also being part of the business school, like I said before, has helped me to think creatively. With my global studies classes, I've learned to communicate with all different types of people, engage with them, and create a safe space where we can talk about different things together and not be "butting heads," but rather learn to understand one another, instead of just talking at each other. Being in the business school, we've definitely done a lot of work with creating PowerPoints and case studies, which has made me think outside the box.
MP: Awesome. How has this combination helped you outside the classroom? Has your program of study led you to any unique experiences or to consider a particular career?
LW: I'm not really 100% sure what I want to do post-graduation. It seems that I'm being pulled into this "teacher realm." I'm not an education major, but I think that the combination of global studies and marketing has definitely led me, indirectly, down a path towards teaching. As part of my global studies experience, I've been able to build curriculum for high school history classes. Also, being a CCD teacher, I've created lesson plans. So, this creative aspect of my combination of majors and minors has definitely helped me. Also, with global studies, just learning about different perspectives and different people and where they've come from has helped me. We all have a story to tell. I think that if I do become a teacher, I will be able to be more engaging with the students knowing that everybody has a story and knowing that everybody comes from somewhere and deserves love. With marketing being creative, especially with tasks such as creating PowerPoints, and then also with global studies coming from a point of view of being engaged with community members, this combination will definitely help me toward a particular career in the future, whatever that career may be.
MP: Awesome. So, are there any other aspects of your future, maybe in terms of future internships, that you think this combination of majors and minors will be helpful for?
LW: Sure. I think that global studies will definitely help me connect with people and has helped me become a more accepting individual of people in our community. Everyone comes from a variety of backgrounds, like I've said before, and I really think it's important to embrace everybody with open arms even if your story is different from theirs. I strongly believe that stories and creating a narrative is another thing that global studies has taught me with the reflective work that I've done. Several activities that I've done in classes revolved around reflection, which is something that I've really come to love and enjoy. I think it's essential that we should all take at least a few minutes out of our day to reflect on a few good things that have happened. This has been a super important part of my student development, to think back on days, course readings, and even field trips from global studies and marketing classes, to think about the deeper meaning behind what's going on. Also, speaking a second or even a third language is really important in any workplace today. People come from all different areas and backgrounds and you never know what situation you could be presented with—you might even have to speak in another language to be able to communicate with others. By using my Spanish skills in such a way, I could build community with people in my workplace. With regard to marketing, I have learned unique strategies to connect with people in the business realm, and I believe that this minor has helped me to be creative when doing presentations and creating media to share with others for educational or work-related purposes.
MP: Yeah, definitely. So, final question for today. Thinking holistically, what do you think are the benefits of combining business and non-business studies?
LW: I definitely think that combining business and non-business studies is a great way to explore your different interests. Here at PC, there's four years of school and it's important to dive into everything that you could be interested in during those four year. For me, this was learning about different communities in the United States, in Europe, in Asia, in all different areas of the world.