Samsonite Real-World Consulting Project
In the course of any business, customer needs are met, new ideas are implemented, product innovations are created. And often the result is a burgeoning collection of stock keeping units (SKUs) which may or may not still meet a company's strategic vision.

In 2019, Samsonite, the worldwide leader in superior travel bags, luggage, and accessories combining notable style with the latest design technology and the utmost attention to quality and durability, began a re-evaluation of their active and inactive SKUs. When the covid pandemic struck and travel temporarily halted, the company saw an opportunity to accelerate this project and turned to the Providence College School of Business for assistance with the new timeline. The junior, senior, and graduate students in Professor Jonathan Jackson's Business Analytics Consulting class were happy to jump in and help.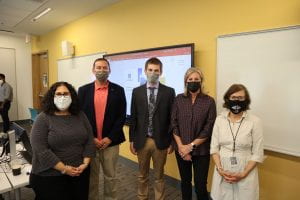 The collaboration kicked off in September when Lynne Berard '93, president of Samsonite, N.A., and Jaimie Boss, vice president, product marketing, for Samsonite Brands, came to campus to provide background on the company and the data, as well as to explain desired outcomes for the project to the students. Essentially, as Ms. Berard explained, Samsonite had for two main goals for this project:
Identify methods to strategically reduce SKU count to enhance efficiency and profitability
Refine the system for recognizing trends to continue to anticipate customer desires
The first step for the six student teams was cleaning the large data sets provided by the company. Next, students categorized SKUs based on features, sales, and profitability. The teams also layered in independent research for their analysis, such as competition, product channels, and, in some instances, ESG considerations. From there strategic recommendations were hashed out and the final presentations created. Throughout the entire process analytical and data visualization tools, such as Excel, Tableau, and R were learned and applied to the project.
"Many managerial decisions – regardless of their functional orientation – are increasingly relying on data and business analytics," noted Dr. Jackson, associate professor in the PC finance department. "The opportunity for students to integrate and apply their analytical skills and knowledge to a real-world business analytics project with such an interesting and accessible partner as Samsonite was a true pleasure."
Kyle Gendreau, CEO of Samsonite International, found the students' presentations "really impressive." In particular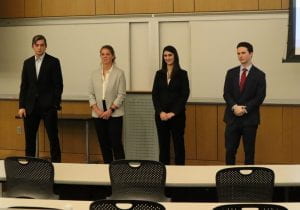 Mr. Gendreau commented on the seamless use of Tableau for illustrating the data in compelling ways. And even though the company will receive comprehensive reports from all teams, Mr. Gendreau claimed to have jotted down some notes for immediate follow-up.
Mr. Boss concurred. "We will take the students' recommendations back to the office," he said. "We're all blown away by what we saw here."
The students expressed sincere thanks for the opportunity to work on this engaging initiative and for time and commitment that Samsonite provided. The winning teams were also very appreciative when Ms. Berard, who is a member of the PC School of Business' Business Advisory Council, surprised them with gift certificates for Samsonite luggage!
Read about other real-world consulting provided by Providence College School of Business students to companies such as Blue Cross & Blue Shield of Rhode Island and Citizens.