Marketing professor opens up about first book, Disruption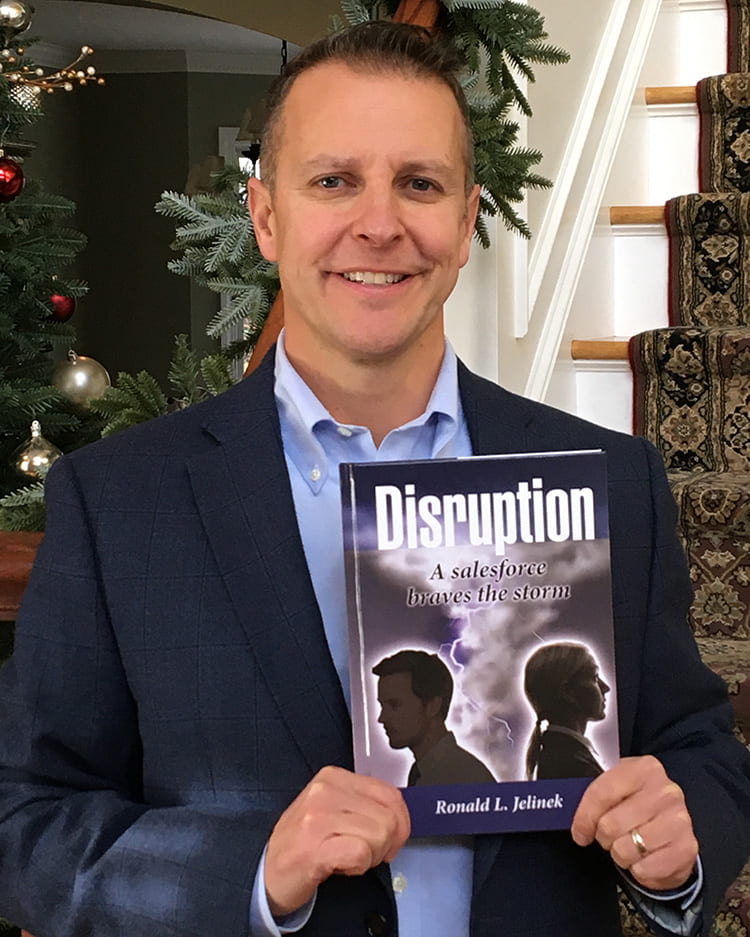 Dr. Ronald Jelinek, a member of the PC marketing faculty since 2005, has written his first book entitled Disruption: A Sales Force Braves the Storm (Wessex, 2021). Described by Jelinek as a work of "sales fiction" and set against the COVID-19 pandemic, the book's narrative centers on two main characters – a first-year sales representative and her manager – and their respective roles in a complex business environment.
Below, Jelinek explains the genesis of the book, why the topics it covers matter in the current business environment and in current business education classrooms, and what he hopes readers take away from the book.
Why did you write this book?
I was on sabbatical in Spring 2020 working on very different things when the pandemic arrived. As we've heard so many say, COVID changed everything. My two older daughters shifted to online learning, my wife – an accounting professor at another school – found herself on Zoom, and we had our then then-year-old at home. We all had to scramble.
From my wife's experiences that spring, I saw that giving meaningful, effective exams in this new environment was going to be an enormous challenge. The pandemic changed everything. Developing a new assessment tool wasn't just a nice idea, it was becoming more of a necessity.
How did the story come together?
My original goal was to develop a semester long case featuring a fictional narrative told from the perspective of two individuals – a first-year business-to-business sales rep at a consumer food brand and a sales manager at that same company. I thought it would be interesting to weave in details of the current operating environment and provide students an opportunity to think about sales and sales management concepts with the pandemic as a backdrop. So, the story would detail these characters' experiences navigating the market going into COVID, going through COVID, and (hopefully!) coming out of COVID.
Because food retail was something I thought everyone could identify with and because it was also a space that suffered a great deal of disruption early in the pandemic, it was a relatively easy choice. Developing the characters and their stories was fun. Given how hard the pandemic hit the Connecticut-New Jersey corridor and the fact that I grew up in Long Island and spent many years in Connecticut, it was easy to write about a region dear to my heart.
What was the writing process like?
As I said, the goal was to end up with an assessment tool I could use for my fall business-to-business sales course and another related assessment tool I could use for my spring sales management course. In effect, I hadn't set out to write a book, but that is what ended up happening. By August of 2020, I had the multipart sales narrative for my personal selling course completed. In October, students completed the first part and in November they completed the second. Because the sales narrative ends with a bit of a cliffhanger (the organization was still dealing with the effects of COVID, just as we were at the time), the students were joking that they wanted more. I told them to stay tuned and that if they chose to take my spring sales management course, they would continue to read more parts of the story – this time from the sales manager's perspective. But, by Thanksgiving, I was starting to think I might have something more than a series of cases for my courses. A friend at another university suggested I shop the idea around with some publishers. Less than a month later, Wessex Press offered me a contract.
Tell us about Wessex Press?
A friend of mine recommended I shop the book proposal around and speak to Wessex. I had met the founder of the company, Noel Capon, several years back at a gathering following a sales symposium at Columbia Business School, where he teaches. Dr. Capon is highly respected in the field and Wessex is fast becoming known for producing innovative learning solutions. It was the ideal publisher for this book.
Who is the audience for this book and what do you hope readers take away?
Undergraduate students everywhere are the primary audience. We're also targeting a professional segment – new sales reps and new managers – by positioning the book to be a tool used for company training purposes. In either case, the book's intention is to get learners to consider how to make important decisions in a challenging, often-changing environment. It's about getting them to think about sales process, customer relationships, and navigating the internal and external environments. This book is not a standard text – it aims to read like a paperback novel. I like to call it a work of "sales fiction." Motivated by the belief that storytelling can be a great vehicle for teaching, I hope this book engages learners with an interesting tale, a compelling and relatable cast of characters, and an opportunity to think and learn.