50 Years of Women, Business & Growth: Women in Business Alumni Panel
Five female alums — Marithza Cadet '14, '15G, Senior Financial Analyst at Medtronic, Maggie Cadigan '11, Managing Director at The Many, Justine Harrington '12, Founder & CEO of Solas Digital Consulting, Keesha Ingram '19G, Category Designer at CVS Corporation, and Shannon O'Brien '92, Vice President-Claims of Amica Mutual Insurance Company — returned to campus on November 30 to network with members of the Women in Business student club and address an overflowing room of PC students, faculty, and administrators about their experiences as women in business. This panel was presented as part of the "Then Now Next: 50 Years of Women at PC" celebration.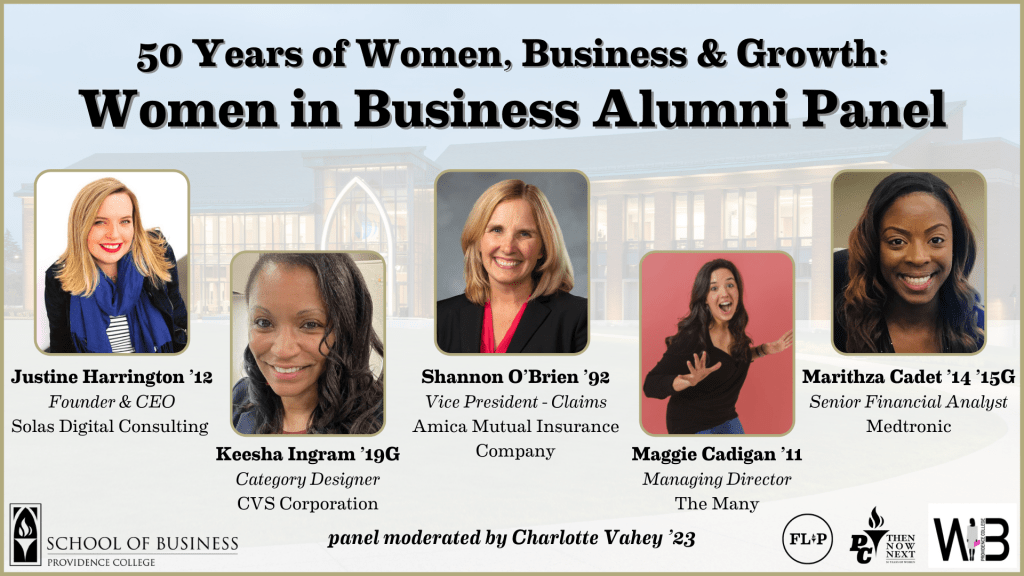 The 50 Years of Women, Business & Growth: Women in Business Alumni Panel opened with each woman explaining their current roles. There were a few revelations. For instance, Ingram explained that behind every item on the shelf at CVS is a team of people making decisions about it.
Next student moderator Charlotte Vahey '23 asked how these women found their career paths. For one the direction was clear cut. Cadigan always knew she wanted to work at an advertising agency, but her experiences as a marketing major at the Providence College School of Business helped reinforce that conviction. Others tried out different options at PC first. For instance, Cadet began as a biology major, switched to health policy management, but, after a conversation with Professor Patrick Kelly, picked up an accounting major and found the right fit.
As someone who will be entering the workforce next summer, Ema Bandazian '22, a marketing major with a Spanish minor who is the president of the Women in Business club, found it reassuring that each panelist "was especially thankful for the foundation of a Providence College education, values, and network …"
Many panelists spoke about the importance of being open to different experiences and opportunities. "There's so many different types of experiences and businesses and opportunities that you don't even know about yet. Be open," noted O'Brien.
Harrington built on this idea of career exploration while at PC. "I wish [while in college] I networked more and took time to reach out to people who were in industries that I was interested in and to think outside of the box … surveyed all possibilities," she said.
"Don't put pressure into 'getting the job,' put pressure on introducing yourself to different types of people and picking their brains," she advised.
"We all come from the same PC family. It is very easy to make connections" with PC alums given shared experiences, explained O'Brien. Cadet agreed. "I think the PC alum network has been the most important network I have had thus far, even though I've developed my work network," she said.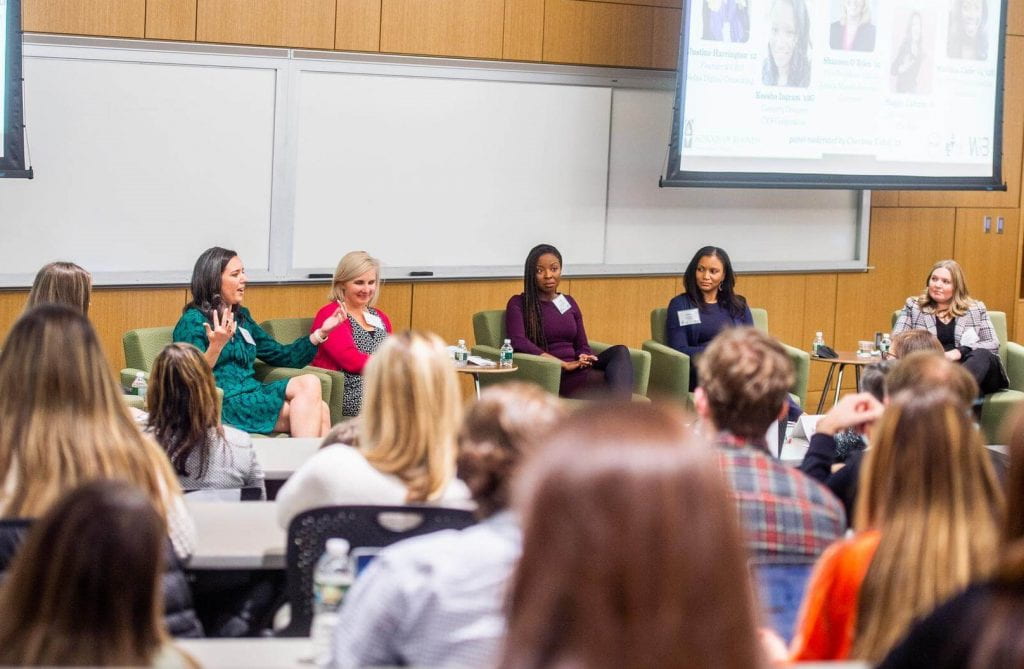 These women also delved into challenging topics, such as sexism and racism in the workplace.
On being a woman in business, Ingram noted "Being in retail … it is male dominated industry. The hardest part I found as a female was getting respect and not being seen as being aggressive but being seen as assertive when I stood up for myself. It is a fine line, and I found every single day it changed … You have to adapt, but you still want to be respected and respect other people."
"Does sexism exist?" ruminated Harrington. "It totally does … But what I have found is you can only control the controllables and … there are also a lot of really good people, a lot of really good men" out there.
Cadet advised the female students in the crowd, "Sometimes in the corporate world there can be boys' clubs … don't be afraid to jump into conversation and make it known that you are in the room. Don't be afraid to take up space … be confident in yourself and your abilities. Know that you are valued as much as anyone else in a workforce …"
O'Brien felt that "it is a really exciting time to be young women going into the business world right now." The recognition that diversity of experience and perspective are important to business decisions gives more voices the opportunity to be heard. "What you have to say is important … Go out there and do the job and earn the respect and then don't be afraid to use your voice. Speak up when it is time to speak up."
The panelists also explored work/life balance. It is all about choices and setting priorities, according to O'Brien. Sometimes family or life has to take precedence, but sometimes work does. "I think trying to achieve perfect work/life balance — you are going to fail," noted Cadigan. "I think that if you can know what is important to you, what your priorities are … and try to think through the decisions in relation to those, you can achieve an integration of work and life that is suitable to you."
Cadet advised that "… in order to have somewhat of a work/life balance, communication is so important … Express to your manager, your team, the things that you value, the things that you do outside of work …" That way, when you make time for them in your life, your manager and your team understand that it is important to you and treat it as normal.
In answer to a question about advice for the next generation of women going into the workplace, the panelists were encouraging:
"Dream big and then imagine even further." (O'Brien)
"Have a growth mindset. It's okay to change your mind, it's okay to go in a different direction … It is okay if your journey that takes a little bit longer …" (Ingram)
"Don't stop learning." (Harrington)
"Put yourself in challenging positions. Be comfortable with the uncomfortable. That is the only way to grow." (Cadet)
"Have the courage, when you have a clear vision, to ask for what you want." (Cadigan)
"It was incredibly inspiring and motivating to hear each of their career journeys being both Providence College alumni and women in business," commented Vahey, who is an accounting major with a women and gender studies minor as well as the vice president of the Women in Business club. "We often think reflecting on opportunities based on gender is limiting, but this group of women proved that, although there are obstacles, remaining confident in yourself, your abilities, and being unafraid to take risks will allow any woman to thrive in their careers."
Ultimately, the 50 Years of Women, Business & Growth: Women in Business Alumni Panel, which was co-sponsored by the Women in Business student club and the Providence College School of Business, was inspirational, real, and motivating according to several attendees. And the clear message to the students in the audience, and especially to the young women, was: "Don't be shy … don't be afraid, be pushy. Ask for what you want," as Cadigan said.