PCSB Marketing Major Turns Hobby into Small Business
During quarantine last year, Haley Georgen '22 used the skills she learned in PCSB courses and a marketing internship experience to turn her passion for cheese into a business named "That Cheese Princess" in which she creates and sells charcuterie boards. Since then, Georgen has been featured in Rhode Island Magazine, a podcast, and several well-known food Instagram accounts. Read on to learn more about how her experience in the Providence College School of Business has helped her create her own company.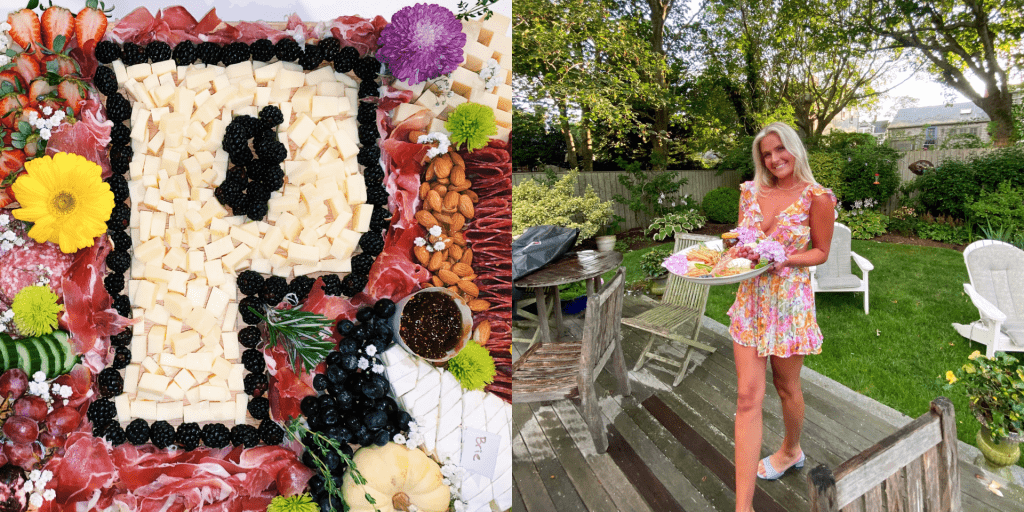 What inspired you to start "That Cheese Princess," and what is the company all about?
I was inspired to start That Cheese Princess during COVID as a quarantine hobby. I created an Instagram account and only intended to make charcuterie boards for my family and friends and post about them on the page. It wasn't until the summer of 2020 when I was living in Nantucket when my boards had more of a following and people were inquiring about ordering them that I thought about making it into a real business. I began looking into ordering boards in bulk, analyzing financials, and seeing if there would be an audience back in Providence. When I came to campus in the Fall 2020 semester, I began selling my boards and the business took off.
The company is all about classy and delicious charcuterie boards. They are perfect for every occasion, whether that be a birthday, Bachelor watch party, or just as a special treat to spice up your day. I wanted to create the company in an aesthetic that I love, and I have stayed true to that. It's all about connecting with people in a different way. Maybe you've never met someone before, but now you are sitting around a charcuterie board with them and you already have one thing in common: cheese. I want people to use the boards as a way to connect and get together with friends, family, and strangers and just enjoy the moment.
Which class at PCSB was most impactful for you in starting your business?
There are so many classes at PCSB that were helpful when I was starting my business. One marketing course was Promotional Strategy with Professor Letourneau. In this class, I learned how to promote a small business, Barnard General Store. I learned the ins and outs of what a promotional strategy is and how to create awareness of small businesses. Professor Letourneau told us that there would be a lot of work but it pays off and she was right!
The second course that really helped me was Buyer Behavior with Professor Newman. I especially loved this course because it was all about communicating and appealing to consumers, which was very helpful for me when I was just starting my business. This class also allowed me to get a grasp on how to define a target market which was helpful when trying to figure out the best way to make the students of PC aware of my company and want to participate.
The third course that had a major impact on helping me start my business was the Digital Marketing course I took last year with Professor Alhouti. This class taught me about SEO, keywords, social media, and how to successfully design a website. At this time, I already had my own website, but I was able to use my new knowledge to incorporate SEO and keywords. I also got certified on Google Shopping Ads as well as Inbound Marketing on HubSpot Academy.
Were there any PCSB clubs you took part in that you can contribute to your success?
I am currently a member of Delta Sigma Pi, The Student Giving Committee, and Women in Business. All of these clubs have given me the opportunity to meet new people and connect with fellow Friars, which is what my business is all about. I am the social chair of DSP, which is great because I enjoy hosting gatherings where members of the Friar community can connect and meet each other. Women in Business is great for women at PC who are interested in the business world. They have excellent speakers who are just so inspiring to listen to and let you know that you can do anything you set your mind to.
Do you have any advice for future Friars who are looking to start their own business?
My advice for future Friars who want to start their own business is to just find something you are passionate about and pursue it in any way that you can. If you are passionate about something, I guarantee that other people are as well. There is always a market for your passion. It is also always important to stay true to your brand. I am always looking at other charcuterie accounts to see what they are doing, but I never pressure myself to keep up with others. Another piece of advice I would give is to never be afraid of going up to a stranger and handing them your brochure and just telling them about your company. It might feel awkward at first, but the more you get to know your consumers and spread brand awareness, the better. The last piece of advice I have is something that Professor Newman said to me in my first marketing class. He began the class saying, "many of you probably think that you know nothing about marketing, but the truth is that your entire life, you have been marketing yourself." It is so important to remember this when starting a business because you never know who you are going to run into, and you always want to be your best self.
Is there any specific course or professor in the PCSB that made an impact in this journey?
All of the professors I mentioned previously (Letourneau, Newman, and Alhouti) have had such a great impact in this journey. I am currently doing an independent study with Dr. Schultz right now and although it has just begun, I have already learned so much from her. We are working on creating a professional marketing plan for That Cheese Princess, in the hopes of growing my business after graduation. Dr. Schultz has great ideas for me to incorporate into my business and I am very excited to learn more from her during this semester.
What are your plans for "That Cheese Princess" Post-Graduation? After graduation, I hope to expand That Cheese Princess. My ultimate goal is to have storefronts all across the U.S. so that everyone can enjoy these boards as much as I do. I hope to grow the brand and the customer base on a large scale. I am looking to get a job in the marketing field so that I can continue to work and learn ways to fulfill my dream for That Cheese Princess.
Click Below to listen to the Launch Career Podcast featuring Haley Georgen '22:
https://www.launchcareerstrategies.com/career-strategies-podcast/episode/4c4d9c06/guest-haley-georgen-founder-that-cheese-princess-and-marketing-major-at-providence-college