PC Students Begin App Startup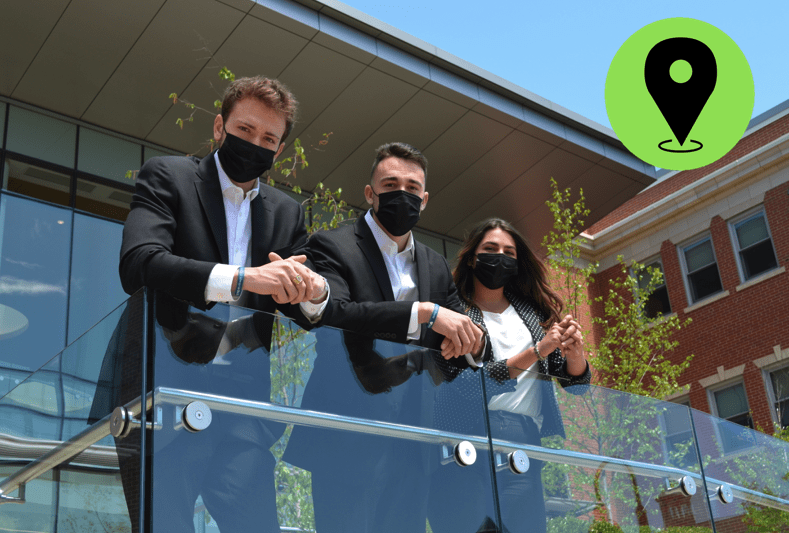 PCSB is thrilled to welcome Hoppz, a startup led by students in the Classes of 2021 and 2020 driving change to modernize and drastically shift the way hospitality venues and consumers interact. Hoppz's business model is novel within the hospitality application space, working as a dual-sided marketplace. Having worked on establishing the company and getting the backbone for their application firmed up over the last eight months, Hoppz is well on their way to providing a go-to-market product within the Providence area in the coming months. Today, PCSB is speaking with Miles McQuillen '21, Adriana Santos '21, and Nick Calcagno '21 about their concept, plans, and overall experience in the startup space.
Team, thank you for speaking with PCSB on your entrepreneurial endeavor that is Hoppz. As we all know, hospitality is one of the main industries hardest hit by the recent COVID-19 pandemic. How does Hoppz hope to stimulate and revitalize the Providence community, and later, other regions?
Thank you for having us! We are excited to share our vision for Hoppz with the greater Providence College community. With the number of specialized apps in the market, it is astonishing that there is no platform dedicated to serving the nightly, real-time needs of bars and nightlife establishments. As you noted, the hospitality sector has been severely impacted by restrictions related to COVID-19. Bars that we once loved and made unforgettable memories at, are now out of business or on the brink of bankruptcy. However, as the vaccine rollout continues to take place nationwide, our team is predicting a stretch of pent-up demand for social experiences that will help revitalize the entire industry. This combination presents a perfect atmosphere in which a disruptor app, such as Hoppz, can penetrate the market space. Timing is key in the startup industry, and our team hopes to capitalize on these tailwinds.
How was the concept of the application created?
I (Miles McQuillen) actually came up with the idea in the back of an Uber. I was frustrated after a night out where all of my plans went awry and I ended up going home early with nothing to do. I thought of all the ways I could have had an entertaining night and of all the questions us students tended to ask ourselves before going out: What time should we go? How many of our friends will be there? Is there a cover fee or any drink specials? What about the line? I then realized there was no efficient or streamlined way to get answers to these questions. Most students try to solve these issues by calling bars, Snapchatting or text messaging friends, using class group chats, and more. However, methods were continuously unsuccessful and time-consuming, giving me the initiative to create Hoppz. I constructed a team of six individuals, three of which are Providence College students and one alumnus, who specialize in unique business areas to drive our growth.
Simply put, Hoppz provides users with real-time information on local establishments. Our concept is distilled down into three main objectives: to connect, inform, and communicate. We offer bars, clubs, and similar establishments a free-to-use platform that enables them to connect with current and potential customers. Bar owners or employees will have the ability to easily set up a page within the app called a "HoppzPage," where they can share specific information such as hours, deals, promotions, events, cover fees, and more with their customers. We have differentiated our product through other innovative features related to wait times, reservation availability, gamification, and social networking which will be extremely helpful to establishments and customers alike. All in all, Hoppz gives you the ability to plan a successful and safe night out with the click of a few buttons.
Why has your team chosen to found a startup within the mobile application and Software as a Service (SaaS) arenas (i.e. projected rewards of being in these arenas)?
The mobile application realm has been around since the early 2000s and has been thought of as a modern gold rush in some circles. Massive application companies such as Snap, Instagram, and Twitter have shown the breadth and wealth of opportunity in the mobile application environment. Similarly, "software as a service," is another extremely popular business model on the street. Think of SalesForce, Slack, and Shopify, and other attractive SaaS companies. Businesses who have applied the SaaS model have certainly achieved greater attention from venture capital firms in recent years due to their low implementation cost, low churn rates, high retention rates, and nature of predictable cash flow generation. Our team strives to combine this excellent track record with the emerging SaaS business model to achieve a dual-sided sword approach to development and implementation.
Hoppz plans to implement a discounted payment for bars who elect to purchase a premium account for an extended period of time. Our team hopes that bars who choose to purchase these subscriptions will be pleased with the influx of customers they receive, and in turn will lead to building mutualistic relationships with establishments.
What have been the greatest hurdles thus far and how did you overcome them?
The most difficult hurdle was solving the "chicken and egg" equation in whether to first engage the consumer or establishment side of our business model. Our initial approach was to attack from the user side by emphasizing our app's social media features. However, after further consideration and conversations with individuals in the startup field, we realized that not only would our marketing costs severely rise, but our app would be minimally effective without local establishments actively using it. Therefore, with that in mind we decided to pivot our entire business model. Think of DoorDashwithout the drivers… How would that work?
Our second focus remained on the development and technology realms of the business. Because the value proposition of our app focuses heavily on real-time information, we needed to decipher how we would best track this data without pulling too much effort from each side of the equation (users and establishments). Establishments do not have the bandwidth and/or resources to constantly update the capacity of their bar. On the other hand, a thread updated on the user side would likely produce largely inaccurate information. To combat this issue, our team decided to implement reverse geocoding, a methodology of passively tracking the location of users. This method will maximize the monetary value and overall accuracy of our data, without exploiting the privacy of our users.
What was the reasoning for creating the application with the business model you did? What are its key benefits for both Hoppz, hospitality venues, and the consumers?
Hoppz prides itself on being a dual-sided marketplace. Service platforms, such as Yelp and OpenTable have not adequately adjusted to meet the modern-day needs of customers in real-time data. Highly trafficked social-media apps such as Instagram and Snapchat currently lack a dedicated service to inform customers of pertinent information. Think of Old Irish's Instagram stories regarding available tables – how often do you really see the posts in time to book?
In order to address this, our team recognized that we would need to incorporate both the consumer side and business owner within one easy-to-access interface. The Hoppz concept recognizes that there is a level of dependency on direct communication paramount to a safe and fulfilling nightlife experience.
With regards to monetization, Hoppz is best described as a freemium-style business model, a concept generated from a combination of free and premium features. The freemium model lowers new users' barrier of entry and enables them to test our minimal viable product (beta version). It also allows us to scale our product and attract a large user base without allocating resources to costly advertisement campaigns and mitigating customer acquisition costs.
Within this business model, users and establishments can obtain a completely free version of the product, without worrying about hidden or rising costs. Establishments can opt to purchase premium packages of our product in which they can access richer functionality, such as promotion management. Promotion management permits bars to be the "top promoted bar" on a selected night in a given region. With the bar and hospitality industry being so highly contested, our team believes a sizable portion of Hoppz bars will elect to purchase the premium package to draw additional customers. Customers enjoy transparency into a certain bar scene, and the Hoppz premium features plan to maximize the connectivity between the two currently divorced parties.
For Hoppz, revenue streams from premium members are expected to be a substantial share of our monetary value. In recent years, venture capital and private equity firms have flocked to startups like Instagram, which eventually sold for more than $1 billion without a cent of revenue. While this isn't the model we'll be using as discussed above, the point is that a startup's revenue isn't necessarily the most appropriate indicator of future acquisition price. Acquisition targets are enticed by a robust user base which Hoppz plans to capitalize on through our freemium model.
Where do you see the Hoppz in the coming 6-months? The coming 1-year?
As we begin to ramp up operation, development, financial, and marketing efforts, we have developed a demanding timeline.
In the 6-month horizon, on the technology and development end, we first plan to complete a few rounds of beta testing, where roughly one hundred individuals will have the opportunity to download and spend time on Hoppz. After obtaining and implementing valuable feedback from this process, we plan to launch Hoppz on the Apple app store.The Hoppz website will also be completed by mid-May, which will display additional details on our product and company.
On the financial and marketing side, our team is in the midst of beginning a crowdfunding effort through a friends and family round along with Kickstarter, to pursue our goal of raising ~$50,000 for anticipated development and marketing expenses. We also plan to utilize Instagram, LinkedIn, Twitter, and TikTok to connect with our target audience, build a brand, and increase app traffic. Additionally, we plan on launching an ambassador program for Providence College students before the start of the upcoming school year. This program is designed to spread awareness on Hoppz, while offering monetary rewards, merchandise, and internship experience for selected individuals.
To expand out to a 1-year timeline, our goal is to have at least 15 establishments in the Providence area using and benefitting from our platform. This would be accompanied by a robust user base at Providence College and surrounding schools such as Johnson & Wales, Bryant University, Brown University, Rhode Island College, and so on. Our team has also generated several additional social-media and gamification features that will be implemented after our official launch, to increase traction and further retention rates.
If our establishment and user onboarding rates are correctly projected, our team will begin the process of seeking external seed funding to support the scaling of our platform. And of course, by this time, we are hoping that we have provided a beneficial and entertaining app for users to engage with.
With many businesses beginning to re-open and more students becoming vaccinated, when do you think the Friar community will be able to get a glimpse of the app when they go into an establishment like Bradley Café or Old Irish Social Club?
Like everyone else, our team is ecstatic to see the reopening of local businesses and the increased accessibility to vaccines. We are determined to launch Hoppz by the beginning of the 2021 school year, allowing students to use it at their favorite bars by August or September. Be sure to stay informed on Hoppz' progress on our social media platforms as we will surely become your nightlife concierge for your perfect night out!
Instagram: @hoppzappz
LinkedIn: Hoppz