Internship Spotlight: Shannon Bradley '21
Shannon Bradley '21 is health policy and management and business management double major. Serving within various on-campus clubs, Bradley is an exceptional student leader. Last summer, she was an Operations Intern at The Hartford Financial Services Group, Inc. within their Early Career Leadership Development Program. Following graduation, Bradley will work there full-time.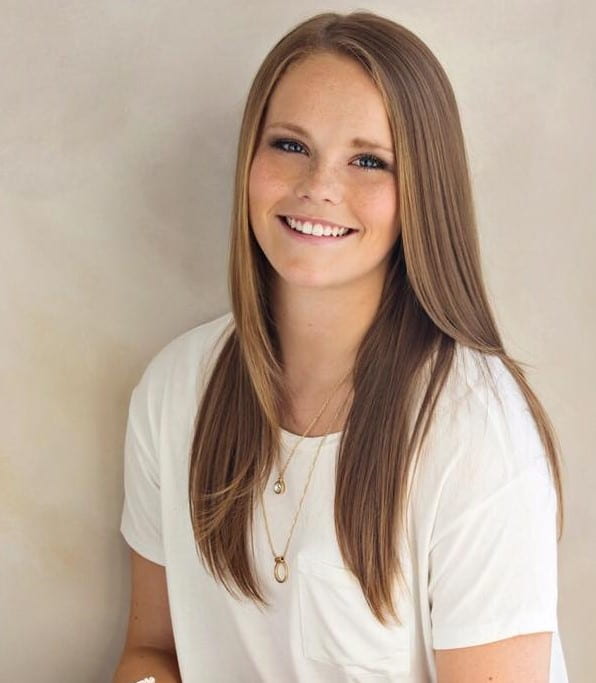 What initially got you interested in mixing healthy policy and management, a non-business school major, with business management, a business school major?
Business management is quite a broad area and applies to practically any industry, so I knew early on that I wanted to declare a second major that would help me to focus on a particular industry. Spring of my first year, I took a health policy and management course called The American Healthcare System, and learned so much about the ins and outs and the successes and shortcomings of healthcare. It got me really interested in someday working on the business side of the healthcare industry, like in health insurance, hospital operations, human resources, or medical sales. I have found the two majors to be complimentary. I would suggest that future management majors consider a double major or a minor from outside the business school. That way you can narrow in on a specific industry and diversify your education while still getting a business degree.
What led you to your internship at The Hartford?
Since the health insurance industry was of interest to me because of my HPM courses, I found myself looking into the property and casualty side of the insurance industry, since I knew I could apply what I was learning in my business classes. Hartford is known as the insurance capital of the world, so being from Connecticut and wanting to stay local for an internship, I applied to and interviewed with several insurance companies. My interview with The Hartford definitely stood out in my mind. It involved a root-cause analysis of a hypothetical business scenario, which I found very interesting, and told me a lot about the problem-solving work I'd be doing. I also was attracted to the idea of being in a Leadership Development Program at the company, and The Hartford prides itself on its Early Career program. Young professionals are made to feel extremely valued and are given excellent opportunities.
What got you interested in an "Early Career" program? What are the main differences and additions that a student would receive by doing an "Early Career" program?
It was extremely important to me to get an internship in a program, not just in a specific position. The Hartford's Early Career Leadership Development Program has so much to offer both undergraduate interns and full-time associates. I worked in the Operations, Tech, Data and Analytics track, but there are equivalent finance, product, and marketing tracks. What makes the program so great is the rotational aspect, meaning you spend either 6 or 12 months at a time in different roles and departments throughout the company, so you can really get a feel for what you like, do not like, your strengths, and weaknesses. The program has mentoring for both interns and associates and a specific program manager to guide you, guest speakers, professional development workshops, and several special training opportunities. An internship in the program, while shorter than the typical full-time rotation, still involved all of this and because of being in the leadership development program, I was able to have exposure to and even work with senior leaders in my role. I would highly recommend that students look into applying for internships in similar programs.
What did your day-to-day look like at your internship?
Given the pandemic, my internship with The Hartford was completely remote. I was a little apprehensive at the start, but I quickly adapted. My days usually consisted of a couple of phone calls or Skype meetings to discuss one of the three main projects I had been tasked with for the summer. The rest of my day was spent working individually on a cross-sell initiative as well as a process improvement project, and I was also responsible for submitting a daily report tracking new business submissions. When I was not in meetings regarding this work, I had calls relating to the leadership development program. I had a weekly conversation with my program manager and with my mentor, and there were guest speakers and professional development workshops. From a professional standpoint, I truly felt like I did not miss out on anything with the internship being remote.
How did you differentiate yourself within the internship to become a quality candidate for a full-time role?
I believe that my biggest strength is my ability to learn quickly. I came into the internship knowing virtually nothing about property and casualty insurance, but my manager noted in my final review that I "demonstrated a remarkable ability to learn and apply new skills, concepts and knowledge quickly" to "start delivering value to the organization within my first week on the job." Because of my ability to learn fast, I was able to take on stretch assignments and more projects than my manager had originally planned for me, and these were the opportunities in which I was able to work with senior leaders. I think that I learned fast because I accepted early on that I was not going to know everything perfectly. My managers and colleagues were always open to questions that I was not afraid to ask, and I always showed my willingness to learn and develop. These aspects of my work performance and attitude are what helped me secure the full-time position.
What recommendations would you have to current Friars interested in an industry similar to yours?
I think that perhaps the insurance industry is not always the first that comes to students' minds when analyzing potential jobs and internships. But insurance is very broad and has so many different elements and areas that can be attractive to students and recent graduates. I do know of multiple insurance companies that offer a leadership development program similar to The Hartford's. I would definitely suggest that students research the opportunities that the insurance industry and companies have.
What advice would give a student who is looking for an internship in the wake of COVID to differentiate themselves?
Show that you have continued to seek opportunities to grow and develop throughout the pandemic. Highlight your perseverance and ability to adapt. Use examples from your online classes and any extra effort you placed in your coursework. Other students may have used online courses as an excuse to put forth the bare minimum effort. If you were able to organize something for a club or organization remotely, explain in your interviews how you did so and what your challenges and accomplishments were. Showing that you've continued to learn and adapt shows companies what an asset you can be.
Want to be our next Internship Spotlight? Fill out the form below!
Internship Spotlight Application Form