Michael Smith Regional Ethics Case Competition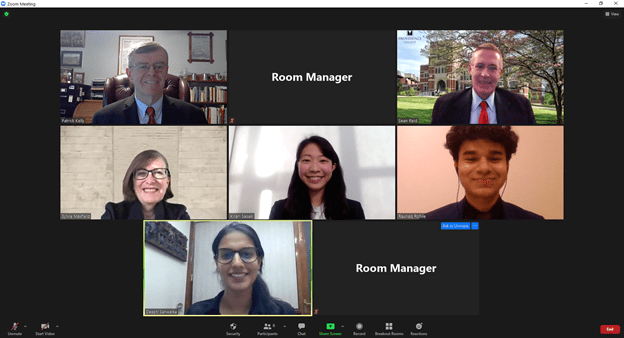 Eight colleges and universities competed virtually in the Michael Smith Regional Case Competition hosted by Providence College on Saturday, Nov. 7. The teams explored contact tracing and a technological solution to the coronavirus pandemic in a competition won by the University of Toronto, Mississauga. The team from Boston College placed second.
In conjunction with the Ethics Competition, the Ethics in Business Education Program also hosted the Teaching Business Ethics – Best Practices Workshop.
Both events were held virtually due to COVID-19 restrictions, but this change allowed for the competition and workshop to be international for the first time. This year's competition included teams from Boston College, Fairfield University, La Salle University, Mount Wachusett Community College, Providence College, University of Massachusetts Lowell, University of Toronto Mississauga, and Worcester Polytechnic Institute.
The competition was opened by Dr. Sylvia Maxfield, dean of the PC School of Business, and the winners were announced by Dr. Sean Reid, provost. Maxfield and Reid are pictured with the winning team, who included Deepti Sanwalka '21, Kirari Sasaki '21, and Raunaq Rohile '22.
PC was represented by Korey Lord '21, Mackenzie Saitta '21, Andrew McGuire '21, and Dominique Roy '21. This team advanced through the semi-finals to compete in the final round.
For the Teaching Business Ethics – Best Practices Workshop, the College invited not only PC professors, but other experts to discuss the best ways to teach and enforce ethical practices within and beyond the classroom.
The workshop, hosted by Dr. Patrick Kelly, PC associate professor and director of the Ethics in Business Education Program, included guest speakers Mary Gentile, author of Giving Voice to Values: How to Speak Your Mind When You Know What's Right; Dr. Joan Lee, an accounting professor at Fairfield University; and Dr. Timothy Mahoney, PC philosophy professor.
Speakers provided advice on how to effectively instill ethical ideals in their students. Gentile spoke on her book, which teaches people how to follow up on their ethical decisions. Her model asks, "Once you know what's right, how do you get it done successfully?," followed by a series of exercises and coaching.
Lee discussed how she has incorporated ethical thinking and behavior into her own accounting courses by requiring students to write reflections following almost every class, giving students the space and time to process difficult concepts and share their feedback. Mahoney discussed how he uses topical moral theories and questions relatable to the class to engage them in conversation and thought.
The College congratulates the successes of all those involved with the competition and the workshop.
The annual competition and the workshop are made possibly by the generosity of Michael T. Smith '65, a former member of the PC Board of Trustees and the School of Business Advisory Board, and his wife, Jane Smith. The College thanks them for their continued efforts in putting together this annual competition and supporting faculty development in business ethics.