Providence College to Offer Graduate Certificate Program in Sports Management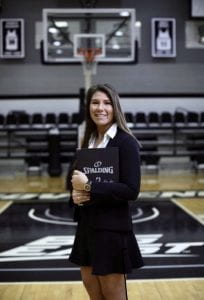 PROVIDENCE, RI, JULY 14, 2020: Providence College (PC) announced today that the College plans to begin offering a new graduate certificate program in Sports Management beginning this fall. The program is a collaboration between the Providence College School of Business (PCSB) and PC's School of Professional Studies (SPS) with the assistance of Providence College Athletics.
The three-course program will allow students interested in beginning or advancing a career in professional or collegiate sports management to develop the knowledge and skills needed to help lead major sports organizations as well as the businesses that serve and interact with them. Areas of focus will include organization management, college athlete development, marketing, data analytics in sports, and advertising/sponsorship with sports organizations.
"The Graduate Certificate in Sports Management is an exciting new venture for the Providence College School of Business. We believe that many students already working toward a PC MBA will choose to pursue this certificate, but also that quite a few professionals will enroll in only this certificate program in order to gain new knowledge, skills, and a credential to help them in their current or future career in the sports industry," said Dr. Jacqueline Elcik, PCSB associate dean.
The new program will be taught by PCSB and SPS faculty who are recognized as experts in their field. It includes a sports-related internship and multiple electives. These courses will provide students with a focused, foundational education in the management, marketing, history, and leadership of sports business at the professional and collegiate levels.
"We are excited to offer this opportunity to our graduate students in Higher Education. It provides those pursuing careers in college athlete administration, coaching, and advising the skills and internship experiences that will position them well in a competitive job market," said Dr. Brian McCadden, assistant to the provost for graduate programs.
Upon completing the Graduate Certificate in Sports Management, participants will:
Understand the interaction among multiple facets of the sports business industry
Identify and assess potential issues and opportunities for the industry
Learn how sports-related organizations serve their multiple constituencies
Apply marketing theory and techniques to achieve the goals of a sports organization
Acquire hands-on experience in the sports industry at the collegiate or professional level
"Athletics are an integral part of our society," Providence College Athletics Director Bob Driscoll said. "With so much interest and financial investment in sports, it is a logical step for the College to offer the students an opportunity to continue their education in this field. We are excited about this new venture and we hope our athletics department can assist in the educational process for the students."
Students who successfully complete the certificate program may use their nine graduate credits toward their MBA degree or M.Ed degree.
START APPLICATION HERE