PC Part-Time MBA Program is Top-Ranked in RI/South Coast by U.S. News and World Report
The Providence College School of Business's Part-Time MBA Program has been named the top-ranked part-time program in the Rhode Island/South Coast area by the U.S. News and World Report! This ranking places Providence College ahead of other acclaimed programs in our surrounding area. This national recognition serves as a testament to the continued advancement of our part-time program and the success of its graduates.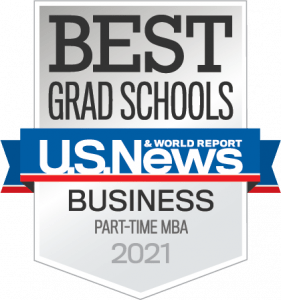 Over the past decade, the Providence College MBA Program has witnessed tremendous growth. Dr. Sylvia Maxfield, dean of the Providence College School of Business, noted that "the growth of the Providence College MBA program over the past decade is incredibly impressive. Over that time period we have seen enrollment double, added quantitative requirements to the required curriculum, and brought in terrific new faculty."
The commitment of our dedicated students, faculty, and staff to the development and enhancement of our part-time program has been essential in being awarded this distinction by the U.S. News and World Report. "Our Part-Time MBA is both flexible and affordable," commented associate dean, Jacqueline Elcik, Ph.D., who oversees the PC MBA program. "We offer courses year-round, including a number of accelerated classes that fit nicely into busy people's schedules. We are increasing our offerings of hybrid/online courses, and I am excited about bringing more 'real-world' consulting into the curriculum."
We look forward to the continued achievement of our program and its graduates in the years to come!