Management Students Making a Difference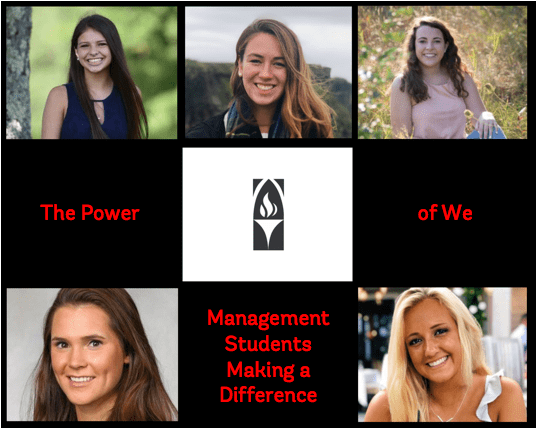 Providence College School of Business students Megan Dowling '20, Nora Johnson '20, Annelise Rice '21, Elyse Pereira '22, and Morgan Perry '22 are working under management professor Dr. Matthew Eriksen on an independent study on student anxiety and stress. Their study yielded a guidebook that has become an important and valuable resource for students, particularly after the emergence of COVID-19. The team answered some questions about their process and how COVID-19 influenced their work.
What is your goal for the study?
We have spent the semester studying anxiety and experimenting with coping mechanisms. We wanted to create a project that could be shared with the entire student body and be relatable and beneficial. When addressing the whole student body, we wanted to make sure every reader could find meaning in something we wrote. We created letters to seniors, athletes, COVID worriers, etc., to make sure that each person could select an area of interest. There is no one solution for managing anxiety. Everyone must find one that works, so we wanted to make sure that this project could serve as a guide to finding that mechanism.
How did the current circumstances affect the focus/direction of your project?
We began the semester by reading books such as "The Meaning of Anxiety" by Rollo May and "My Age of Anxiety" by Scott Stossel to grasp an understanding of anxiety. We learned that although it may be daunting, there is a meaning and a reason why we each have anxious thoughts. When COVID-19 became the main focus in everyone's lives, we were able to apply what we had already learned from our research into our everyday lives. We wanted to specifically focus on how we can improve ourselves during the time in quarantine, how we can implement routines, and how we can focus on gratitude.
Can you elaborate on the mission for both the guidebook and the video your group recently created? What inspired you to create them, and who did you send them to?
Our mission for this guidebook and video is to unite the population of college students under the common understanding of how we can cope with the anxiety brought on by difficult situations, such as the pandemic. We recognize that the shifting circumstances that arose from the coronavirus have caused many to feel significant distress. The apparent unemployment, the confinement of quarantine, and the hardships of completing schoolwork are a few repercussions. With a significant focus on the negative aspects of the world's current state, we wished to enlighten individuals on the opportunities it provides.
Moments spent with family, time to enhance your physical health with exercise, and a chance to explore new hobbies are some positive things to focus on. We aspire for our fellow students, faculty, and staff to utilize this situation as a catalyst to drive them to get to know themselves better. Our own individual stressors and attempts to uncover stability and structured routines in this everchanging chaos inspired us to share what we learned with the broader population. We brought the guidebook and video to PC's Morning Mail, to Kristine Goodwin, the vice president of student affairs, and to management majors. The two resources are published on PC's Human Flourishing Hub.
What has been your favorite/the most interesting part of the study so far?
It has been a great opportunity to collaborate with peers who have different experiences with anxiety, come from diverse backgrounds, and have distinctive thoughts and ideas.
All of us coming together to contribute has given us food for thought and has allowed us to individually excel. It has been a great experience to grow together and challenge one another throughout the process.
What do you hope to get out of the study for the duration of the semester?
We have all created different personal goals in terms of the direction of our study:
"My goal was to better understand my own anxiety and learn the tools necessary to share my experiences with others to empower them. I now see my anxiety as a strength, not a weakness." — Morgan Perry '22
"My goal for this semester is to obtain an enhanced understanding of who I am through self-reflection and the evaluation of my past experiences. The ultimate presentation of my learning will take the form of an autobiography, written through the lens of stress and anxiety." — Elyse Pereira '22
"To have a better understanding and become aware of own experiences." — Megan Dowling '20
"Creating a wellness journal focused around health, fitness, awareness, and gratitude." — Nora Johnson '20
"Creating a wellness journal that concentrates on ideas such as mindfulness, fitness, and gratitude, which themselves reflect overall mental health." — Annelise Rice '21
---
Perry was featured on Providence College Podcast, titled "A timely and 'empowering' study on stress and anxiety – Morgan Perry '22" last week, where she discusses the project further.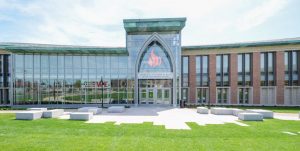 Guidebook to Handling Stress
Click here to view the video, titled "COVID-19 Guide to cope with anxiety"