Congratulations to the 2020 Alpha Mu Alpha & Beta Gamma Sigma Inductees
Congratulations to the students that were officially inducted into the Alpha Mu Alpha and Beta Gamma Sigma honor societies on Friday, March 27. The Providence College School of Business inducted 39 new members into the Alpha Mu Alpha Honor Society as well as 50 undergraduate and 14 MBA students into the Beta Gamma Sigma Honor Society.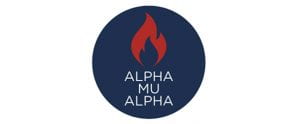 Alpha Mu Alpha is the American Marketing Association's National Honor Society. To join Alpha Mu Alpha, a student must have a cumulative GPA of 3.5 (out of 4.0) both overall and in the marketing major. The PCSB founded the chapter in fall 2011 and there now are more than 160 members.

Beta Gamma Sigma is the honor society of the Association to Advance Collegiate Schools of Business (AACSB). Membership is offered to the top 10% of the junior undergraduate class and the top 20% of the graduating MBA class. It has inducted more than 875,000 students worldwide since its founding in 1913. It promotes and encourages academic achievement in the study of business, and advances the founding values and principles of the society: honor and integrity, pursuit of wisdom, and earnestness.
All students are inducted into these honor societies as of March 27, 2020. Plans to formally celebrate this achievement are being discussed and inductees will be notified once more is known. Congratulations to all of the inductees!
---
Alpha Mu Alpha Inductees 2020
| | | |
| --- | --- | --- |
| Kathleen Beatty | Taylor Harris | Patrick Quilty |
| JohnPaul Bettinelli | Rachael Kelley | Michaela Reddy |
| Ella Biemer | Winifred Kennedy | Aine Redington |
| Brendan Carey | Luke Kessler | Roxana Rosario |
| Caroline Coffey | Emily King | Courtney Salinksy |
| Michelle Conca | Alexandra Lima | Alyssa Santelli |
| Connor Corrodi | Lindsey Lopez | Abigail Scier |
| Sarah Daneliak | Benjamin Lucas | Adam Sorrentino |
| Olivia Davis | Jamie Maher | Filipa Sousa |
| Samantha Delaney | Kelly Martin | Ava Souza |
| Sophie Eppolito | Hieu Nguyen | Alia Spring |
| Ella Gammons | Samantha Pellman | Hannah Welsh |
| Catherine Goldberg | Benedict Portugal | Jennifer Wilson |
---
Beta Gamma Sigma Undergraduate Inductees 2020
| | | |
| --- | --- | --- |
| Faith Allen-Harris | Joseph Dunn | Thomas O'Connor |
| Natalie Aquadro | Liam Faulkner | Amber Pare |
| David Argento | Jillian Ferrigno | Fallon Plociak |
| Noelle Atkins | Kate Fitzpatrick | Kathryn Preston |
| Brett Baker | Emily Fusco | Alexandra Radisic |
| Elena Bibilos | Mateo Godoy | Ryan Reynolds |
| Benjamin Bidell | Elizabeth Hinton | Caroline Rivera |
| Shannon Bradley | Timothy Hurley | Kayla Rufo |
| Jana Braun | Chloe Jensen | Julia Sclafani |
| Sean Breuche | Margaux Kelleher | Timothy Sears |
| Abigail Butkus | Margaret Mahoney | Tristan Sorensen |
| Nicholas Calcagno | Emily Mastroianni | Emily Sullivan |
| Lindsey Cartier | Ryan Mastroianni | Siobhan Tierney |
| Allison Coleman | Michael Mazzei | Alissa Tofuri |
| Alexandra Colgan | Patrick McNierney | Kelly Wheeler |
| Jack Curran | Christopher McSweeney | Claire Woods |
| Ethan Descoteaux | Carly Nicholas | |
---
Beta Gamma Sigma MBA Inductees 2020
| | | |
| --- | --- | --- |
| Frank Alviani | Brendan Collins | Genevieve Noonan |
| Christopher Bristow | Carlenne Duran | Erica Thayer |
| Katherine Brito | Alexandra Gaissl | Jonathan Warning |
| Taylor Bruneaux | Robert Kinney | Michael Wyman |
| Amy Cembor | Christina McRoberts | |