Feedback is a Gift Event
Chae McConaghy '21 moderated an event with a PC alumni panel that discussed the importance of Feedback, and start the conversation here at PC!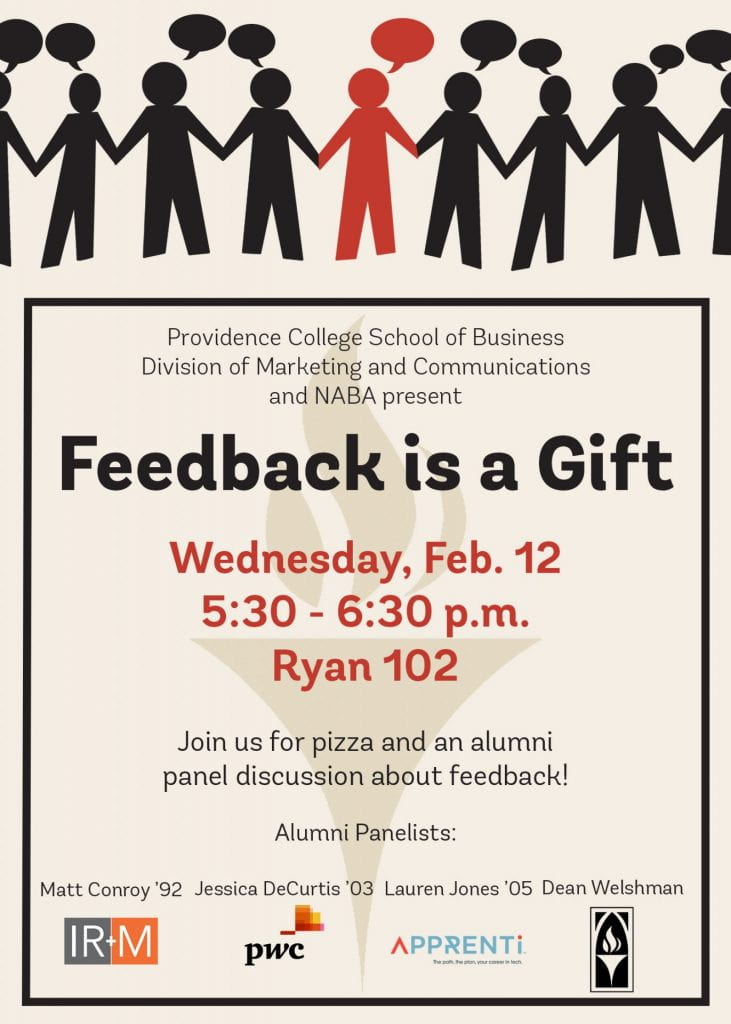 Where did the idea for the event come from?
The idea was built off the efforts of Dean Maxfield to improve the facilitation of feedback across PC with the idea forum video, which students may have seen during last semester's course evaluation period. Following the implementation of that video, Kristen Lainsbury, the Senior Director of Marketing and Creative Services, asked me to think about the importance of feedback, and how we can emphasize that importance within our business school. I wanted to create an event that involved and engaged students—something they felt they could actively participate in. That's why we decided to have an alumni panelist discussion; it gave students the opportunity to understand why PC wants them to care about feedback and how feedback is utilized in the "real world."
How do you think feedback can be incorporated more into our college curriculum?
I think the best way to incorporate feedback into our everyday lives is to do just that. There are opportunities to utilize feedback in many aspects of our lives, and it is our responsibility to recognize those opportunities. As business students, many of our classes incorporate group work as a major part of the curriculum. Working in groups on small projects in class is one of the greatest opportunities for students to practice giving and receiving feedback. It's important to make an effort to tell groupmates what they're doing well, how they can help you, and to ask for feedback from them. As an undergraduate student, I fully understand how intimidating giving and receiving feedback can be. We often think of feedback as a negative thing—criticism you receive when you're doing something wrong. But it is important to think of feedback as a tool for improvement, and an imperative skill in the workplace—there's no better time to practice than now.
Is Feedback more important for students or professors?
Feedback is important for everyone! Feedback is the communication that can facilitate progress on projects and help teammates work better together. When students and professors ask each other for feedback, they give themselves an opportunity to grow. It gives professors the opportunity to see how their students learn best and how they can be more helpful in that process. It gives students the opportunity to understand how they can promote their own success in that class and how they can adapt to the professor's teaching style. Overall, it creates strong relationships that will last beyond the classroom.
Why is Feedback important in the business school?
The Providence College School of Business' mission is, "Educating For a Future Based on We." As a business student, I can vouch for this statement. All business majors work on a variety of team projects that foster an education that makes us stand out from other business schools. The purpose of these team projects, however, is not just to understand the material. They teach us how to collaborate with one another, as many of us will have to do in the career field of our choice. Learning how to give and receive feedback is vital to these group projects, as well as our own growth as individuals in the business field.
Overall, how successful was the Feedback is a gift event?
The event was great! Our panelists, Matt Conroy '92, Lauren Jones '03, Jessica DeCurtis '09, and Dean Welshman did a fantastic job interacting with me, each other, and the audience in a conversation about feedback. I believe it was much more effective than just a simple presentation about why feedback is important. Students and faculty were able to hear from individuals in the workforce who use feedback in their everyday lives; the panelists shared personal stories, advice, and words of encouragement that I believe resonated with the audience.
After this event about feedback, what are the next steps?
The goal of this event was to start the conversation, now, we must keep it going. Students and faculty can expect to see and feel a culture of feedback surrounding the business school. We hope to have more events like this and possibly a fellowship program beginning next year—but there is still work to be done! I have spoken to many professors and faculty that are excited about this initiative, just as students should be. I think many would agree when I say that PCSB has a fantastic sense of comradery, but there is always room to improve.