Organizing for Good: PCSB Seniors Learn Theory Through Fundraising
Meghan Sweeney '20, a senior with majors in finance and management, reveals how her Organizational Theory team raised over $3,000 for the Gloria Gemma Breast Cancer Resource Foundation this fall. Facilitated by tom king, the course teaches students the essentials of labor relations through a giving project that reflects the Power of WE.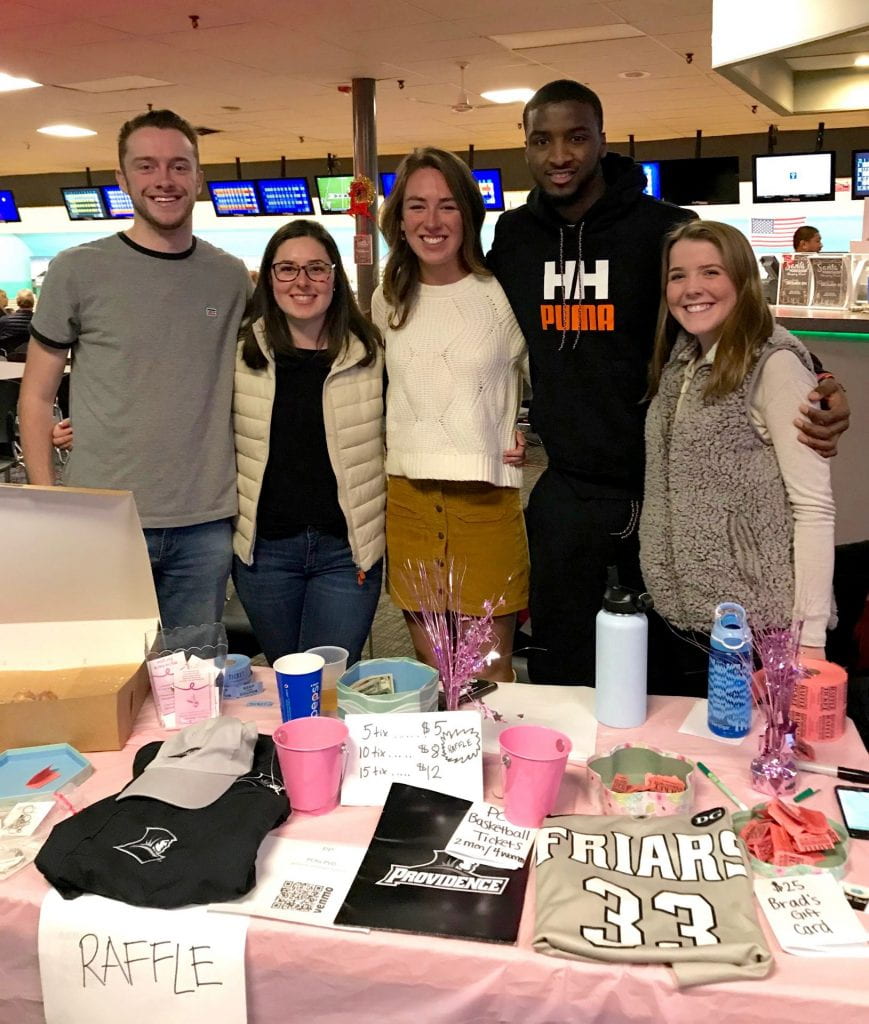 How did this project come about? How does it connect with management?
This project is a major portion of our Organizational Theory course. It relates to management because it involves working as a team to accomplish something. The project requires you to manage yourself and your own goals, as well as the goals that the group has created.
Who is on your team?
Nora Johnson '20, Lizzy Westermeyer '20, Chris Olivieri '20, Alpha Diallo '20 and Tiago Mendonça '20, and me.
What is your position on the team? Were there any projects or aspects that you had a special interest in?
Our team works collectively on projects and planning so no one has an official role or title. I bring organizational skills and have demonstrated this by helping to create a task list to help us reach our goals. A goal or challenge that came about for me was to try to reach out to places in the community to get items donated for the events that we put on. I initially thought of this as a challenge, but it proved to be a success because I ended up receiving donations from organizations and found that many of these businesses were willing to help support our community partner, Gloria Gemma, as well as the events that we put on.
Why did you choose to donate to the Gloria Gemma Breast Cancer Resource Foundation?
One of our group members is an intern for Gloria Gemma, so she introduced us to the organization. After learning about what Gloria Gemma does for those in the community and the amount of support they provide to those who are affected by breast cancer, we all felt that this was an organization we wanted to work with.
What are your fundraising goals?
Our overall class goal is to raise $26,000. There are four different groups, so individual groups have a goal of $6,500. Our team ended up raising $3,000 through a Chipotle fundraiser, selling cookies, and hosting a bowling event with a raffle. As an entire class, we also did a grilled cheese and cookie run.
Did you have any previous experiences (i.e., classes, internship, job) that prepared you for this experience?
This class is different from my previous jobs or internships, but a main takeaway from working generally is that you need to be reliable and stick to what you say you are going to do. It sounds really simple, but often people commit to things at work or in group projects and don't show up or complete them, leaving the rest of the team stranded. Reliability is key in any team or organization.
How has this experience enriched your PCSB education?
This class has highlighted the importance of teamwork. Many PCSB classes involve group projects, but not necessarily fundraising and event planning. These aspects of the project have been challenging because they involve a good deal of outside work.
What advice would you give students taking this course?
Never be afraid to ask for help if you don't understand something or are confused. I think we often get worried that we have an embarrassing question or just don't feel like asking for help, but this is a class where you need to be able to ask questions often because that's how you learn and grow in this specific class structure. You also need to learn about the people who you work with, develop an understanding of how they work and learn, and find out what drives them to do what they do. That's ultimately how you can work effectively.