Internship Spotlight: Andrea LaRochelle '20
Our Internship Spotlight series showcases the exceptional students in the PCSB by allowing them to recount their experiences and accomplishments. Meet Andrea LaRochelle, a senior Finance major who worked at Brown Brothers Harriman & Co. in Boston, Massachusetts this past summer in the Investment Services/System Compliance department. Andrea discussed not only how impactful this opportunity was, but also explained how she was involved with planning the trip to the company last Friday! The strong Providence College alumni presence at the company along with Andrea's assistance made it possible for other students to network and learn more about a professional finance career.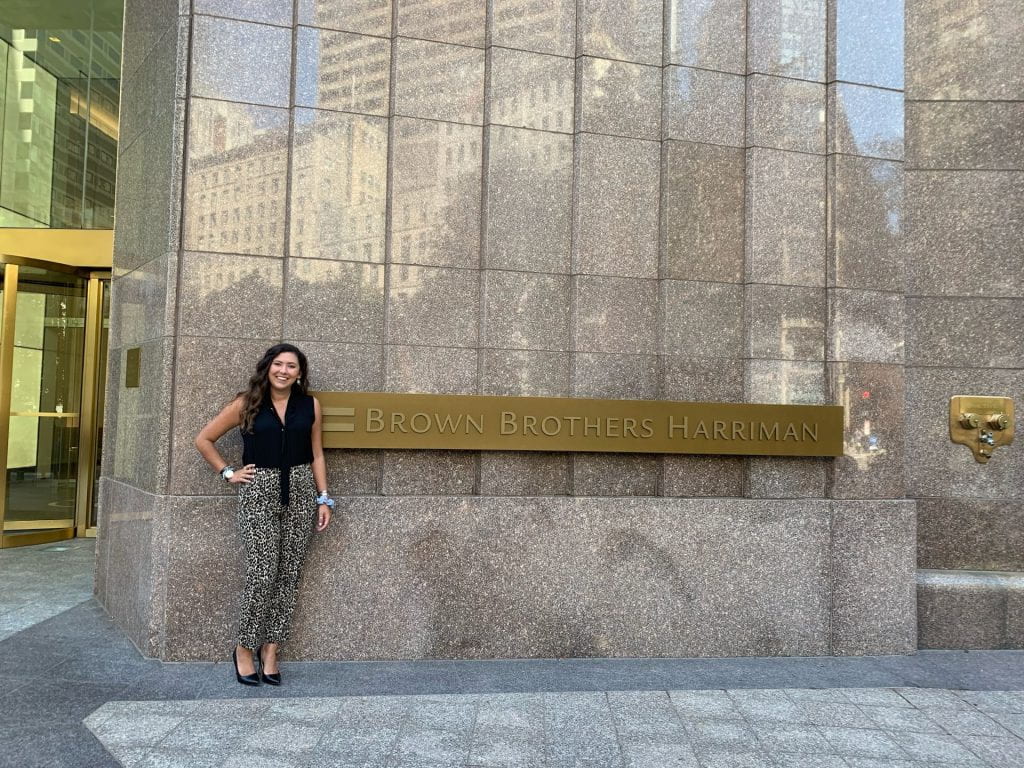 ---
What is your major/minor?
Finance.
When/how did you secure your internship? Do you have any tips for students who are looking for an internship?
When applying to internships last year I was very nervous because I did not have any "connections" at any finance institutions because both of my parents sell cheese for a living! With that being, it turns out I had many connections. The Providence College name proved to be the strongest connection I could have ever had. I was able to secure my internship by attending the Brown Brothers Harriman Road Show that was hosted for Providence College Students last October. Here I was able to meet with many senior employees and PC alumni who work for the company. After attending the road show, I emailed Human Resources, as well as the senior executives and thanked them for hosting such a great event. From here, I was asked to come in the office for an in-person interview in November. I received an offer for the internship position over Christmas Break, right before I left for abroad. This experience made me realize how willing alumni are to help their fellow Friars. The biggest advice I could provide to others looking for an internship is to join the alumni page on LinkedIn and to reach out to individuals who you wish to know more about. I also recommend attending all events hosted by the Career Center whether it is on site or to visit companies.
What was your favorite thing about your internship experience?
My favorite thing about my internship was while I was working on my daily tasks, I was also working on projects for network groups in the company. For example, The Women's Network at Brown Brothers allowed me to plan an event for all the interns where they were able to speed network with dozens of senior executives from the Women's Network and gain connections and insight.
What is one thing you wish you would have known when you were applying that nobody told you? In other words, if you could back in time and give yourself one piece of advice, what would it be?

Reach out to PC alumni as soon as possible! Also, do not get stuck in an idea of what department of what you want to work in for your first internship. Many students get fixated on wanting to work in certain positions, but most of the time, you cannot select the department you end up working for. I could not be more grateful for my position because I found love for financial technology, even though this was not my ideal choice at first.
How were you involved in setting up the recent trip to the company? Please provide brief details about this experience!
For the summer, I was apart of the Providence College Alumni Network at BBH. The last few weeks of my internship, we met and began to plan an event for PC to come to BBH. They asked for my insight on things that I liked and did not like about the time I had visited last year. We then shaped the day to be more interactive and allow students to tour the building, learn about the different departments, and meet with HR. We also had two panels to inform students more about being an employee at BBH. One panel was PC alumni working for the company, and the other panel featured two other interns and myself. I spoke about my experience, application process, and the networking I had done to finally land the position. We also visited Jack Morton Worldwide during our visit!
Want to be featured for your internship? Click here!