PwC chairman discusses diversity and inclusion in the workplace
Hundreds of students packed the Palmisano Atrium to hear Tim Ryan, senior partner and chair of PwC US, discuss his journey at PwC as well as his experience with diversity and inclusion in the workplace. Ryan was the keynote speaker for the 2019 Providence College School of Business Dean's Symposium.
During the talk, Ryan said that when he was first appointed CEO, he was surprised to learn that some employees wished they could be more comfortable being themselves in the firm. It prompted Ryan to take action. In 2017, he and other CEOS formed CEO Action for Diversity and Inclusion, a business commitment established to advance diversity and inclusion in the workplace.
As an example of that initiative, PwC brought a "Check Your Blind Spots Experience" to the Slavin Center for students, faculty, and staff. Using virtual reality headsets, viewers had an opportunity to put themselves in another person's shoes and experience how they are treated. The goal is to make people aware of their blind spots when it comes to cultural bias and inclusion.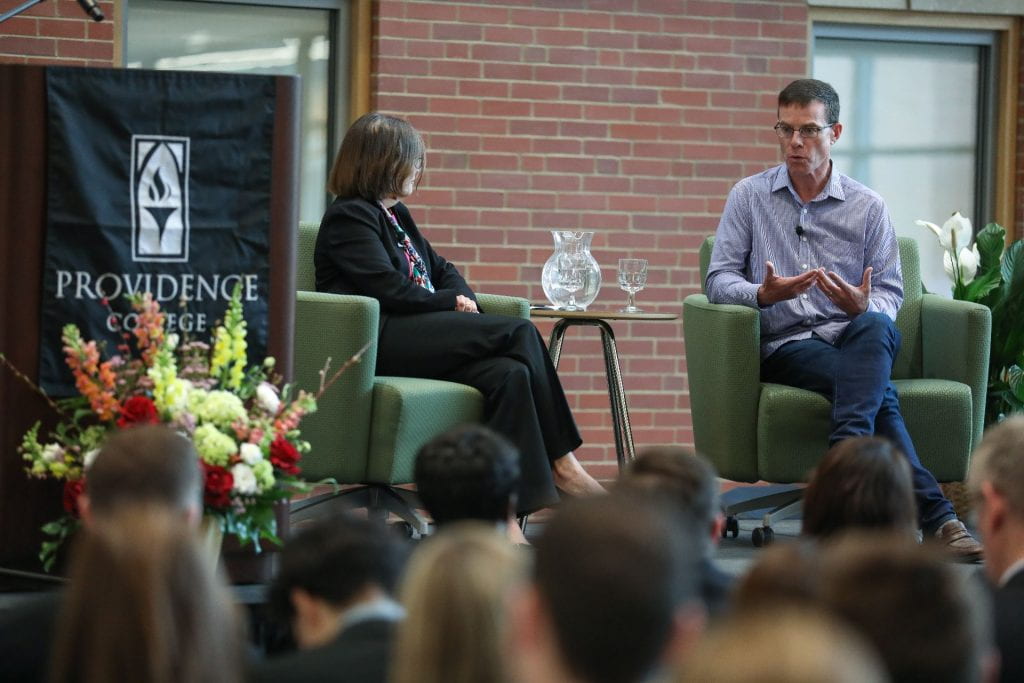 PCSB Dean Sylvia Maxfield facilitated a question and answer session for students and faculty at the end of Ryan's presentation.
"Tim Ryan was able to talk so candidly about diversity and inclusion, which are normally difficult topics to discuss," said Colleen Donahue '18 & '19G. "He explained that engaging in more conversations on these topics with peers and professors can help us grow more knowledgeable on these issues."
Ryan started his day meeting with PC staff, including Ralph Tavares '01, assistant dean and director of multicultural student success; Quincy Bevely, assistant vice president for institutional diversity; and Dr. Shan Mukhtar, assistant vice president for institutional diversity and director of the Center at Moore Hall.
He also took part in a dialogue with a select group of students from all class years and backgrounds to discuss inclusive leadership.
According to Nathan Perez '20 who moderated the discussion, Ryan said students should try to leave a tangible mark on the College, but even more important, should leave a legacy or foundation that others can build upon to make serious change in inclusivity, culture, and opportunities.
"This challenge for us has left me excited to do something in order to make Providence College an even better place that makes all feel a part of the Friar family," said Perez.
Students who have internships or job offers from PwC networked with Ryan at a luncheon in the Schneider Arena lobby. Ryan expressed his excitement that the students are joining the firm and said great opportunities are ahead for them. It was a great opportunity for students to meet and get to know Ryan. Students said he was personable and, despite his CEO status, far from intimidating.
Ryan also met with College President Rev. Brian J. Shanley, O.P. '80; Rev. Kenneth R. Sicard, O.P. '78 & '82G, executive vice president and treasurer; and Jacqueline Peterson, special adviser to the president in the Office of Institutional Diversity. Ryan discussed his experience with diversity and inclusion and how he deals with it at a company-wide level.