Internship Spotlight: Ryan Stefanacci '21
Our Internship Spotlight series showcases the exceptional students in the PCSB. We want to let their accomplishments shine! This series allows them to recount the most memorable aspects of their impressive internship experiences. At companies from L'Oreal to RXR Realty, our students transition from the classroom by taking what they've learned and applying it in the real world. Meet Ryan Stefanacci, a sophomore who worked as an Event Operations Intern at MetLife Stadium in East Rutherford, New Jersey.
_______
What is your major/minor?
I am a business management major with a minor in political science.
Does the company you interned with have a social media presence, specifically on Facebook, Twitter, LinkedIn, and Instagram? If so, what are the usernames and/or links to the pages?
The company has a major presence across social media platforms, especially Twitter, Instagram, and Facebook.
When/how did you secure your internship? Do you have any tips for students who are looking for an internship?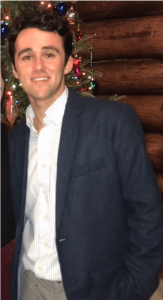 I was introduced to the director of event operations a few months prior to securing my internship. We emailed back and forth, which eventually led me to land the job. I would advise students to maintain a constant line of communication with individuals they may be interested in working for.
Did you learn anything that you found to be particularly useful? Were there any projects that you worked on that you found to be interesting?
I learned information and skills that I will carry with me to future jobs. I worked both at a desk and outside the office. My day-to-day tasks helped to broaden my skill-set and continuously opened me up to new challenges. The most interesting project was loading teams in and out of the stadium on game days. I was tasked with loading the team's equipment off the truck and onto a golf cart and taking it directly to the designated locker room.
What was the most challenging aspect of your experience?
The most challenging aspect was adapting to schedule changes on short notice. There were always new things being thrown at us on event days, whether it was the weather or the teams/performers requesting new things from us. There were times when I had to put up tents or set up chairs in the pouring rain and times when I had to sprint from one end of the stadium to the next to deliver something quickly.
Anything else you'd like to share about the experience?
The experience taught me how to develop a strong work ethic outside the classroom. I had to work close to 15-hour days on numerous occasions, including an overnight shift to transition the stadium from Giants to Jets. It was a once-in-a-lifetime opportunity to work in an NFL stadium at 4 a.m. and see firsthand the things that go into putting on an event.
Now that you have successfully completed an internship, what is the one thing you wish you would have known when you were applying that nobody told you? In other words, if you could go back in time and give yourself one piece of advice, what would it be?
Start searching and applying as early as possible. There is no harm in establishing contact with prospective companies as early as October or November, just to get a feel for their interest levels. The worst thing you can do is wait until March or April and scramble at the last minute when everyone else has already locked up an internship.
_______
Interested in reading more about our amazing students? Click here for the rest of the PCSB's "Internship Spotlight" series.